If You're Not Adding This Ingredient To Your Matcha, You're Missing Out On Powerful Gut Healing Benefits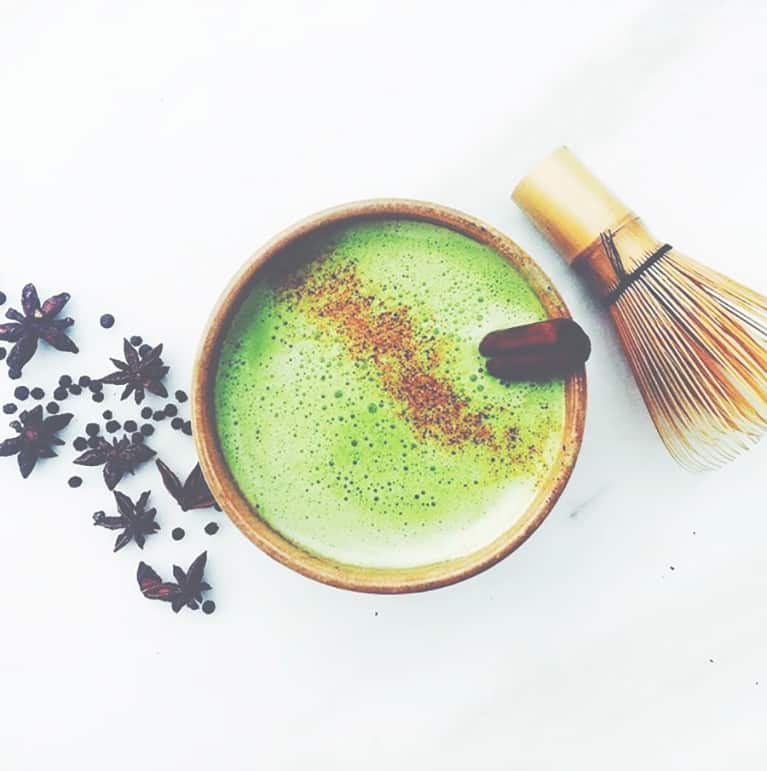 As blue-green algae, crystal, beet, and turmeric lattes have invaded every known cafe recently, matcha has gone from trendy to a classic staple. Nearly half the mbg office makes matcha daily, and when you're drinking that much, you're often looking to spice things up.
Enter Hannah Habes, founder of cult fave brand Matchaful. Hannah's spin on the classic matcha latte not only makes the flavor more spicy, sweet, and fragrant, but takes the healing benefits to the next level. "The combination of chai spices helps aid in digestion, fight inflammation, and provide a powerful antioxidant boost. Matcha, a powerful form of green tea, is high in antioxidants and contains L-Theanine, an amino acid that helps to improve our focus and mental alertness."
Makes 4 servings
Ingredients
2 cups water
½ teaspoon ground cardamom
½ teaspoon cloves
2 cinnamon sticks
3 star anise pods
1 tablespoon fresh ginger or 1 teaspoon ground ginger
½ teaspoon black peppercorns
3 drops stevia or 1 teaspoon agave or honey (optional)
6 to 8 ounces warm or steamed almond milk
Bring the water to a boil, and add all ingredients except for matcha. Reduce heat to simmer and let simmer for 10 minutes.
Strain chai mixture and pour 3 ounces into each of 4 cups. Add ½ teaspoon of matcha to each cup and whisk with a bamboo whisk or frother, until frothy.
Top with milk and drink immediately.
Want to turn your passion for wellbeing into a fulfilling career? Become a Certified Health Coach! Learn more here.