The Secret To Never Wasting Anything Again
mbg Sustainability Editor
By Emma Loewe
mbg Sustainability Editor
Emma Loewe is the Sustainability Editor at mindbodygreen and the author of "The Spirit Almanac: A Modern Guide To Ancient Self Care."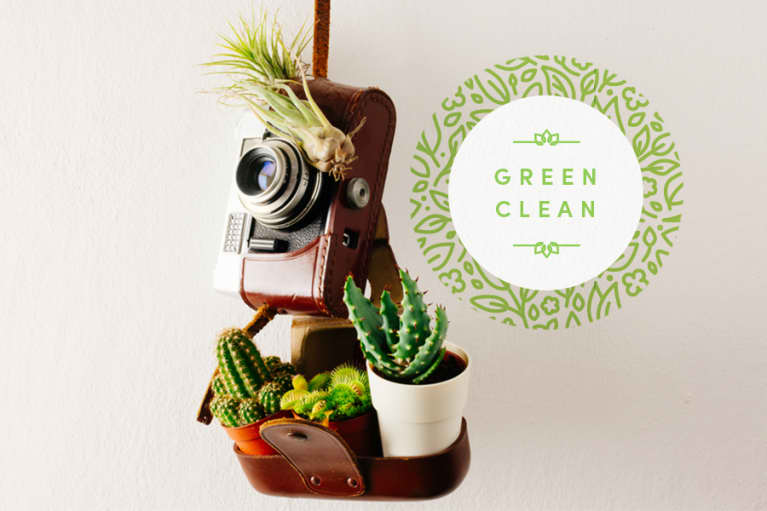 What better way to usher in spring than with a home that's a blank canvas for all of your warmer-weather intentions? Welcome to Green Clean, a 4-part series with approachable and sustainable tips to help you prepare your space for the new season. We already told you how to use natural cleaning products and declutter your whole home, and now we're exploring how to repurpose the items you would have otherwise just tossed in the trash.
Any successful declutter and deep clean ends in piles upon piles of "stuff"—stuff to donate, stuff to pass along to your best friend, and, inevitably, stuff to throw in the trash.
Considering the fact that Americans send about 167 million pounds of garbage to landfill each year, we'd all be better off cutting down on this last category a bit. One way to do it is by reading up on the recycling rules in your area and taking a little time to sort your paper, plastic, aluminum, cardboard, electronic, lighting, denim—you get it, a lot can be recycled—waste into the appropriate categories to be broken down and reused. However, there's another way to give your items a second life that is just as effective and infinitely more fun. I'm talking upcycling.
The process of turning an old, unwanted item into something new of higher value, upcycling calls on you to take a more creative approach to your trash. It's becoming less crunchy-granola and more conventional, with big-name brands like Eileen Fisher starting upcyling programs and repair cafes, first established in Europe, now popping up across the world. These gatherings provide space for people to consult with "repair coaches"—professionals, retirees, and hobbyists—on how to best breathe new life into their trash.
Tom Szaky, the founder and CEO of global recycling company TerraCycle, sees value in this more hands-on approach to waste reduction. "Upcycling gives consumers the opportunity to participate in their own DIY projects and get creative, giving them a tactile connection to a green activity that is oftentimes crafty and fun," he says. And it doesn't have to be challenging, either. "Containers of all shapes and sizes generally lend themselves well to upcycling projects. Milk jugs, soda bottles, and condiment jars can be cut and embellished to create plant pots for every corner of your home, for example."
Stephanie Lee of crafting blog Make and Tell sees so much value in the practice that she's practically made a living out of it. "I had a few old Ikea jars back when I was a teenager that I was on the verge of throwing out before I changed my mind and decided to try painting them instead," she says of her entrance into the repurposing realm. "Lo and behold, the paint gave them a stained-glass look and a whole new lease on life (even though my painting skills at the time left a lot to be desired!). Since then, I've always been on the lookout for new ways to upcycle. It's not just fun to do and great for the environment; the end result is also really satisfying."
While you won't be able to repurpose everything (nor should you, since it kind of defeats the purpose of decluttering anyways), trying it out once or twice is enough. After all, the act of reviving your belongings will remind you that every possession has real purpose, and it's up to us to see that value through.