Gabourey Sidibe Opens Up About Wellness, Weight Loss, And Her Journey To Body Positivity
Former mbg Deputy Editor
By Elizabeth Inglese
Former mbg Deputy Editor
Elizabeth Inglese is a writer living in San Fransisco, California. She earned her bachelor's in english literature and cultures from Brown University and her master's in writing from The University of Southern California. She's the former Deputy Editor of mbg, and has also worked for Vogue, Architectural Digest, Bon Appetit, and Good Magazine covering food, health, and culture.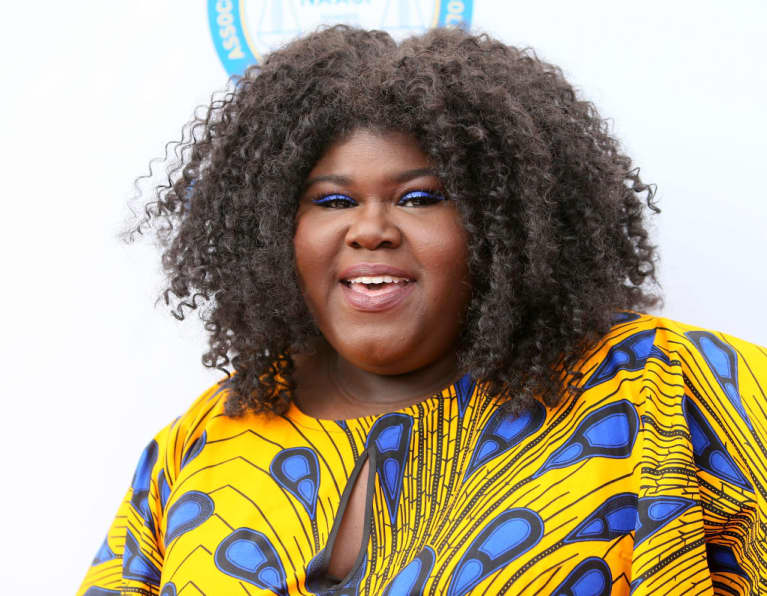 Our editors have independently chosen the products listed on this page. If you purchase something mentioned in this article, we may
earn a small commission
.
The Empire actress, beloved for her heartbreaking role in Precious, Gabourey Sidibe, hasn't always loved the way she looks. "I was in a war with my body for a long time," the 33-year-old told People. "If I'd started treating it better sooner, I wouldn't have spent so many years hating myself." In her forthcoming memoir, This Is Just My Face: Try Not to Stare, out May 1, Sidibe outlines her struggle with depression, anxiety, and bulimia, and her path to self-acceptance.
Starring in an Oscar-winning film catapulted Sidibe into the limelight and catalyzed her to lose the weight she'd battled with her whole life. Morbidly obese, the actress spent years working out with a trainer to lose the weight through exercise. "I really, really tried—I gave a valiant try." But after loosing her first trainer to cancer, and hitting a weight-loss plateau, she decided to try surgery. "I truly didn't want to worry about all the effects that go along with diabetes. I genuinely [would] worry all the time about losing my toes. I didn't want to be afraid anymore."
Now Sidibe is all about her new routines. "I eat about five times a day—I use meal plans that are really, really good, especially for when I'm busy. I cook a lot more. I talk to my nutritionist a lot. I tell her all the things I worry about. I have all these apps to help me keep a food diary." And a trainer works with her three to four times a week and an indoor pool in her Chicago apartment building gives her an active way to kick off long days filming Empire. "I have a waterproof swim MP3 player that's filled with all of the songs from the Hamilton soundtrack and the Hamilton Mixtape. So I have a protein shake, I just go down, and I swim for 20 laps, I come back upstairs, I have breakfast." Tracking herself on her Apple Watch, she rides tricycles whether in Chicago or LA to stay active through her day.
When you've lived with life-threatening obesity, old fears die hard. "I still obsess about eating, and I obsess about weight, and I obsess about my body just as much as I did before." But what has changed? "I just trust more. Even though I obsess about everything, and I'm scared, and I'm nervous I'm talking about it—it terrifies me. I still am remembering to have faith over fear because my decision is my decision, and it really only affects me." And Hollywood presents obstacles other than persistent standards of beauty. "I'll forever, as long as I'm an actor, I'll have to deal with craft service tables."
Sidibe is looking toward the future in harmony with herself. "I think I saw my body as being outside of myself; it was like an enemy beside me, not in me. And now I've won. Life is really, truly all about choices and decisions. I wish I'd made the choice to love my body sooner. But I finally have."