I'm About To Move Into A Tiny Home. Here's The Decluttering Hack That Made It Possible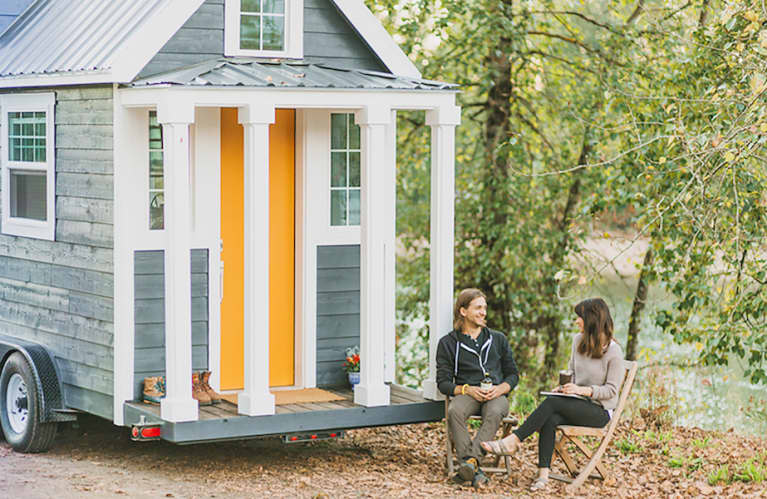 My decluttering process began when I set out to build a minimalist tiny house on wheels from the ground up, with no prior construction experience.
At the time, I was working 80-hour weeks, not including the long, crowded commute between Beverly Hills and East LA. Though everything seemed OK on the surface, I was burned out, my life was full of mental and physical clutter, and my relationships were strained. I knew that in order to get closer to my heart, I needed to simplify.
Now, a year later, I'm in the process of finishing up my tiny home and I hope to be able to live and work out of the space come summertime. This is the six-step decluttering process that I used to fit my entire life into 323 square feet.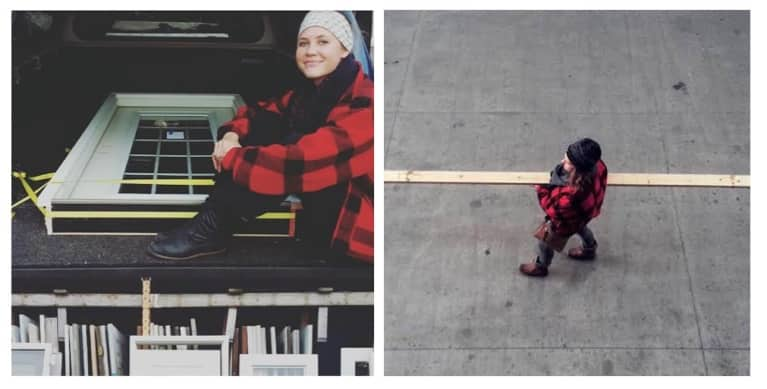 Ask yourself why you want to declutter in the first place. This intention is what you'll come back to every time you're deciding what to keep and what to throw away. My intention was to craft a home in which everything to has its role and reason, allowing me the space to step back and just focus on living.
2. Categorize your clutter.
Decide what to tackle first. The more I learned about the detrimental role fast fashion plays in the environment over the years, the less I wanted to support it. So the closet seemed like a fitting place for me to start, though I knew it'd be difficult for a girl who worked in the heart of Beverly Hills on the shopping capital of Rodeo Drive.
3. Set goals and lay everything out.
Here's where my routine got interesting. Once I decided where to start, I stuffed everything in my closet into suitcases and wheeled them to my neighborhood park. There, I could lay out all my belongings in a wide open space and make my decisions surrounded by nature. I made a goal to go from multiple suitcases, large boxes and bags, down to just one suitcase.
4. Let go with gratitude.
From there, I made two piles: one with what my intuition told me I wanted or needed, and the other with whatever remained. This process showed me that there really are no black-and-white, cut-and-dried answers when it comes to decluttering. I just had to be honest with myself about whether each item aligned with my values. I had to break the rules, create my own standards, and stay true to myself.
I knew that cheap, fast clothing with hidden social and environmental costs wasn't going to make me feel great. I had to keep reminding myself of that as I went over my "keep" pile over and over again, narrowing it down item by item. At a certain point, the decluttering process became less of a chore and more of a fun game. I was on a mission! At the end of the day, it became easier to say goodbye to items that had played important roles in my life. Their purpose had been fulfilled, and I let go with gratitude.
Once you create your piles, it's time to give a second life to as many of your discard items as possible. Stores like Buffalo Exchange or Crossroads Trading Company will pay you for the items you no longer want or need. Or, you can take matters into your own hands and host a swap party with your friends. Invite women in your area over to join you in a day of swapping gently used, no-longer-needed clothes. Then, hold a post-party drop-off to a local charity with any remaining items. You'll find ease in knowing that your beloved goods went to a loving new home with someone you know.
There are many ways to organize the items you have left over. The most important thing is to simply create a loving space for each and every one.
My new, pared-down wardrobe gave me the time, energy, and motivation to tackle the rest of my belongings. Using the same steps, I went through every category, small and large, in my life—from my toiletries to my Prius. Now, I'm able to move forward into the next phase with ease and intention.