The Zero-Waste Starter Kit That Makes Green Living SO Easy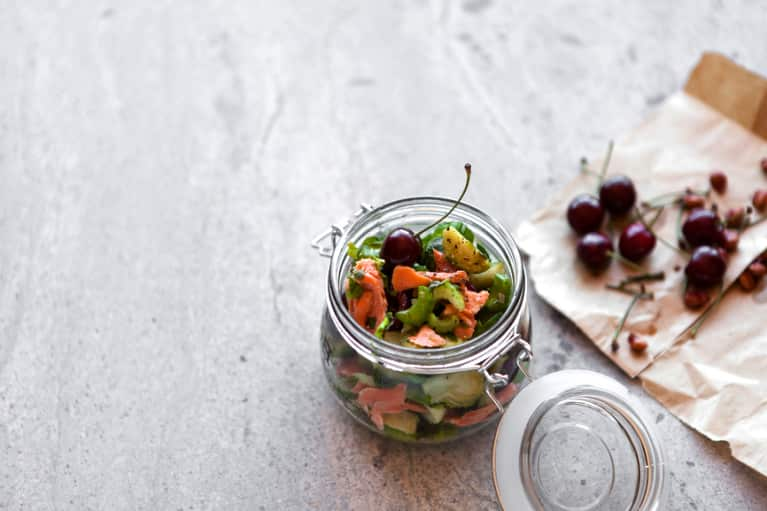 When people find out that I try to live without producing any trash, the question that I get asked the most is never why, but how.
Contrary to popular belief, going zero-waste doesn't mean obsessing over your trash all hours of the day. It means developing a routine so you don't have to think about it at all.
Once I embarked on my trash-free journey, I realized that the way I approach everyday activities would have to change a bit. In order to avoid excess packaging, I had to ditch my old grocer and start buying food at my local farmers market and package-free store. (I live in Germany, where these are slightly more common.) Then if I do produce food waste, I'm sure to compost it. Instead of using plastic bags, I now bring my own reusable bag and jar to coffee shops, where I read on an e-reader.
In terms of my personal care routine, I was excited to find that homemade items can work just as well—if not better!—than traditional beauty products. I've had a lot of fun trying out new recipes and perfecting my bathroom routine with shampoo bars and hand-mixed body and face oils. I make my toothpaste out of coconut oil, baking soda, and peppermint essential oil, and my perfume out of distilled water, gin, and essential oils. When it comes to my wardrobe, I buy mostly preloved clothes or ones from sustainable fashion brands.
Welcoming these habits into my life was a gradual and fun process that has ultimately given me more time to focus on the things I love. And this tool kit of eco-essentials has made this rewarding lifestyle totally second nature.
This is probably the easiest item to get your hands on, and it has a huge impact. I'd suggest buying a linen or hemp bag, as they are typically more sustainably produced and have longer life spans.
This is another no-brainer if you want to avoid plastic bottles. I love the brands Retap and Soulbottles. If you want to keep drinks either really cold or really hot, Swell is another stylish option.
Once you find a bulk bin grocery store near you, you will probably need jars to store your unpackaged items. I also use my Weck and Mason ball jars to hold nuts or beans overnight, sprout chickpeas, bake muffins or little cakes, carry my lunch, and store liquids.
Reusable produce bags that are light enough that you don't have to weigh them in the beginning are a must for any zero-waste shopping trip. Personally, I love the organic cotton bags from naturtasche.de, but I generally encourage people to support local brands or make their own version if they're feeling crafty.
Switching to a more sustainable lifestyle also means switching to a toxin-free cleaning product. I put a mix of white vinegar and gin in a stainless-steel or glass spray bottle and call it a day. If you want to switch it up, simply add a few drops of organic essential oils or soak the peels of a lemon or orange in the mix overnight.
For the coffee addicts among us, a French press will save you so much money and time. Plus, you can turn the leftover coffee grounds into revitalizing face masks and fertilizer for your plants. You can also use a French press to make lemonade and fruit- or veggie-infused waters!
7. Wooden/bamboo toothbrush
One billion plastic toothbrushes are thrown away in the United States alone every year, and they can eventually make their way into oceans, where they are mistaken for food. Instead, use compostable toothbrushes made out of wood or bamboo.
8. Menstrual cup/reusable pads
I feel obligated to share this with you as the menstrual cup has literally changed my life and my cycle for the better. I strongly believe that we should not have to pay the amounts of money that we do to take care of our periods every month and that we deserve access to a safe, nontoxic product.
I personally love the Lamy stainless-steel fountain pens. Each one comes with an ink converter that can be refilled with the ink of your choice, eliminating the need for yet another freebie plastic pen.
10. Stainless-steel & glass straws
OK, so this is a luxury item and not a necessity. However, reusable straws offer a nice addition to homemade green juices and smoothies, and they're definitely conversation starters at bars.
11. Stainless-steel & wooden cooking and cleaning utensils
Do yourself a favor and get rid of the plastic in your kitchen. Wooden cooking utensils are safer for your home because they carry less bacteria and don't leach toxins into food. They are also compostable and soo much prettier!
12. Stainless-steel lunch box & waxed wrapper
If you have kids, stainless-steel lunch boxes are a must. Fill yours with goodies wrapped in beeswax wraps—reusable, washable, and ultimately compostable food storage wraps that are perfect for sandwiches and fruit.
This one's so easy to carry in your purse, and trust me, it will come in handy on numerous occasions.
14. Cast-iron & glass pots
It was only when I started living a zero-waste lifestyle that I learned about Teflon and its toxicity. I have since swapped all of my Teflon to cast-iron and glass pots, and I don't regret it one bit.
Composting might be one of the most important components of a zero-waste life. It prevents food waste from going into landfills, where it is deprived of oxygen and therefore can't decompose properly, resulting in the release of potent methane gas. I freeze my compost and take it to a public composting bin about once a week, but there are other options if you have a garden or are interested in starting your own vermicompost at home.