How Eating For The Environment Benefits Your Health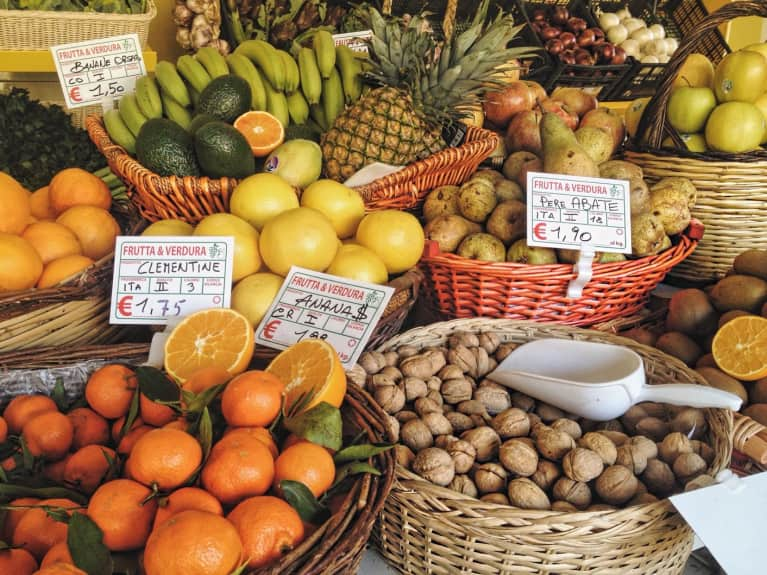 Our editors have independently chosen the products listed on this page. If you purchase something mentioned in this article, we may
earn a small commission
.
Running a marathon, learning a language, and becoming a vegan are all things that many people aspire to, but they can be daunting. We often feel apprehensive about actions that require such intense levels of commitment, dedication, and frankly, effort. So should we give up on our aspirations for self-improvement? Of course not! If we make small differences, we can slowly change our habits and over time achieve something great.
The term "reducetarian" celebrates the large portion of the population that is choosing to eat fewer animal products. Reducetarians work to cut down their carnivorous consumption by gradually reducing their meat, egg, and dairy intakes. However you choose to do it, eating less meat greatly reduces your environmental impact, and it benefits your health in some pretty spectacular ways.
1. You'll keep your weight down.
The standard American diet, which is high in saturated fats and processed foods and low in plant-based foods and complex carbohydrates, is not great for the waistline. One study found that overweight people who followed a low-fat, plant-based diet lost an average of 24 pounds in the first year and kept off that weight five years later. And most importantly, they lost the weight without counting calories or carbs.
According to a new study from the National Academy of Sciences, shifting toward more plant-based diets, in line with standard dietary guidelines, could reduce global mortality by 6 to 10 percent. Looking for more proof? Residents of Okinawa, Japan, have the longest life expectancy of any Japanese people, and possibly the longest life expectancy of anyone in the world, according to a 30-year study of more than 600 Okinawan centenarians. Their secret is a low-calorie diet of unrefined complex carbohydrates, fiber-rich fruits and vegetables, and soy.
3. You'll have more energy.
Good nutrition generates more usable energy—energy to keep pace with the kids, tackle that home improvement project, or have better sex more often, Michael F. Roizen, M.D., says in The Real Age Diet. Balanced diets containing mainly plant-based foods are naturally free of cholesterol-laden, artery-clogging animal products that can physically slow us down. And because whole grains, legumes, fruits, and vegetables are so high in complex carbohydrates, they supply the body with plenty of energizing fuel.
4. You'll ward off disease.
According to the Centers for Disease Control and Prevention (CDC), 64 percent of adults and 15 percent of children aged 6 to 19 are overweight and are at risk of weight-related ailments including heart disease, stroke, and diabetes. Eating a low-fat, plant-based diet is an effective way to stop the progression of coronary artery disease or prevent it entirely, and it's also been shown to reduce the risks of various types of cancer, type 2 diabetes, and high blood pressure.
5. You'll have healthy skin.
Ramping up one's intake of fruits, vegetables, whole grains, nuts, and beans—while passing on the dairy products and meat—is a recipe for clear skin that glows from the inside out. Fruits and vegetables are high in essential vitamins and antioxidants, which are the building blocks for radiant skin. Plus, the fiber from produce and whole grains crank up that healthy glow by flushing out toxins. A study in the Journal of the American College of Nutrition found that a high intake of vegetables, legumes, and olive oil even appears to be protective against wrinkling. They found prunes and apples particularly protective.
6. You'll ease the symptoms of menopause.
Phytoestrogens, the plant-based chemical compounds that mimic the behavior of estrogen, are beneficial to perimenopausal and menopausal women. Since phytoestrogens can increase and decrease estrogen and progesterone levels, maintaining a balance of them in your diet helps ensure a more comfortable passage through menopause. Soy is by far the most abundant natural source of phytoestrogens, but these compounds also can be found in hundreds of other foods such as apples, beets, cherries, dates, garlic, olives, plums, raspberries, squash, and yams. Because menopause is also associated with weight gain and a slowed metabolism, a low-fat, high-fiber, plant-based diet can help ward off extra pounds.