What Your Home Says About Your Relationship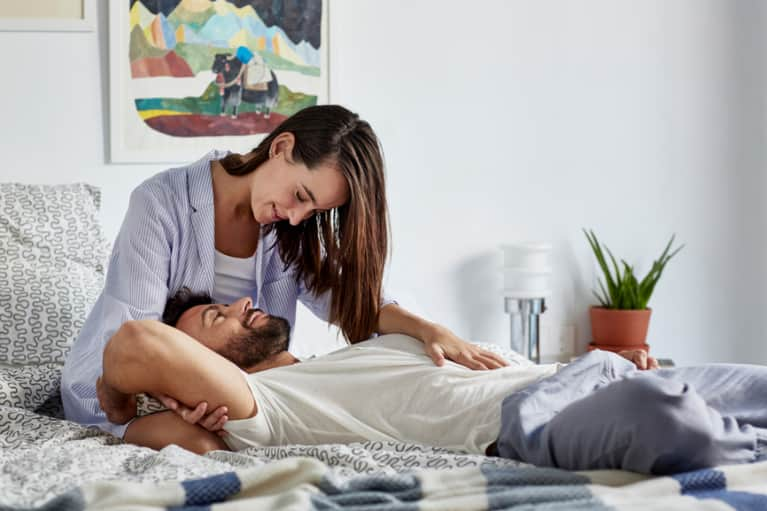 Our editors have independently chosen the products listed on this page. If you purchase something mentioned in this article, we may
earn a small commission
.
My job as a real estate agent has led me through thousands of homes with sellers and buyers, and I've seen a terrifyingly wide spectrum of interior design choices. (Just today, in fact, I viewed a toilet bowl retrofitted with rainbow-colored glowing lights.) Yet the most surprising thing I've realized is how much homes can dictate relationships. Cohabitation. It's challenging to spell; and it turns out it's even harder to do.
Here are three things your home may say about your relationship, along with some ideas for how to craft a space that promotes love and togetherness.
1. You're mentally cluttered.
It should come as no surprise that human beings develop real, emotional attachments to material items—something no other animal in the universe does. The strength of this attachment correlates with how much we engage with it. (You probably have a strong emotional connection to the smartphone in your hands, for example.)
If you let this attachment get the best of you and find yourself holding on to too much and living in clutter, it could be a huge damper on your relationship. Study after study shows that cluttered environments cause anxiety, which could potentially influence your physical vitality. It goes without saying that if you're anxious and overwhelmed, it's difficult to give care and attention to your partner.
How to fix it: On your next road trip, download the audible version of Spark Joy to listen to together and add a little Marie Kondo to your relationship. Simple life = amorous nights.
2. You pay attention to your neighbors.
Kitchen remodels tend to fall like dominoes through a neighborhood. "Oh, I just love your gray cabinets" echoes from house to house until everyone has the same kitchen, at which point a new color scheme starts the process all over again.
But we don't all act the same, too, do we? Research shows that in some ways, we do. If your neighbor buys a new car, you're more likely to go after that new car smell. The same goes with commuting; If they ride a bike, it encourages you to the same. Divorce? Yes, surprisingly, that too.
How to fix it: Given that you mimic your neighbors—not to mention share property lines, coordinate carpools, and trade child care with them—make sure you knock on a few doors in the neighborhood the next time you're planning a move. How do people greet you? You test-drive cars, so why not test-drive your neighborhood?
3. You need to prioritize location.
Ninety-two percent of Americans work 40 to 60 hours per week, and American couples shop for goods and services 1.5 hours per day. This means we work and shop for most of our valuable energetic hours then…commute for about 50 minutes. Not only does commuting suck up our time and energy, but it has been shown to affect our knee, back, and neck health as well. Women find commuting even more stressful than men, oddly enough, but long travels are physically and emotionally exhausting for both sexes. And they can cause stress great enough to minimize intimacy and sexual fulfillment.
How to fix it: The next time you move, consider the benefits of living closer to your job. If you can't work out a shorter commute, slot aside an evening or two when the first thing you do when you walk in the door is spend time with each other.
So there you have it. Some of the challenges in your relationship may be ignited by, or at least inflamed by, your home. That's not the fire you want to burn.