The World's Best Pastries Are Gluten-Free. This Woman Is The Reason Why
Watching the meteoric success of San Francisco's Tartine Bakery, either from the daily line snaking down the sidewalk of Guerrero Street or from the feature stories in the New York Times, Food & Wine, Lucky Peach, and every other publication covering food, you'd have to assume that on the path to culinary stardom the Tartine team hit every green light. In fact, Elisabeth Prueitt, who with her husband, Chad Robertson, founded the bay area staple, was dealt a uniquely paralyzing blow when, before opening the doors to her bakery, the pastry chef was diagnosed with gluten-intolerance.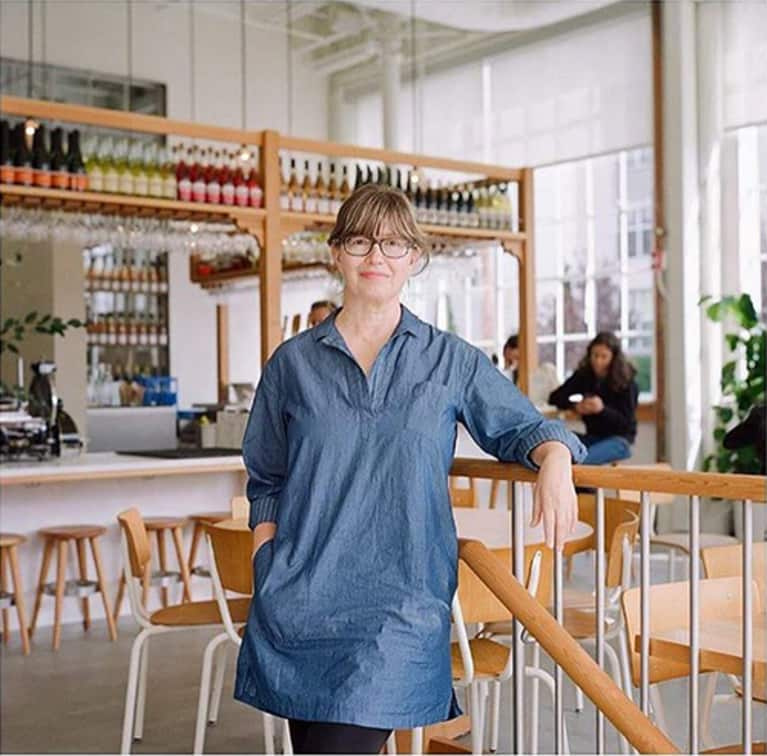 What happens to the pastry chef who's diagnosed with gluten intolerance? Does she quit her job, turn an occasional hobby into her livelihood and her livelihood into a hobby? Does she accept sickness and suffering as her everyday experience? Liz Prueitt developed a way to bake that is better than ever, finding new creative fulfillment within the constraints of disease.
In 2002, Tartine was all glittering morning buns and crackle-crust loaves. Fifteen years later, the empire has grown to encompass not only the original storefront and a line of cookbooks but a showstopping 5,000-square-foot Manufactory housing a restaurant, ice cream parlor, coffee counter, and pastry case—the stars of which are Prueitt's wheat-free masterpieces: salted buckwheat chocolate cookies, chocolate-almond cakes, ginger spice cookies—each perfect pastries, lacking in nothing.
After stepping away from baking to care for her daughter, who has cerebral palsy, and founding a nonprofit camp for children with motor disorders, the Conductive Education Center of San Francisco, Prueitt returned to Tartine in 2014 to find the climate ripe for her new brand of baking, as a renewed interested in wellness had pushed ancient grains, gluten-free diets, and nut flours toward popularity. Leading up to the opening of Manufactory and the release of her latest cookbook, Tartine All Day (published this month), Prueitt's Instagram was a treasure trove of mid-test recipes and photos. Her latest creations aren't relegated to the pastry case, they're artful salads and rustic stews, roast fish and hearty cereals: food to live by.
With her latest ventures, Manufactory and Tartine All Day, Prueitt champions a fearless, uncompromising embrace of bold and functional ingredients like water buffalo milk, teff, and turmeric. And her traditional french approach to pastry (prizing texture and flavor above all else) has given way to a newfound appreciation for nutrition. While a baker can swap wheat flour for rice flour or potato starch to convert a standard recipe to be gluten-free, Prueitt has excelled not by sneaking in substitutions but by leaning into ingredients that are whole and healthful. The luminary shared with mindbodygreen her challenges, inspiration, and plans to push further on the boundaries of great baking.
mbg: How did you first start baking?
Elisabeth Prueitt: With the advice and help of my parents and The Joy of Cooking.
mbg: What first hooked you on pastry, and what keeps you interested?
EP: It's the medium in which I feel most comfortable, once I learned how to substitute for wheat flour. Fortunately there are myriad worldwide gluten-free desserts, and the rest is simply science to figure out.
mbg: How did you identify your gluten intolerance, and how did you react to the diagnosis?
EP: I was diagnosed in 1987 by a chiropractor, to whom I was going for a constant upper-back ache. I was in constant pain, had daily diarrhea, and was unhealthily thin so was ready to try anything. Once she suggested that diet may have an effect on my health, I quit wheat to see what would happen and was astounded at the five-day transformation of my health, digestion, and overall well-being. My health was so bad that the contrast was dramatic. I continued to improve over many months of wheat-free eating.
mbg: How did your experimentation with non-wheat flours begin? What were some of your first successes with alternative-flour baking?
EP: I first dove into easy things like cookies. I say easy because many cookies rely on a shorter, or starchier, flour to begin with. Puddings and pie fillings that mainly rely on thickeners are a good place to start, too—coming up with a basic ratio of combined starches and flours such as a mixture of white and brown rice for starchiness, oat flour for body and flavor, with some added tapioca or cornstarch for an adhering quality in a starch mix.
mbg: How do you cook at home when you're feeding only yourself or loved ones?
EP: Very, very simply. In the summer, salads with protein, in the winter stews and always with a roast chicken, a whole fish, bone-in leg of lamb.
mbg: How does nutrition factor into the recipes you're developing these days?
EP: A very good question! In the early days of baking with alternative flours I was mainly concerned with texture and flavor. Now I'm concerned with nutrition and flavor. The shift is due to the fact that in most gluten-free baking the flours that are mainly used tend toward white, nonnutritive ones. White rice, cornstarch, tapioca, or potato starch—there is nothing nutritious or flavorful or interesting about them. I've cut back on the use of all of them.
mbg: Are you interested in the adaptogens, tonics, powders, or other wellness trends?
EP: One adaptogen that I use religiously is turmeric. It has been highly beneficial to me in regulating the effects of perimenopause. After a day or two of supplementation, hot flashes disappear entirely.
mbg: What is your favorite way to decompress?
EP: I just started doing Transcendental Meditation and highly recommend it to anyone!
mbg: Where is your favorite place to eat in San Francisco?
EP: Currently my favorite place to eat is Cala. Gabriela Camara brings together all of the aspects of cooking that resonate for me: creativity within the constraints of a particular cuisine while holding on to the historical underpinnings of craft or ingredient.
mbg: Is there any ingredient that springs to mind that you think is really underrated?
EP: Rhubarb, elderberry, and there are many, many spices of the world that have been experimented with and used in savory dishes but pastry chefs have not availed themselves of.
mbg: Do you have a favorite recipe from Tartine All Day?
EP: The Ricotta Cornmeal Cake is a current favorite.
mbg: What are you working on at the moment? What's next?
EP: I have an idea for a book about the historical fruit of the United States—how they came to be in certain regions, how some fell out of use, and modern and historic recipes. There are fruits all over the place that never leave a region due to poor shipability—those are the most interesting ones to me, culinarily speaking.
Elisabeth Prueitt's Granola Bark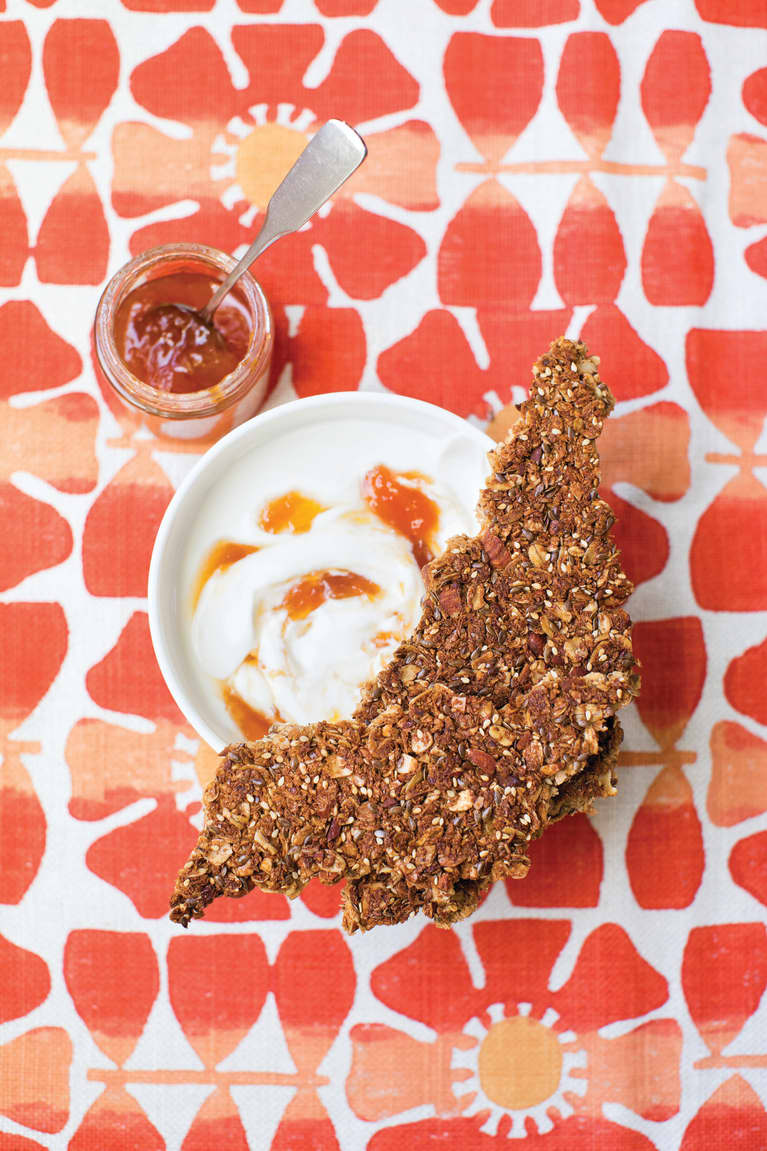 Makes about 16 servings
I have been auditioning granola bars for my son Archer, and I finally decided to make something in between the snack and the cereal: granola bark, a granola that forms a thin bar and then is easily broken into smaller pieces. Two recipes come to mind as those that shock home cooks the first time they make them: mashed potatoes, for how much cream and butter is used, and granola, which also has a surprising amount of fat and much more sugar than expected in a healthful snack or breakfast. So I've cut back, opting for the lower-glycemic sweeteners like maple syrup and coconut sugar. I use olive oil, but other healthful fats, like coconut oil, would do just as well, and of course, butter is a delicious option. The egg white and plumped flaxseeds help bind the granola and make it extra crispy, doing the job that additional sweetener often does. I enjoy this bark over yogurt with fruit for breakfast, and I include it in Archer's lunchbox as a snack bar.
Ingredients
1½ teaspoons ground cinnamon
3 cups/300g rolled oats (not quick-cooking)
1¼ cups/175g almonds, chopped
1¼ cups/60g unsweetened shredded coconut
½ cup/80g flaxseeds or chia seeds, whole or ground
¼ cup/35g sesame seeds
½ cup/60g almond flour or hazelnut flour
½ cup/120ml maple syrup or honey, or ¼ cup/60ml of each
½ cup/75g coconut sugar
¼ cup/60ml water
1 teaspoon vanilla extract
½ teaspoon sea salt
⅓ cup/80ml olive oil or vegetable oil
1 large egg white, whisked until frothy
Preheat the oven to 325°F. Line a 13-by-18-inch rimmed baking sheet with parchment paper or a silicone mat.
Combine the cinnamon, oats, almonds, coconut, flax or chia seeds, sesame seeds, and almond flour or hazelnut flour in a large bowl.
Combine the maple syrup or honey or a mix of both, coconut sugar, water, vanilla, and salt in a small saucepan and bring to a boil, stirring to dissolve the sugar and salt. Remove from the heat and let cool to warm room temperature.
Add the olive oil and egg white to the cooled syrup mixture and whisk to incorporate. Pour over the oat mixture and mix well.
Spread the mixture evenly across the prepared baking sheet. Using another same-size baking sheet or the bottom of a pot, press the mixture down firmly to compact it before baking. Bake for 45 minutes or longer, until dark golden brown, rotating the sheet after about 15 minutes to promote even browning. While the granola bakes, open the oven door a couple of times to release steam.
Set the baking sheet on a cooling rack until the surface of the granola is crisp. Leave the oven on. If the surface is still tacky to the touch once it has cooled, return the pan to the oven and continue baking for another 10 to 15 minutes, checking every 5 minutes. Don't let the bark get too dark, or it'll taste bitter.
Once cool, break the bark into pieces and store in an airtight container at room temperature for up to 2 weeks, or in the refrigerator for up to 1 month.
Note: The recipe works without the egg white, but the bark is slightly more crisp with the egg white.
Excerpted from Tartine All Day: Modern Recipes for the Home Cook by Elisabeth Prueitt, with the permission of Lorena Jones Books/Ten Speed Press, an imprint of Penguin Random House LLC. Copyright © 2017. Photo Credit: Paige Green © 2017.