Yes, You CAN Make A Long-Distance Relationship Work. Here's How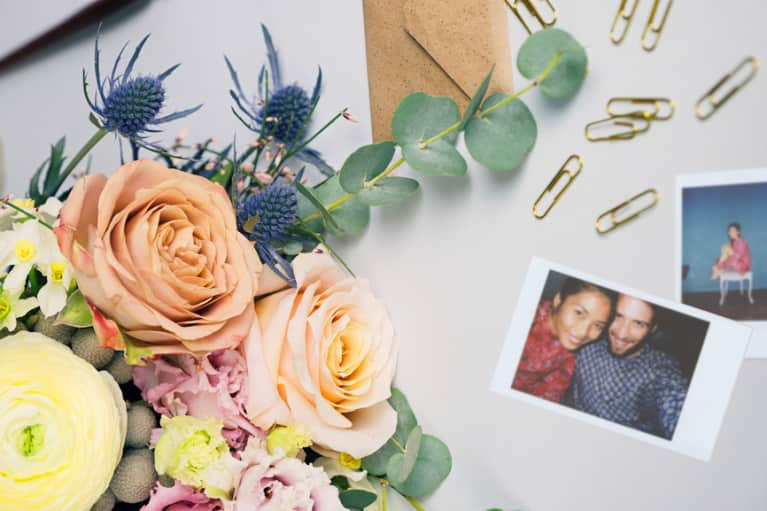 Being in love, but being apart, sucks. My partner and I dated long distance for three years from Washington, D.C. to London, England. The time we were able to spend together was awesome, but fleeting. Until we were finally able to move him over, we came up with a few ways to help keep the relationship on track.
1. Send good morning emails.
Every day we would send a "good morning" email to each other. With the time difference, I'd send his just before going to bed, and he'd send me one on his way to work. Waking up to an empty bed is never great, but knowing that there would be a loving email sitting in my inbox when I rolled over to my phone was reassuring and comforting. We'd try and make them four or five paragraphs long and the time it took to write them was a way of showing each other how much we care. Even after a long day when all I wanted to do was sleep, I'd force myself to stay awake long enough to get him one.
2. Make over-the-top gestures.
I turned 30 on the 30th of August. Apparently that made it my "golden birthday" (where the year you are turning matches the day of the month). Andy had the great idea of sending me a present every day for the month of August, so that on the 30th, I would have received 30 presents for my 30th birthday. Every gift came with a little note explaining why he had chosen it. About seven days in he realized that while the idea was very sweet, the execution was going to be a nightmare—especially as I am notoriously hard to buy for. But he stuck with it, and on August 30th, I opened my 30th present.
Some were practical (I have to have a cup of tea in the mornings and I'm always running late for work, so he bought me a thermos so I could drink my tea on the way to work), some were silly (we went to China and saw the Terracotta Warriors and he merged together pictures of him posing like a Terracotta Warrior in various stages of undress), and some were very sweet (he wrote a 30-page book called "The Story of Us" which detailed how we met and all the trips we had been on). It was way over the top and took him a huge amount of time, but the effort he put in blew me away.
"Never go to bed angry" is a piece of advice I'm sure everyone has been given at some point. When you live with someone, no amount of rolling over and attempting to ignore your partner will prevent them from continuing to argue with you if they want to. When you're long distance, if you hang up the phone or end that FaceTime, there is nothing they can do to continue the argument without you re-engaging.
He tends to shut down when we fight whereas I am more confrontational, so it would have been really, really easy for him to end the calls/FaceTime and go to bed without resolving a fight. As much as he hated arguing, he forced himself to keep the conversations going and the communication flowing because he knew deep down, that was the best thing for our relationship. That big red circle with a phone in it is NOT your friend!
4. Work remotely to extend trips.
Obviously the best thing we could do while long distance was make a trip to see each other. Whenever Andy came over to the States, he always tried to work a day or two remotely, so we could extend his trip from a long weekend, to closer to a week. Remote working is awesome, but still something a bunch of companies struggle with. We made sure that when I visited England, I got to know his bosses so that we were more likely to get their buy-in when it came to him requesting to work a few days from the U.S.
Building a relationship with his bosses helped with them being sympathetic to our situation, and whenever Andy did work from my place, he always made sure he went over and above what he would normally do in a day, so that nobody could criticize him for working remotely and hinder his chances of being able to do it again.
Alternatively, you can do what I did and become your own boss. I started my own company, EquityEats, which provides capital to small businesses but instead of them having to pay us back with cash, they give us credit to the business, which we sell as high-dollar gift cards to their local community. Being an entrepreneur is a TON of work, but it did allow me to be flexible with my schedule, working from England so I could spend more time with Andy.
Our relationship was by no means smooth sailing—it still isn't! There were plenty of times during our time apart when I questioned whether it was worth all the hassle, but following the above strategies made sure that the answer, while not always immediate, was always 100 percent in the affirmative.
Being successful in a long-distance relationship requires you both to get super good at communicating. Most of the time, talking's all you've got! To those currently struggling through a long distance relationship, please know that the communication skills we developed during our time apart have undoubtedly helped make mine and Andy's relationship stronger. So while long distance isn't ideal, focus on the good that can come from it.