Does Exercise Help Reverse The Effects of Aging?
mbg Contributor
By Leigh Weingus
mbg Contributor
Leigh Weingus is a New York City based freelance journalist writing about health, wellness, feminism, entertainment, personal finance, and more. She received her bachelor's in English and Communication from the University of California, Davis.
Medical review by
Wendie Trubow, M.D., MBA
Functional Medicine Gynecologist
Wendie Trubow is a functional medicine gynecologist with almost 10 years of training in the field. She received her M.D. from Tufts University.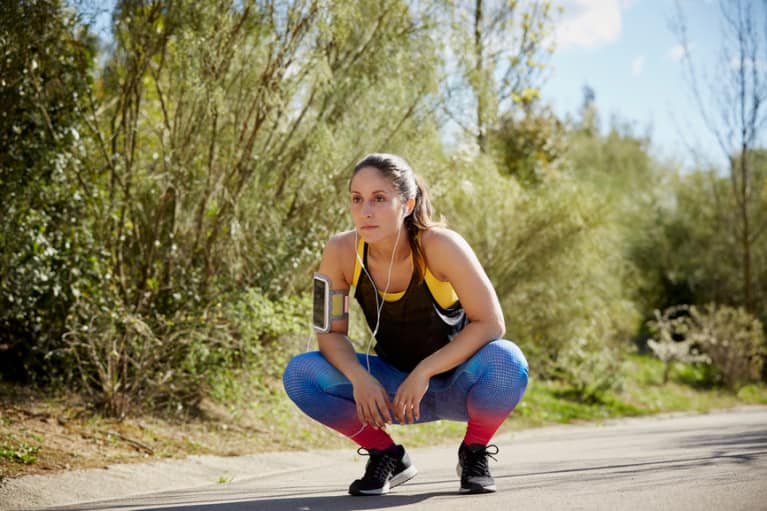 Our editors have independently chosen the products listed on this page. If you purchase something mentioned in this article, we may
earn a small commission
.
Last updated on February 4, 2020
You can slather on all the night creams and vitamin C serums in the world, but keeping your body looking and feeling young starts with your lifestyle. At the end of the day, eating the right foods (hello, bone broth and amino acids), getting enough sleep, and exercising the right way are crucial elements to aging gracefully.
If you're a healthy person in general, you probably have an idea of how important exercise is to keeping your body strong and healthy as you get older. But how exactly does exercise aid the body in the aging process, and what are the best anti-aging workouts out there? Here's what we found out.
How exercise slows down the aging process on the outside
There are a lot of outward factors associated with aging, from weight gain to thin, wrinkly skin. Young-looking skin has a lot to do with something called myokines, proteins released by working muscles. The body uses myokines to stay young, according to Sara Gottfried, M.D., author of Younger: A Breakthrough Program to Reset Your Genes, Reverse Aging, and Turn Back the Clock 10 Years—so that's one huge way exercise helps.
"Aging begins in your muscles around age 35 when you lose muscle mass (5 pounds per decade) and gain fat (1 percent per year). Exercise maintains lean body mass, keeps metabolism high, and weight on target," she adds.
Michael F. Roizen, M.D., a board-certified anesthesiologist and internist and co-author of AgeProof: Living Longer Without Running Out of Money or Breaking a Hip, adds that exercise stresses the muscles, which in turn produces a protein that moves across the blood-brain barrier and stimulates the brain, causing the hippocampus to grow.
"The outward manifestations are less joint pain, less bone loss, less wrinkles, more mobile ability. By changing that it changes how you look—you're standing more upright, you're walking with more intention and less pain," he says.
What about on the inside?
When it comes to disease prevention, exercise is huge—from strengthening the bones to prevent osteoporosis to lowering the risk of heart disease to diabetes, it's hard to find a disease that exercise doesn't help with.
"Exercise improves sleep, which regulates thousands of genes and shrinks the white fat that increases your risk of diabetes and heart disease," Dr. Gottfried says. "Exercise also improves heart function, efficiency, and circulation, lowering the risk of heart disease. Aim for a resting heart rate of 60 or lower."
Plus, exercise stimulates the hippocampus, and a hippocampus means a better memory—and we all want to have that long into our old age.
To reduce the effects of aging, give these workouts a try.
So, are some workouts better than others? Gottfried recommends low-intensity workouts that strengthen the muscles—she's all about barre exercises for an hour four times per week—but she also recommends hiking in the forest, as nature is shown to lower cortisol levels and yoga. "Yoga counts as strength-building because it slows down bone reabsorption and has other health benefits such as lower cortisol."
Dr. Roizen simply recommends any kind of movement. And if you have the basics down, you can move on to the more advanced exercises. "If someone is not exercising at all (roughly 50 percent of Americans say they do less than 10 minutes of walking per day), something is better than nothing. The goal here is to get 10,000 steps," he says. "The second is resistance training, or moving your body against gravity. That takes about 30 minutes to get your maximum anti-aging benefit. The third is cardio, and it appears that 20 minutes three times per week is great for your heart. The fourth is jumping."
Well, it's certainly comforting to know that even walking helps reduce the effects of aging. But if you need us, we'll be doing jumping jacks to keep our bodies young and spry.