How To Get The Best Night's Sleep Of Your Life + Wake Up Looking Sexy As Hell
Contributing Food Editor
By Liz Moody
Contributing Food Editor
Liz Moody is a food editor, recipe developer and green smoothie enthusiast. She received her creative writing and psychology degree from The University of California, Berkeley. Moody is the author of two cookbooks: Healthier Together and Glow Pops and the host of the Healthier Together podcast.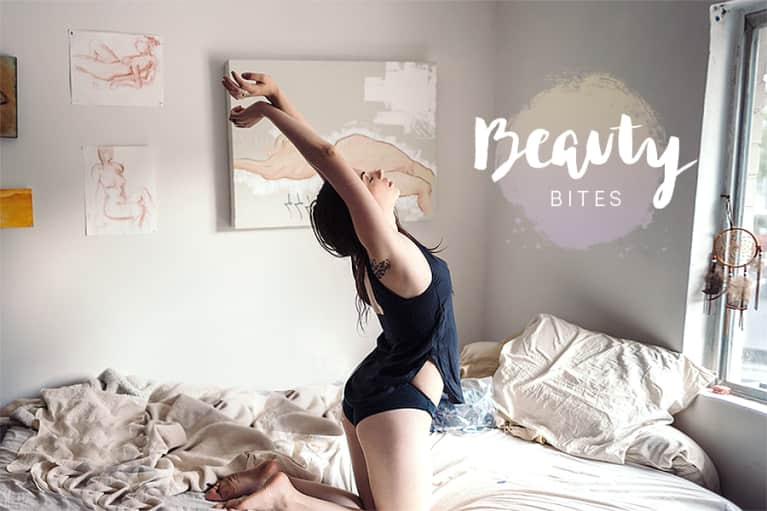 Our editors have independently chosen the products listed on this page. If you purchase something mentioned in this article, we may
earn a small commission
.
Some things just go together: peanut butter and jelly, Beyoncé and Jay-Z, sunny days and picnics–and of course, food and beauty! In our new series, Beauty Bites, we'll be bringing you the best these two have to offer. We've got skincare
salads for acne
, anti-aging and more, smooth-as-a-peach skin, and this week we're all about sleeping potions and lotions to wake up radiant AF.
Sleep—we do it every night (or try to anyway), but few of us are very good at it. Those eight hours (OK, maybe seven—but five or six is no longer acceptable. Be a grown-up. Get thyself to bed) can be used to re-energize and repair your body and make your skin absolutely glow, but you need to do it right. A proper bedtime ritual will result in you getting the best sleep of your life every single night, and waking up feeling like a whole new person. Come along as we help you sprinkle a little sleep magic on your nighttime routine.
"You know, they ask me questions. Just an example: 'What do you wear to bed? A pyjama top? The bottoms of the pajamas? A nightgown?' So I said, 'Chanel No. 5,' because it's the truth," said Marilyn Monroe in a 1960 recording. "And yet, I don't want to say 'nude.' But it's the truth!" The power of scent and sleep is not to be underestimated—most olfactory experiences work like that. A smell can pass you by, unremarked or nearly so, in large part because you don't have a word for it; then you inhale it and grasp the meaning so profoundly, that your nose and your emotions expand. Sometimes trying something new and shifting your thinking can be all that's needed to break a negative sleep pattern if it hasn't become chronic. Why don't you concoct this Dreamtime Oil tonight to induce sweet dreams, and in turn bring serenity to the hours of the day you spend awake?
2 drops rose
1 drop jasmine
1 drop chamomile
Blend into a tablespoon of base oil—could be whatever takes your fancy such as grapeseed, coconut, or almond oil. Before bed, rub a few drops behind ears and out over your jawline (gentle enough for your lovely face, too), then put the remainder on wrists and soles of feet for a mind and muscle-calming combination that promotes natural melatonin release. Zzzzzz.
Choosing to smell of something other than ourselves, and then perhaps in time coming to view that blend as "our" smell—the very essence of us—is a potent unicorn. Calmness, peace, and a lower heart rate? Yup! Gorgeous aromas? Yup, yup! Plus, you'll wake up in the morning with skin so glowy people will ask you what you've been up to...
Eat your way to dreamland.
In your food, there are two things you'll want to focus on for a great night's sleep: magnesium and fat. While tryptophan, found in foods like turkey, is commonly cited as "sleep-inducing," no foods actually contain enough of the compound to have a real effect ("but," you say, "I thought that's why I get so sleep after Thanksgiving meal." Nope! You just ate enough calories for a week; of course your body needs a break).
Fat helps keep your blood sugar stable throughout the night. According to mbg's resident sleep expert, Dr. Ellen Vora, when you wake up in the middle of the night with a racing heart, it's often your blood sugar dipping, and your body misattributing that dip to anxiety. Having good fat before bedtime keeps your blood sugar stable, tricking your body into a state of calm and relaxed slumber.
Magnesium is a mineral that most of us are deficient in, and it, in essence, helps your body and mind to relax. Calf cramps are commonly caused by magnesium deficiency, and having adequate amounts has the opposite effect, telling your tightly wound muscles to unwind and relax. While you can take a high-quality magnesium supplement, it's also found in raw cacao and pumpkin seeds. Because of the energizing theobromine content, I recommend staying away from cacao at bedtime, but pumpkin seeds are as harmless as a sleeping kitten—and a half a cup contains a day's supply of magnesium.
Make the ultimate sleep-inducing nighttime tonic.
Because no one wants to sit and eat a cup of raw pumpkin seeds (or maybe you do, in which case, have at it!), I like to make pumpkin seed milk that I then use for a warming, sleep-inducing nighttime concoction that's filled with good fat and magnesium. To make the milk, just cover one cup of pumpkin seeds in water and soak overnight, or about 12 hours. Drain and blend with 2 to 3 cups of fresh water (depending on how thick you like it) and a pinch of salt, and that's it—you're good to go! Store in the fridge until you're ready to consume, then warm one cup at a time in a small pot on the stove over medium heat. When it just boils, turn off heat and add 1 to 2 bags of chamomile tea. Cover and let steep for 8 to 10 minutes, then remove tea bags, add a sprinkle of cinnamon, and you've got a perfect sleep tonic ready to sip and enjoy.
Lay your pretty head to rest.
On a silk pillowcase, that is. Long a secret of celebs and (likely) every woman you see on the street with astonishingly good hair, silk pillowcases are a beauty rest necessity. Cotton and polyester pillows have rougher fibers, irritating your skin and frizzing up your hair as you toss and turn throughout the night. Silk pillowcases are smooth as buttah, letting your hair glide (no tangles, no frizz) and your skin slip (no wrinkles!) over the surface. Mulberry silk is ideal; we love the slip pillowcase and the NIGHT pillow, which is also black, to absorb excess light and hide any drool stains (not that we drool, ever. We're all sleeping beauties over here).