A Peek Into The Eco-Friendly Routine Keeping Emma Watson Glowy AF
mbg Sustainability Editor
By Emma Loewe
mbg Sustainability Editor
Emma Loewe is the Sustainability Editor at mindbodygreen and the author of "The Spirit Almanac: A Modern Guide To Ancient Self Care."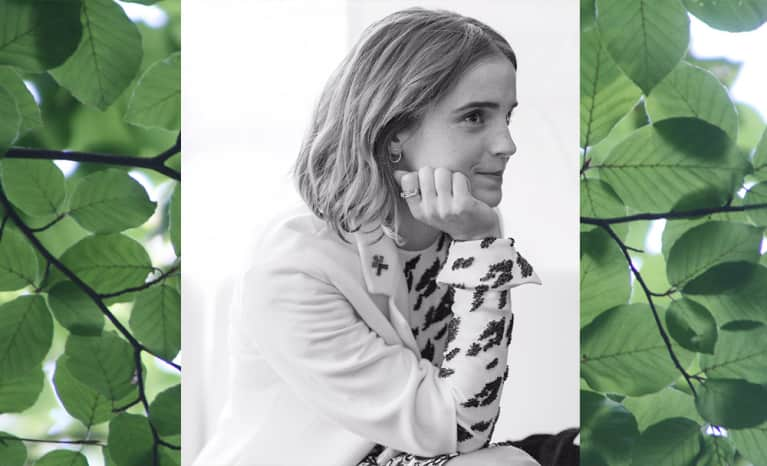 Our editors have independently chosen the products listed on this page. If you purchase something mentioned in this article, we may
earn a small commission
.
For those of us who grew up periodically checking the mail for a Hogwarts acceptance letter, Hermi Emma Watson personifies all things magical. Over the past few years, though, she's shed her character to become an international symbol of elegance, poise and acuity. Whether you've spent hours getting lost in her book club recommendations, followed her empowering stance on feminism with wide eyes and a beaming smile, or listened to her UN speeches on repeat, it's easy to agree that she's one celebrity using her fame for good.
And lately, Watson's set out to shed light on the too-often-overlooked topic of sustainability. "As consumers, we have so much power to change the world by just being careful in what we buy," she writes on Instagram. She's sharing what this conscious consumerism looks like in her world with a new Instagram account, The Press Tour, which highlights the eco-conscious clothing brands she's wearing on her Beauty and the Beast promotional circuit.
The best part about the whole thing? As you scroll through her images, you really can't tell that she's wearing sustainable clothes at all. Every look plays into her timeless, chic style; they just so happen to be easier on the planet than traditional clothes.
Whether it's vintage, upcycled, or made from materials like canvas or hemp, each gown proves that, yes, eco-fashion can be fashionable. By accompanying the photos with stories about how the garments and accessories were made—whether constructed from Vietnam War-era aluminium scrap or crafted by an all-female team in London—Watson is giving the account's 410k followers something to latch on to. And that's really what it's all about: getting people excited about making sustainable shifts.
Watson's beauty routine also speaks to this ethos of using your dollar to enact change. After researching the natural products on the market today, she's crafted a makeup and skincare arsenal that isn't loaded with chemicals. She told Into The Gloss that her must-haves include RMS 'Un' Cover-Up Concealer ($36) and Powder ($34) as well as Tata Harper's Bronzing Cheek Tint ($36). "I use the MV Organics Rose Plus Booster ($110) a lot and also their Rose Soothing and Protective Moisturiser ($115)," she adds. After some digging, Watson's even tracked down a natural deodorant that works for her. "It took me a while, but I finally found some good natural deodorant. It's not an easy search! The best one I've found is Agent Nateur—I use the No. 3 ($21)."
We love that her beauty philosophy prioritizes from-the-earth ingredients without being too rigid. (She describes it as 80 percent clean, 20 percent not-so-much). "You can end up driving yourself a bit mad and make it more stressful than it should be. Sometimes you just need a mascara to be waterproof and that's OK." Another aspect of her routine that stands out is its emphasis on self-care: "I have a bath every single day of my life. And if I can have two or three—amazing. Nothing terrible is going to happen in the bath, so I always find time for that."
So there you have it. If Emma Watson can carve out time for some Epsom salts and peppermint oils, us mere muggles can too.