7 Grab & Go Snacks That Will Heal Your Gut
Contributing Food Editor
By Liz Moody
Contributing Food Editor
Liz Moody is a food editor, recipe developer and green smoothie enthusiast. She received her creative writing and psychology degree from The University of California, Berkeley. Moody is the author of two cookbooks: Healthier Together and Glow Pops and the host of the Healthier Together podcast.
We all want great gut health, but if you're anything like me, you often find yourself reaching for not-so-microbiome-friendly foods when you're on the go. Here are five quick and easy (no cooking skills necessary!) snacks you can make to nourish your gut throughout the day:
Ah, energy balls—is there any better grab-and-go snack? These taste reminiscent of gingerbread cookies and are packed with ginger, one of the best gut-soothers around. To make, just pulse a cup of nuts of choice (you can even mix nuts), eight pitted medjool dates, a generous pinch of salt, 1 teaspoon powdered ginger, 1 teaspoon powdered cinnamon, ½ teaspoon powdered nutmeg, and ¼ teaspoon of powdered allspice in a food processor until it comes together in a sticky dough. Roll into balls and store at room temperature until you're ready to eat!
2. Spicy Maple Toasted Pumpkin Seeds
Pumpkin seeds are one of nature's best sources of magnesium, a powerful stress reliever. Our gut is often referred to as our "second brain," and it can surprise people just how much impact a nervous state of mind can have on our insides (you know that butterflies-in-your-stomach thing? That's your gut-brain connection in action!). Keeping your magnesium levels high will help soothe your nervous system and, as a result, your gut. While you can just nosh pumpkin seeds straight, I like to coat them in a bit of maple syrup, some sea salt, and a tiny sprinkle of cayenne before popping them into a 350-degree oven until they're golden brown.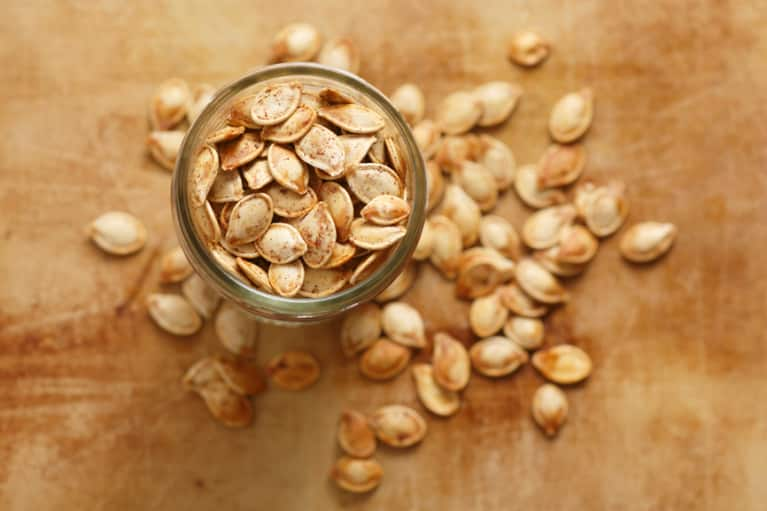 These are similar to the energy packets runners use, except they're filled with gut-loving, good-for-you ingredients. Chia seeds are the gut-health standout here; in the liquid, they swell and become gelatinous, creating the texture of this gel but also creating a consistency that will help line your gut and sweep out excess waste from your intestinal lining. I like to make a bunch of these, leave them in my fridge at home and at work, then grab when I'm heading out for a long day or need a sweet nosh (they keep at room temperature for 8 to 10 hours but should be stored in the fridge long term). To make, just soak 8 pitted Medjool dates in boiling water for 10 minutes, drain, and combine with 2 tablespoons of chia seeds, 4 tablespoons of maple or coconut syrup, 2 tablespoons raw cacao powder, a generous pinch of cinnamon, a generous pinch of salt, and 6 tablespoons of water in a blender. Blend until smooth. Divide between 6 to 8 sandwich bags and store in fridge till ready to eat. When ready, I like to snip off the tip with scissors and squeeze it straight into my mouth.
4. Celery and Almond Butter
This one is easy—simply spread some almond butter (or other nut butter of choice) on a stick of celery. Add some chopped nuts, cinnamon, and flaky sea salt if desired (this is not necessary at all) and eat or store in a sandwich bag for later. While this snack harkens back to childhood, it's also a powerful gut aide. Celery is a prebiotic, which means it provides the food the good bacteria in your gut need to proliferate, helping ensure a healthy, happy microbiome.
I love to make a stash of these on Sunday and eat them throughout the week when I don't have time to eat breakfast, or I just need a quick pick-me-up to get through the afternoon. There are two important gut factors going on in these—first, they're refined-sugar-free (you want to avoid sugar as much as possible if you're looking to have a healthy gut), and second, they contain inflammation-taming superstar turmeric. Inflammation is the source of many problems in the body (and specifically, the gut), including things like bloating, constipation, and IBS. Swap out your go-to snack for these and your body will thank you. Get the recipe here.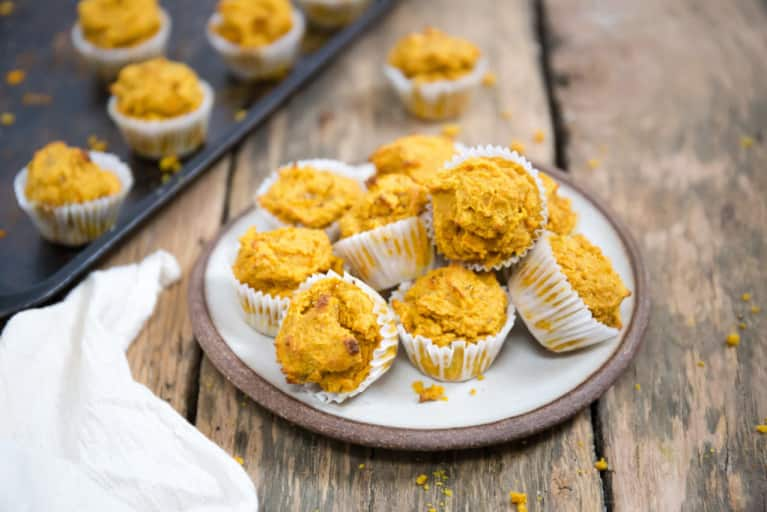 With the right kind of seasoning, these taste less like getting caught in a wave and more like a slightly more umami kale chip. While you can buy prepackaged seaweed at many stores these days (just make sure there's no canola oil or other trans fats, as they're gut destroyers), you can also make your own by brushing dried nori (available in the Asian section of most grocery stores) with sesame seed oil, salt, and a sprinkle of garlic and onion powder. Toast at 350 degrees for 5 to 10 minutes, then break into chip-size pieces and store in a tightly sealed container at room temperature.
You know fermented foods are great for you, but it's not so appetizing to plop a hunk of sauerkraut in your mouth. You can find gut shots at some grocery stores, but they're also super easy to make yourself—simply buy a refrigerated container of sauerkraut, beets, carrots, or any other fermented food. Place a nut milk bag or a clean, thin dishtowel in a medium bowl, then pour the entire container of sauerkraut into the towel or bag. Squeeze, retaining the juice. Transfer the juice to small jars to take when you want a quick gut shot (I especially love them to instantly kill sugar cravings) and return the solid vegetables to the jar, storing in fridge until ready to use as normal. One tablespoon of this liquid contains billions of healthy gut-colonizing bacteria (for far less than the price of a store-bought probiotic!).