How I'm Holding On To Hope In The Aftermath Of Suicide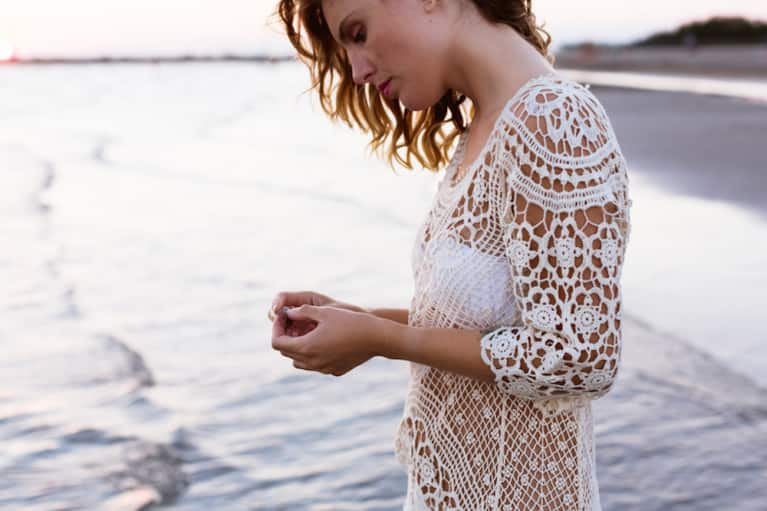 When I sat down to write this, I planned to write about intentions. But instead I found myself deep in grief and thinking a lot about suicide. I will always remember January 2017 for the death, by suicide, of a loved one.
In the wake of this loss, I didn't feel like setting goals or writing about intentions. I turned instead, as I always do in difficult times, to books I love and I found solace in meditating upon the words of philosophers and poets. I also tried to see the bigger picture, taking time to contemplate the many others who are suffering just as I am. Many people have loved or will love someone who chooses to end their life.
As a psychologist, suicide is a topic I've encountered before. But I was shocked to learn that there are over 800,000 suicides worldwide each year. That's more than 2,000 people every single day.
So, I'm writing to those whose loved ones end their own lives. This is my offering. I hope sharing my experience might be of some use to others, that these words might prove a balm to aching hearts. They're only words. But words can heal.
Something feels different about a death by suicide. It arrives with a fierce abruptness, a tearing away. We'll never know when my beloved cousin Gareth made a choice that would end his life. We are still here. And we grieve. But mostly I've noticed that we seem to be asking a lot of questions. It's a quirk of our humanity that we like to make sense of things. We like to understand. So we question not just the pragmatics of when, where, and how—we also question ourselves.
Could I have done more? Could I have done things differently? Such thoughts are a trap because, yes, inevitably, all things could have been done differently. But they weren't. And if these questions haunt us, we can only apologize to those we once held—for the things we did or didn't do that somehow contributed to their pain—and try to let go of the regret.
As I listen to my loved ones try to make sense of this tragedy, I hear some people question his intent. Did he really mean for that to work? Did he really choose to end his life? Was it just an angry and impulsive act that in the final moments he regretted? Sometimes death is a well-considered, contemplated destination. Sometimes it isn't. As for Gareth, we'll never know. And, given that it did work, debating whether he meant to die or not is unhelpful. He is gone and his actions are not for us to judge.
Judge not, then, the karmic path walked by another. Envy not success, nor pity failure, for you know not what is success or failure in the soul's reckoning. —Neale Donald Walsche
Another question, equally fraught: How could he be so selfish? I personally have no sense that Gareth's actions were in any way "selfish," but I understand that others might. I can't know the hell he knew (Gareth suffered psychosis). But it's clear he'd had enough. For those who feel anger and for those who do judge, Rumi offers a path to healing: "Out beyond ideas of wrongdoing and rightdoing there is a field. I'll meet you there."
Some of us question Gareth as to why? Why? Why? To this unsolvable question the poet Rainer Maria Rilke says, "Be patient toward all that is unsolved in your heart and try to love the questions themselves. Do not now seek the answers, which cannot be given you."
Some of us question the great unknown. Why do some suffer so greatly? Why do some children return to the earth so early, leaving their earthly families with broken hearts? There are endless questions and far fewer answers. Our brains can't truly comprehend the situation. Our minds wander through grief, anger, sadness, regret, relief, and bewilderment. Our hearts ache. Our eyes tear. And our hearts are a bit less full, having lost one colorful soul. May we ride the waves of our emotions with courage, grace, and presence.
It is no secret that our Gareth suffered. More than any of us could probably ever comprehend. His mind was not always his friend. And not in the way that all of us struggle with negativity and doubt but in a way more disordered and horrific than we could imagine. Life was, at times, a ghastly, wretched prison for him. In the 17 years since Gareth tragically lost his beloved brother in an avalanche, his mind turned on him with increasingly greater force.
Anger burned through him. Confusion cut his sanity. Clarity and contentment, those things we all seek, would elude. Like many others who suffer severe mental illness, he would seek some peace from his own mind through alcohol and other drugs, which only hurt him and deluded him further.
I cannot pretend that I am without sadness or confusion. But my predominant feeling is one of peace and gratitude. Gareth is somewhere else or nowhere, depending on what you believe. Wherever he is, is not here. He is somewhere else. I choose to believe it's a better place—a union with the vast ocean of consciousness in which he knows for the first time the love that has always surrounded him and always been within him.
When we come to a new and beautiful place, our first instinct is to open our arms and embrace the expanse of it. So I'm opening my arms and my heart. To life, to death, to Gareth, to others, and to the love that bonds us together.
For me, this year has begun with a deep journey of letting it all in—letting loss rip the heart open—and then letting it all go. And though this year won't be about temporal goals, I think I've found a motto for 2017: Let go gracefully.
"We need, in love, to practice only this: letting each other go. For holding on comes easily: we do not need to learn it." —Rainer Maria Rilke