Confronting Yourself as a Yoga Teacher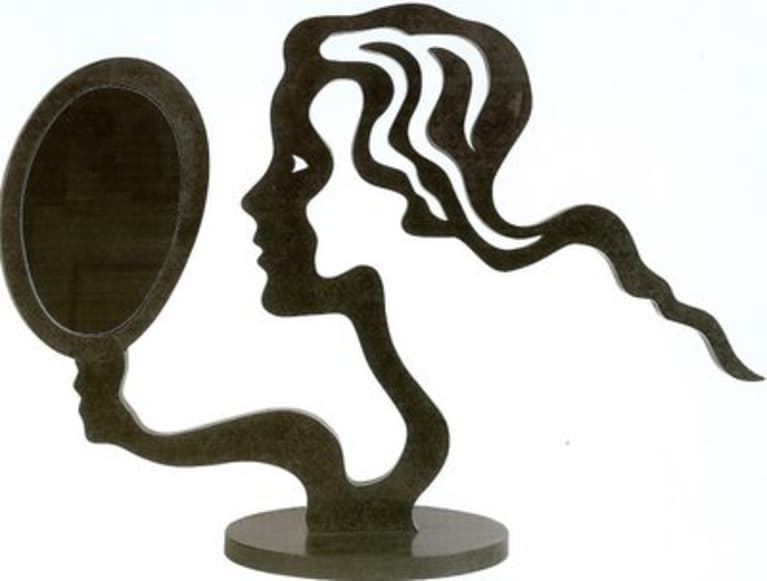 As my teacher Annie Carpenter once said: "Any issues you're struggling with internally are magnified when you (practice and) teach yoga." She couldn't have said it better.
As a full-time yoga teacher just off the corporate bus, I am experiencing an internal battle I did not anticipate. My deepest neurosis, be they patterns of approval seeking, insecurities or just plain self-critical thoughts -- are suddenly roaring their ugly heads. It's strange to see them roar so loudly now as a teacher. One would think that in a role of helping others, the voices would quiet down to let the goodness unfold. But no, it's quite the opposite. If I was self-critical before, I've now grown a second self-critical head spinning ugly medusa-like tentacles, just begging for me to pay attention to them and engage.  
Where is the critical nature coming from? Perhaps it's the pressure of the duty. I feel so naked at times crafting a class for others that truly honors and delivers on the tradition of yoga. There is a sacredness to that. And the philosophy behind it is something I personally cherish, but don't always feel is relevant to physically speak to in class. The pressure of that duty! 
Lately I've thought teaching yoga, the very thing that heals me, has pulled a veil over the very benefits I once enjoyed. If I am giving it to others and forgetting its basic magic in the process, I am dishonoring all that it stands for, and forgetting the most important thing- how to continue honoring it in myself. The irony is, I am practicing myself more than ever. So is it that I'm not vigilant enough to catch the silly thoughts before they take root? Or perhaps the bad voices have found a loophole in my new role; a place to fester unnoticed. Well the good news is -- I am noticing them. And the bad news is: I am noticing them.  
It brings up a nice conundrum. What does the yoga teacher do when they're experiencing the very ups and downs yoga helps cleanse? If yoga is about uncovering your true self, what if the teacher has fallen into a human trap? They say the light comes in through the cracks, so I am looking for that light now. What's been so strangely comforting lately is seeing how so many other established teachers deal with similar vulnerabilities.
New York based yoga teacher Bernadette Birney addressed this very subject in her recent blog entry titled: "Even Yoga Teachers Get the Blues." According to Birney, when darkness calls, using simple tools like going outside, and remembering to breath are all she needs to dig out of the deepest, darkest dugouts.
This is comforting to hear. And it appears she is not alone. Recently on a yoga teacher telesummit call, teacher Jason Crandell spoke of his own insecurities, and that he doesn't always "drop in" to his teaching so easily because, simply, he is human. And being present takes practice. So he notices, and practices.
Maybe that is all we need to know. That we are human, and that bad thoughts come and bad thoughts go. So what? We've heard that story before.
But I still think as yoga teachers there is something bigger going on. Teaching puts you in a public realm, which in many ways puts a new lens on life. For me, that lens is how my students are perceiving me, and are they are receiving the class well. Then, can I authentically drop into myself while teaching by connecting to the students in real time? Or am I in my head, out of the moment listening to medusa's self-critical thought tentacles. And if I am not connecting with students, it's hard not to take that personally. So if you were sensitive already—welcome to the Armageddon of potential thought hell because it's going to be a rough ride as you establish your voice and your connection to students. Thus far, I find its good to remember this:   
"There is a huge amount of freedom that comes to you when you take nothing personally." – Don Miguel Ruiz
So in confronting myself as a teacher, I know some students will love me, and some will not. I remember who I am, and that my style won't resonate with everyone. And if it means when I'm goofy, not everyone wants to chuckle in down dog, so be it. And so what?  I'm not saying teaching yoga is any less difficult than teaching anything else -- but there's an inherent intimacy in the nature of the practice, which brings any student interactions to a more salient, visceral level. So interactions can be more immediately and deeply felt, both the good and the bad.  
I would like to say I am very grateful its happening on many levels, since it allows me to recognize it for the ignorance it is, and grow from there. But I am also fascinated by the mechanism that is revealing it to me -- teaching yoga. I already knew my yoga practice was a key staple to living a happy, healthy life both mentally and physically. Little did I know that I'd need an extra does of yoga in order to teach yoga.