The Crystal Rituals That Will Amplify Your Astrological Potential This March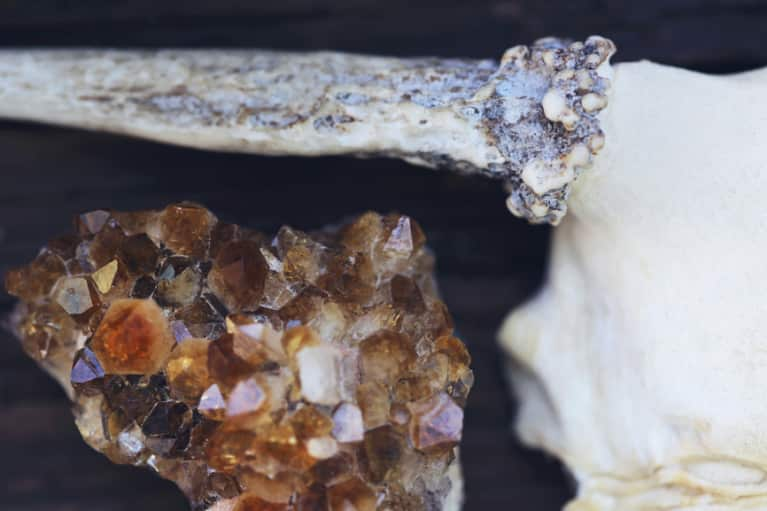 Our editors have independently chosen the products listed on this page. If you purchase something mentioned in this article, we may
earn a small commission
.
In this new series, Heather Askinosie, the holistic healer behind Energy Muse, will share her advice on how to harness the power of crystals to fulfill your astrological destiny. She'll work off monthly forecasts from the AstroTwins, forming one heck of a spiritual duo. Get ready to cleanse that celestite and hold tight to that tourmaline because you're about to see crystals in a whole new way.
The AstroTwins predict that March will usher in some cosmic curveballs as Venus, the planet of love, goes into retrograde. So how can you sidestep the chaos of a planetary alignment that is nudging you to shift, change, and evolve, whether you want to or not?
Instead of putting your head in the sand, put your hands in the dirt of Mother Earth. Feel the soil between your fingers, place your bare feet on the grass—and pick up some crystals. Get grounded. When everything is spinning out of control in the celestial forecast, reconnect to the Earth and catch your breath. But is it really this easy? You bet it is.
When life starts moving fast and change is in the air, you can either resist or surrender to the flow. Chrysocolla is your touchstone in times of rapid change. It allows you to see life with a new set of eyes—one that is hopeful, curious, and open-minded. Looking at its deep colors of blue and green will remind you that life is always moving, shifting, and changing. To be fully alive, it's important to embrace change and look at it as an opportunity for growth rather than something to fear or dread.
Jupiter and Uranus face off (March 3)
According to the AstroTwins, yesterday's Jupiter-Uranus opposition brought unresolved issues to the forefront. This gives us a chance to look at the past with a fresh perspective.
Today, hold a piece of selenite in each hand; lay it on your body or place under your pillow when you sleep at night. Selenite's moon-like glow will help you tap into a higher consciousness, allowing you to see a situation through a big-picture lens. It helps you tap into the frequency of spaciousness, which in turn helps you see life from a more neutral, balanced place.
Venus retrograde (March 4 - April 15)
As the love guru planet Venus goes retrograde this month, it's time to focus on glowing from the inside out. It's a great opportunity to focus on how you love and nurture yourself, remembering that real beauty comes from within. It is not the time to experiment or radically shift your look. If you're a brunette and have always been curious about whether blondes truly have more fun, hold off before changing your hair color. Venus in retrograde means there's a high chance that you won't like the transformation.
Instead, grab all your love stones (think rose quartz, pink opal, and rhodonite) and place these crystal Cupids over your heart. Then, repeat out loud: "I love and adore myself. I am lovable."
The AstroTwins told us that the full moon on March 12 encourages stability and strategic planning. Ring it in by holding two palm-size fluorite stones (one for each hand) to stay peaceful. As you hold the crystals in your hands, allow their soothing vibrations to infuse your energy body with the essence of serenity. Peace conquers anxiety. Peace conquers stress. Peace conquers distraction. Once you feel peaceful, the old way of being no longer feeds you mentally or spiritually.
Spring Equinox (March 20)
Moving toward the spring equinox, it's important to focus on the present moment and make time your friend. Come March 20, work with aquamarine and bloodstone, the crystal allies of the Pisces astrological sign. Carry them in your pocket or place them in your bra so they are close to your body. Throughout the day, pay attention to the present in the moment and ask yourself, "How can I make this experience more enjoyable? Can I breathe deeper? Be a little more grateful? Smile?"
Figure out what small actions force you to stay attentive. In this moment, right now, you have the ability to either blossom, opening your petals to the light of the sun, or stay shut in a dark, isolated coil. It's your choice, but just remember, spring is the time of bloom!