Your March 2017 Horoscope Is Here: What's In The Stars For You?
Astrologers & Best-Selling Authors
By The AstroTwins
Astrologers & Best-Selling Authors
Ophira and Tali Edut, known as the AstroTwins, are professional astrologers based out of New York and Seattle. Their work has been featured in The New York Times, Elle Magazine, Vogue and Good Morning America and they are the authors AstroStyle, Love Zodiac, Shoestrology, and Momstrology.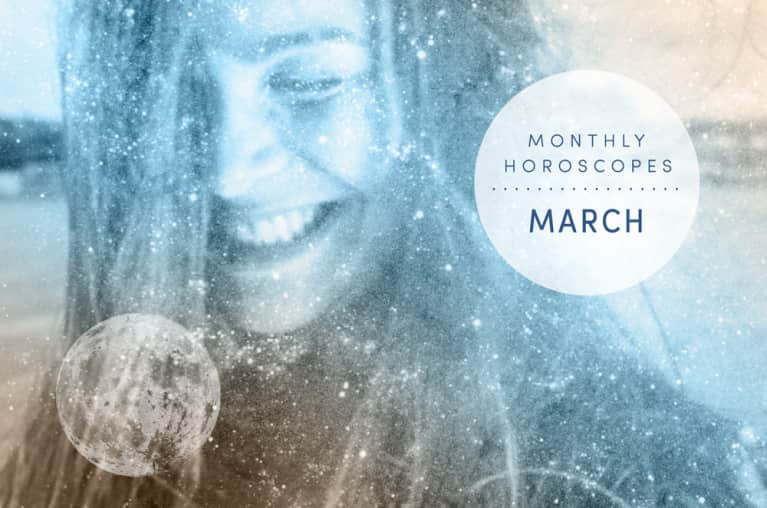 Still on your toes from February's unpredictable eclipse season? Well, it ain't over yet! Your March monthly horoscope has its own cosmic box of surprises—with love planet Venus in retrograde and two interplanetary tangles from abundant Jupiter.
From fired national security advisers to Oscars envelope gaffes, February was as unpredictable as we told you it would be. With both a solar AND a lunar eclipse throwing us curveballs, and a mounting Jupiter-Uranus opposition spiking global tensions, shake-ups on the world stage were inevitable.
As March begins, we face more tricky transits. On March 3, expansive Jupiter and shock-jock Uranus will meet in an exact opposition—their second of three faceoffs between December 26, 2016, and September 28, 2017. This rare aspect occurs only every 14 years, a time of rapid change and revolution. On the upside, it can bring massive breakthroughs and progress. But chaos can also ensue, as these hotheaded planets tempt us to make "change at all costs," throwing out the baby with the bathwater.
In 1989, a Jupiter-Uranus opposition (in Cancer and Capricorn) heralded the end of the Cold War and the collapse of the Berlin Wall. Fourteen years later, in 2003, a Jupiter-Uranus opposition (in Virgo and Pisces) coincided with the space shuttle Colombia's crash and the U.S. invasion of Iraq. This go-round, as global Jupiter in peacemaker Libra battles tech-savvy Uranus in self-interested Aries, we have WikiLeaks, Russian hacking, and the scary rise of ethno-nationalism. Hotheaded demagogues seem hell-bent on erasing "justice for all"—from Standing Rock to transgender student rights, to women's choice to religious freedom, to name a few.
Under this starmap, it's inevitable that politics seep into our astrological forecasts. We need a road map, an answer of any kind. There IS a method to this March madness, but it may not be revealed to us fully until the fall. Will there be more leaks and sudden changes of the guard? Most likely. In the meantime, try to balance the big-picture view of Jupiter with the righteous anger stoked by freedom-fighter Uranus. In addition to protests, we must have a clear and unified agenda for peace and stand firm in it rather than simply reacting to every outrage hurled our way. There will be more—many more—until this sci-fi movie we're living in ends. March is like learning to surf or hold a challenging yoga pose: We have to find our core and learn to stand firm, even on the shakiest support. Here's hoping the sensible Virgo full moon on March 12 helps us craft a solid plan.
Luckily, the bold Sun is in healing and compassionate Pisces until March 20. But oops—Venus, the planet of love and harmony, will turn retrograde from March 4 to April 15. Just when the world needs some "love, sweet love," it's in short supply during this phase. Venus changes course for six weeks every 18 months, a cycle that tests even the most rock-solid relationships. On a personal level, old conflicts erupt and ex-lovers dip back into the picture. Is it time to give 'em a second chance? Explore with caution.
This time, Venus will reverse through hotheaded Aries until April 2, so brace yourself for ego battles and brash tempers. From April 2 to 15, Venus will back into Pisces, a time of blurred boundaries and master manipulators. Don't be too quick to call 'em a soul mate or spill your most intimate confessions. Blurred lines and hidden information can emerge with Venus gone rogue in this illusory sign.
Use this time as constructively as you can: Heal old relationship wounds, gain closure with an ex, renovate your home, and declutter. Research a spring lookbook for your closet or home, but wait on the shopping sprees. Since Venus rules beauty, the retrograde can bungle any radical changes to your appearance, from extreme haircuts to cosmetic procedures. Touch-ups only—trust us!
Aries season begins on March 20, and it's hot, hot, hot. By the time the March 27 Aries new moon arrives, the Sun, expressive Mercury, magnetic Venus, and innovative Uranus are also here. This "fab five" in the fiery, feisty sign of the Ram will certainly make some strong and unapologetic voices heard. Will we benefit from the balancing vibes of the spring equinox with so much energy tipped toward this single-minded sign? We may all need to remind ourselves: "It's not just about me."
And if we don't get the memo, the month will end with a stark reminder, as Jupiter makes its second of three intense squares with power-monger Pluto. Another unholy trinity of Jupiter aspects is upon us: The first of these was on November 24, 2016 (anyone else have a crazy Thanksgiving?), and the last is on August 4. Jupiter in peaceful Libra will confront controlling Pluto in Capricorn, the sign of patriarchy, old-guard systems, and tradition. We're working out a dilemma here: Which "old-school" structures are worth upholding (may we suggest the U.S. Constitution?) and which should march off with the dinosaurs? We'll be sorting that one out until the summer, with a few epic power struggles along the way.
March comes in like a lion...but it's roaring out the same way. Brace yourself for the bluster! Ramp up your self-care, and once again, expect the unexpected.
Want more insight into what the year has in store for you? Check out your love horoscope to learn more about yourself in relationships. Then, read your sun sign's full monthly horoscope here.