You'll Want To Use This Inflammation-Fighting Everything Bagel Seasoning On, Well, Everything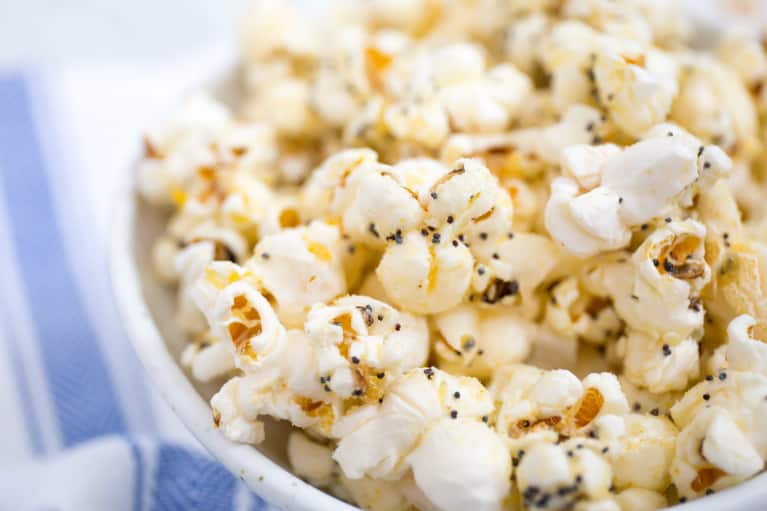 Everything Bagel seasoning is the spice du jour, and for good reason: The sweet, salty, and savory mix makes anything it touches turn to delicious. Long a staple of the New York bagel scene (yes, there's a New York bagel scene, and yes, it's intense), everything bagels traditionally topped with sesame seeds, onion flakes, poppy seeds, garlic flakes, sea salt, and—the secret ingredient that really takes the flavor to the next level—caraway seeds. With a sweet and earthy flavor and rich medicinal history, caraway seeds are the note that gives rye bread its super-distinct flavor.
We're firm believers in your spice cabinet being the best source of superfoods, and this blend affirms that in spades. Caraway has been known to prevent gas and bloating, sesame lowers inflammation levels, and the garlic and onion are antiviral and antibacterial, helping give your immune system a boost.
Everything Bagel Seasoning Recipe
2 tablespoons sesame seeds
2 tablespoons onion powder or dried onion flakes (flakes is better)
2 tablespoons poppy seeds
2 tablespoons garlic powder or dried garlic flakes (flakes is better)
2 tablespoons caraway seeds
2 tablespoons coarse sea salt
Method
Mix together all spices until well-combined, then use to top whatever you'd like (see some of our favorite suggestions, below). Store in an airtight jar in your pantry for up to a year.
5 Ways to Use Everything Bagel Seasoning
Using an air popper or any pan method (we like heating up 1 tablespoon of coconut oil over medium heat, adding ½ cup of unpopped kernels, and covering until the pops slow down), make as much popcorn as you'd like. Drizzle with some melted ghee or coconut oil, then top with Everything Bagel Seasoning and enjoy!
2. With quinoa + a runny egg
Prepare a batch of quinoa, stir in a few spoonfuls of Everything Bagel Seasoning, then pan-fry an egg in ghee or coconut oil until the white is cooked but the yolk is still runny. Transfer egg to quinoa mix, add some chopped scallions on top, and enjoy!
3. In your savory oatmeal
Prepare oatmeal per directions, then stir in a few spoonfuls of Everything Bagel Seasoning. Drizzle with some Sriracha and enjoy!
Toast up some bread (we love sprouted or sourdough), spread some avocado on it, and sprinkle with Everything Bagel Seasoning for an upgraded version of everyone's favorite breakfast.
Make a batch of your favorite pasta (gluten free or ancient grain are great!), then add a squeeze of fresh lemon juice, some ghee or pastured butter, and a hefty spoonful of Everything Bagel Seasoning. Voilà—an exotic and comforting dinner, sorted!