This Surprising Practice Could Help Save Our Planet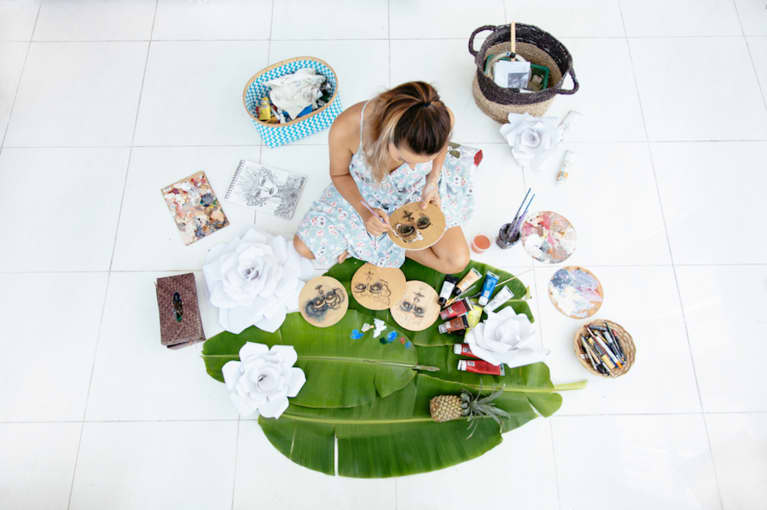 Our editors have independently chosen the products listed on this page. If you purchase something mentioned in this article, we may
earn a small commission
.
"Earth Without Art Is Just Eh." I'm not sure where I first saw this fun little play on words, but I can't seem to shake it. For me, it's a reminder that art—visual art in particular—defines our world. And it just might be the thing that saves it.
Painters, photographers and illustrators continue to grapple with the complex issue of climate change, and the resulting works turn an intangible problem into a tactile work of art. Creating pieces that have an environmental focus is a powerful form of activism that distills complex information into a compelling image. Don't get me wrong; I think words hold an immense power. But a dense text on how atmospheric carbon dioxide is disturbing ocean currents in the Arctic probably won't stay in your mind as long as a photo of the polar bear that's dying as a result.
Using art to inspire environmental action is far from a new idea. Ansel Adam's black and white depictions of Western landscapes kickstarted a movement to preserve wild lands back in the early 1900s. "I realize that a silent but most effective voice in the campaign was your book, Sierra Nevada: The John Muir Trail. So long as that book is in existence, it will go on justifying the park," one fan wrote Adams of Congress' decision to establish Kings Canyon National Park in California.
The genre carried into the 1960s with the Land Art Movement, in which artists drew inspiration from ancient structures like Stonehenge to mark natural landscapes using stones, water, and gravel. It gave way to larger than life pieces like Robert Smithson's Spiral Jetty—a 1,500-foot-long spiral fashioned from organic material that disappears and reemerges with the tides. Works like these highlighted the fragility and fluidity of nature, proving that art doesn't need to be confined to a gallery.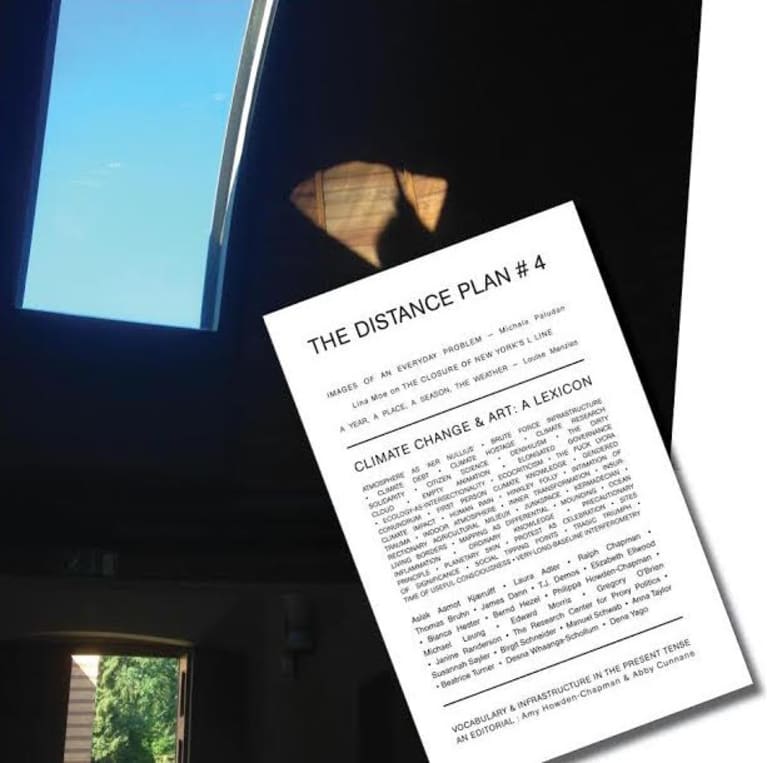 These early movements paved the way for today's environmental art scene, a dynamic display of creativity and collaboration. Today, colleges are beginning to offer degrees in environmental art, and entire conferences are exploring how art, culture, psychology, and grassroots power can inspire sustainable change. New artist in resident programs are giving environmental nonprofits a way to work with creatives on artwork that spreads their message in new and engaging ways.
"We're seeing more and more cross-disciplinary partnerships bringing arts, activism and the natural sciences together to give greater awareness and power to this growing movement," Jenny Kendler, an artist in residence at the Natural Resources Defense Council, tells me. Her interactive works for the organization include a traveling "food cart" that dispenses threatened milkweed seeds people can plant in their backyard to feed local butterfly populations.
NRDC senior scientist Sylvia Fallon has described the artist's displays as reaching people in "way that our blog posts and press releases never will." For example, the project inspired the Mayor of Aurora, Illinois to stop the mowing of about 300 miles of highway in the state, creating space for milkweed and monarch populations to thrive.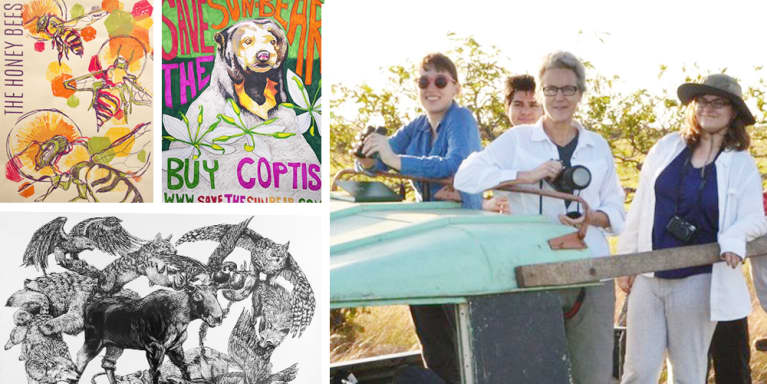 Dr. Lucy Spelman, a zoological medicine specialists who teaches at The Rhode Island School of Design, has also seen this interdisciplinary approach spur change. "We have to find a way to make people's connection to the environment real and relevant—and informed by science," she posits. "So how do you do both? How do you bring someone into the fold with the emotion of art and give them a roadmap that's informed by science?"
Dr. Spelman's latest endeavor, Creature Conserve, gives students a way to collaborate with scientists in an attempt to bridge this gap."If you're an artist, you're more comfortable doing your art. If you're a scientists, you're more comfortable doing your science," she says. "I'm interested in seeing as many organizations out there as possible bringing in the one they don't have." Her non-profit gets artists involved in field research on endangered species and gives them space to display the resulting work.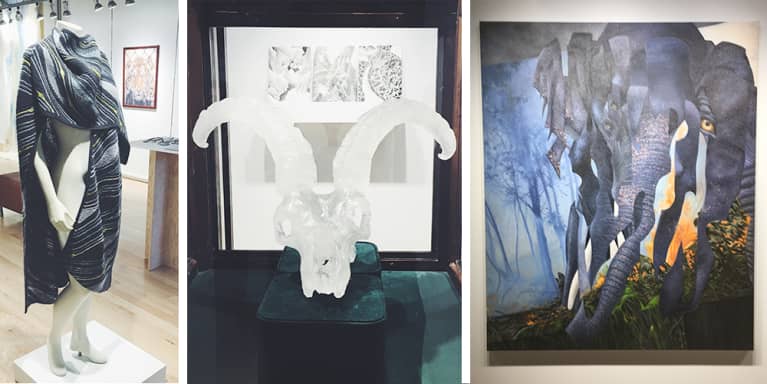 A few states over in New York, Amy Howden-Chapman is crating another resource to bring science to environmentally minded artists. She's asking scientists, activists and economists focused on climate change for the words that they use in their work on a daily basis and compiling the results into comprehensive Art & Climate Change Lexicons that artists can pull from.
Though consistently rooted in collaboration and science, the environmental art community is ever-changing. Established creators continue to unveil new projects and fresh perspectives entering the space every day.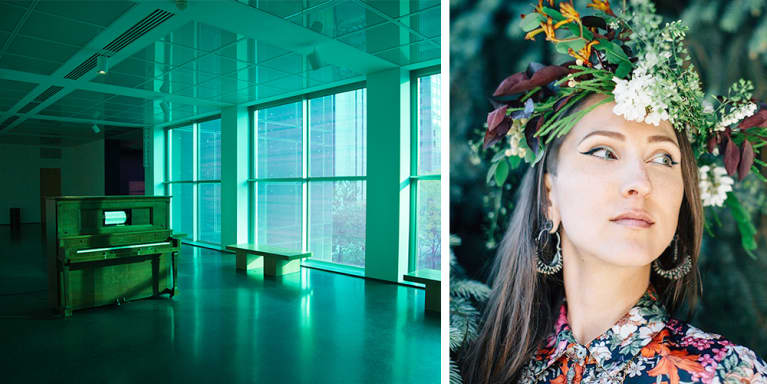 In the conservation space, one of Jenny Kendler's latest exhibits, Music for Elephants, translates data predicting future poaching of African elephants into a score for a vintage ivory-keyed piano. Each note played on the piano represents the number of elephants who could die from ivory poaching in a single month, and the score plays until the population reaches zero, at which point the keys fall silent. "It's important to me, as an artist, to find new ways to engage the audience with the ideas of loss and extinction, and this piece helps people emotionally understand what that moment of learning about the extinction of elephants might be like," explains Kendler.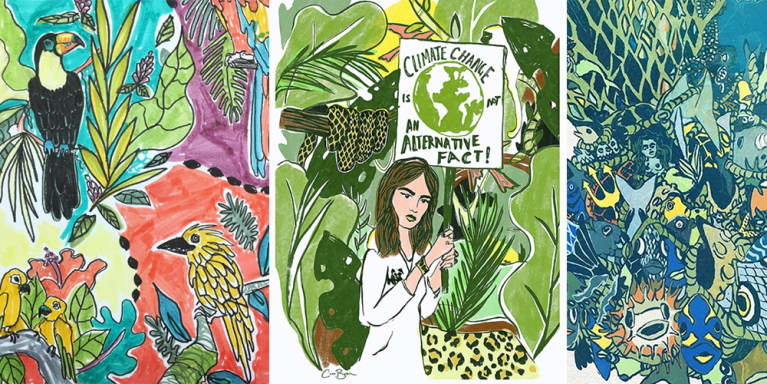 Illustrator Chloe Bulpin (who just so happens to be the resident illustrator at mbg!) is grappling with issues of extinction in her own way, creating art that will forego the gallery to live inside the communities in question. Since returning from a trip to Guyana with the World Wildlife Fund, she's been formulating a travel campaign of posters and books to would excite and inspire locals to expand on their nature tourism projects.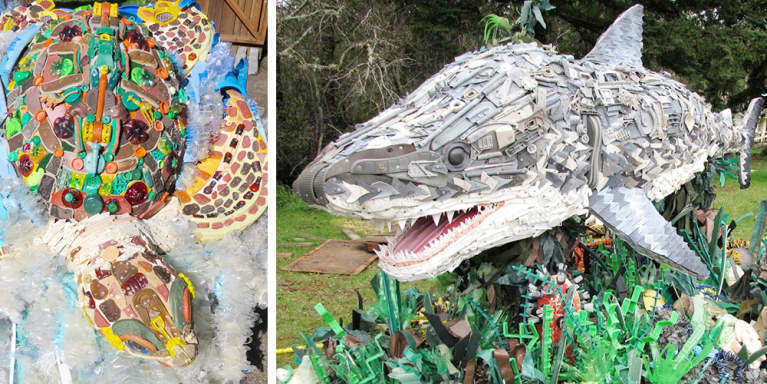 On the other side of the coin, visual artists are crafting haunting portrayals of the impact that human activity has on the natural world. Artist Angela Haseltine Pozzi turns ocean trash into 12-foot-long shark and 16-foot-long parrot fish statues for her Washed Ashore Project—a sobering look at human negligence that was just picked up by Smithsonian's National Zoo. Instead of plastic, Barry Underwood is planting harsh LED lights into natural landscapes to paint an abstract pictures of the danger in human intervention.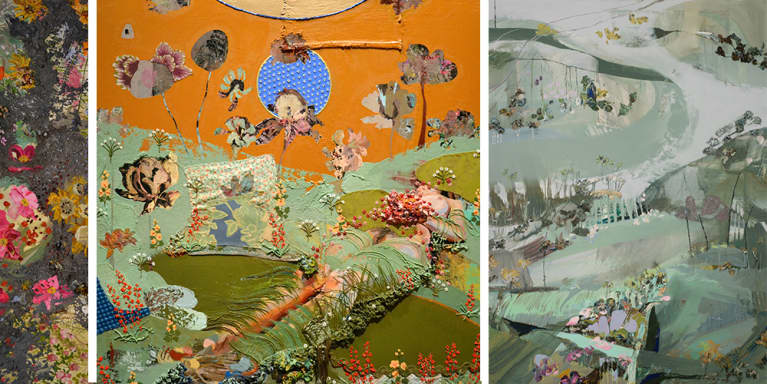 Kristina Baker is taking an entirely different approach, using art to appeal to the inherent connection humans share with the ground beneath their feet."I think the message of connection, preservation, and love can be as strong as that of loss or repercussion," she says. Baker's mixed-media paintings use seeds, fabric, paper towels, and other imbedded materials to depict a strong female figure enveloped in earth, making a statement about the parallels between nature and womankind.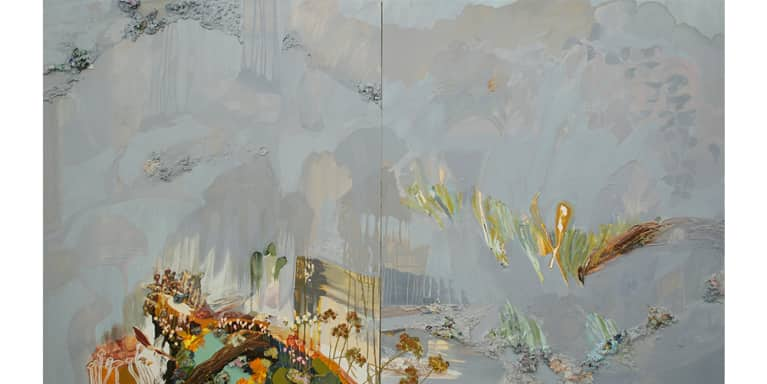 Much like the issue of climate change, the environmental art space is varied and multifaceted. Some works evoke compassion, others disgust; some make you think, others require action. What they all continue to do, however, is call on the inherent human need for connection—with each other, with our earth—to incite real change.