It's Pisces Season: Here's Exactly What To Eat To Unlock Your Sign's Full Potential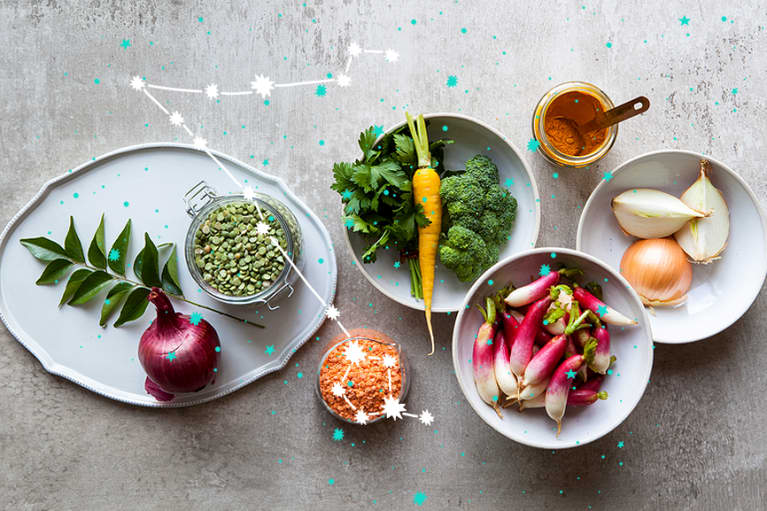 Welcome to your monthly food forecast, where we've partnered with the inimitable AstroTwins to find out exactly what will make you feel as amazing as possible, based on the stars. "As the Sun travels through each month-long astrological cycle, it emphasizes a different energy for every zodiac sign," says Ophira, one of the Twins. "Some months are more decadent, while others are more about discipline. Eating with these solar cycles can help you avoid falling into a culinary rut, or beating yourself up when you crave something creamy when a couple weeks ago you were fine with blander options." Be sure to check back in April for all new food picks!
You're a super enterprising person who marches to the beat of their own drum, and this month, you want to channel that energy into a spirit of release. It's a great month to detox, and focus on hydrating foods as well. Asparagus hits the mark on both ends as a fresh, delicious diuretic.
Recipe to try: This leek and asparagus risotto is sure to hit the spot.
You may be a foodie (or even a food snob) but you need to expand your horizons this month. Join a CSA, have a healthy pot luck, try a new recipe app—just make sure whatever it is, it's slightly out of your comfort zone.
Recipe to try: This eggplant French Toast is a little crazy, but really delicious.
You can be kind of all over the place—you're not great at planning in advance, and you're always on the go. This is a great month to structure your eating a bit more. Eat at the same time every day, or play around with meal planning. Be frugal and practical. You're going to be very busy with work, so you really need to plan ahead to eat healthfully.
Recipe to try: This Moroccan Millet has tweaks for five days of brand new meals, plus a shopping list to keep you organized.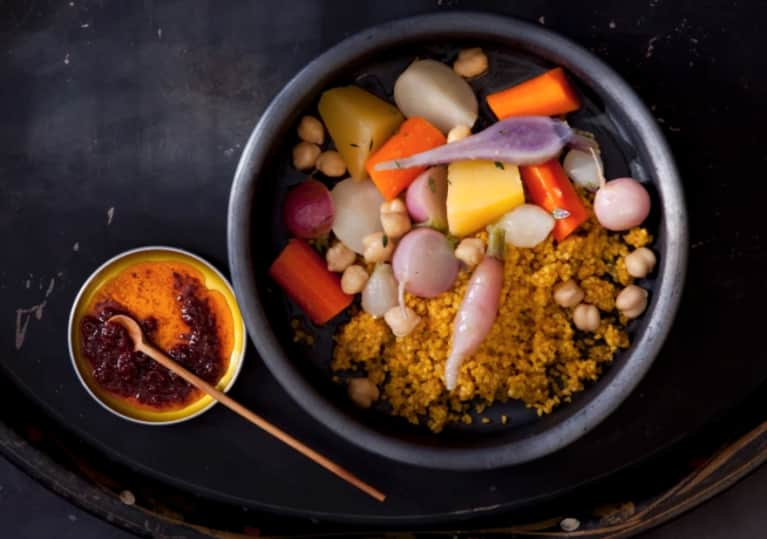 You tend to go for comfort food a lot, and be very decadent. This month, you don't want to limit yourself, but you also want to focus on filling up as much as possible on healthy food, so you're not tempted by the unhealthy. It's also a great month for international flavors, so whip up a curry or experiment with some sumah, dukkah or za'atar.
Recipe to try: Once you make this easy dukkah recipe and have it in your pantry, you'll want to use it on everything.
As a Leo, you tend to go towards too much or overdoing it. Instead of letting one thing be the star, you go for too much of a good thing, filling your plate with competing flavors, ingredients or even dishes. This is a great month to show a little bit of restraint in your eating choices, focusing on quality over quantity or one really intense burst of flavor. Spicy foods will also be exciting right now.
Recipe to try: This sweet potato soup is simple, with just the right amount of spice to make it exciting.
You may tend to keep more to yourself. If you've gotten into hermit mode over the winter, this is the perfect month to shake it off. Invite someone over to eat with you, and trade ideas and discourse, whether it's about new things to do around town or new restaurants to try. Put that phone away, and focus on quality conversation and connection.
Recipe to try: This every diet dinner party menu will please any guest, no matter what their dietary restrictions are.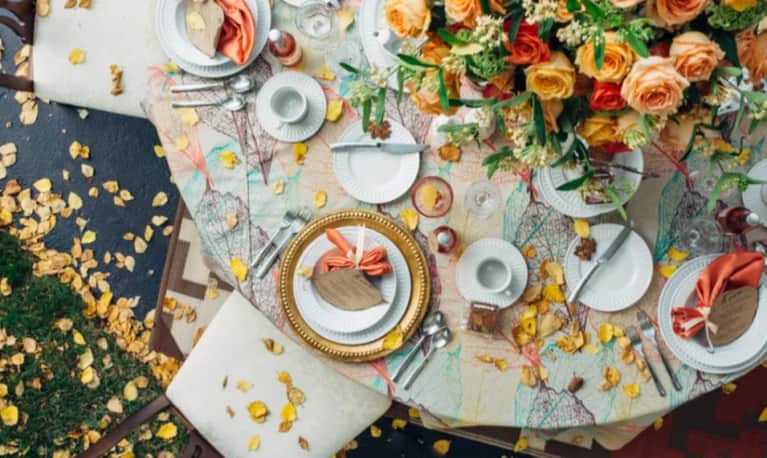 Last month may have been hedonistic, but now is a great time to get back in balance. Use this time to understand what foods work best with your body; your sign thrives when you're listening to your body, so you'll likely breathe a sigh of relief and feel amazing. While you do have a sweet tooth, you definitely want to work to keep that under control.
Recipe to try: A detoxifying green soup will taste amazing and cleanse your system.
Scorpios tend to more private, but this is a celebratory, festive time. Many Scorpios are amazing cooks, and this is a great month to host a dinner party and show off your skills (and if you haven't discovered your ability yet, play around in the kitchen until you do!). Scorpios can be a little frugal too, but this is a great month to splurge, whether it's on a tasting menu or fancy ingredients.
Recipe to try: These easy and impressive main dishes (we're looking at you, gallette!) will spark a chef bug in anyone.
You're always out and about, but this month, the Pisces sun is in your fourth house, emphasizing staying home. Embrace this by nesting and cooking, veering toward healthy comfort food. Embracing family recipes, to really connect to the essence of home, is a great idea this month as well.
Recipe to try: Sweet potato noodles with creamy cashew alfredo sauce are sure to hit the spot.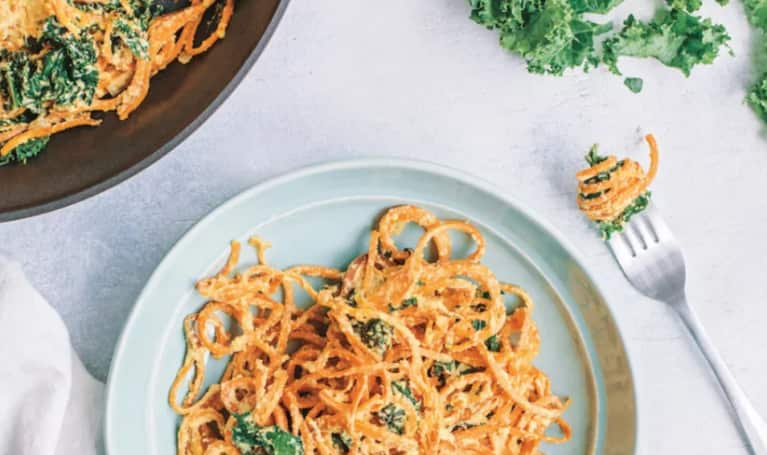 Capricorns can be a little bit set in their ways, but this month is a great month to experiment. Play around with new dishes, and try to add variety to your life, maybe making a number of new recipes throughout the month. You can tend toward the frugal, but this is a great month to be a bit more extravagant—within reason. Make a food budget, add a few extra dollars, and then stick to it.
Recipe to try: This broccoli stem and sumac dip may seem a bit crazy at first, but it's sure to satisfy.
As an Aquarius, you can be more down to earth, but this month, you'll feel better if you're a little more indulgent. Go more upscale, whether it's with ingredients or sourcing. Buy those superfood powders, or indulge in organic, local vegetables (your belly and the earth will thank you).
Recipe to try: This superfood smoothie has maca, chlorella and more, for a powerful start to your day.
Pisces can be uncomfortable being alone, and this is a time to get in touch with yourself. Experiment with eating intuitively, and figure out your own individual food preferences so you can make sure you're getting what you need. Flavorful, spicy food with a kick is a great pick this month, as you also want to turn up the heat in your body.
Recipe to try: No recipe for you this month, but try this meditation before you eat to get more in touch with your instincts.