The Broccoli Flax Pizza Tastes Way Too Good To Be Healthy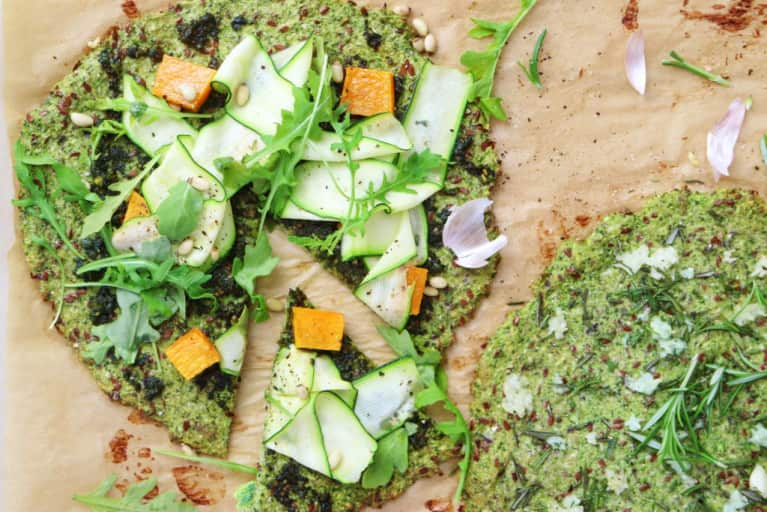 Sometimes you just want to sit down to a delicious, comforting pizza without sacrificing your nutritional values. This pizza does all that. It's easier than cauliflower pizza because it doesn't have moisture that needs to be squeezed out, and it holds together like a REAL PIZZA! It even has that perfect floppiness when you pick up a piece.
This pizza is full of healthy fats and fiber to fill you up instead of a white-flour base that is just full of anti-nutrients (your body is depleted of nutrients instead of filled with nutrients). Flaxseeds are high in fiber, very high in essential fatty acids, and supportive for digestive health.
Combine that with broccoli, which is a blood detoxifier, liver protector, a cancer-killer cruciferous veggie, and high in antioxidants, and you have a winner of a pizza. Not to mention the protein from eggs to help keep you fuller for longer. This pizza base is seriously healthy.
Layer it with your favorite toppings or my suggestions below. Although it takes a while to bake, it isn't much effort, so just go do some yoga while it's getting ready in the oven!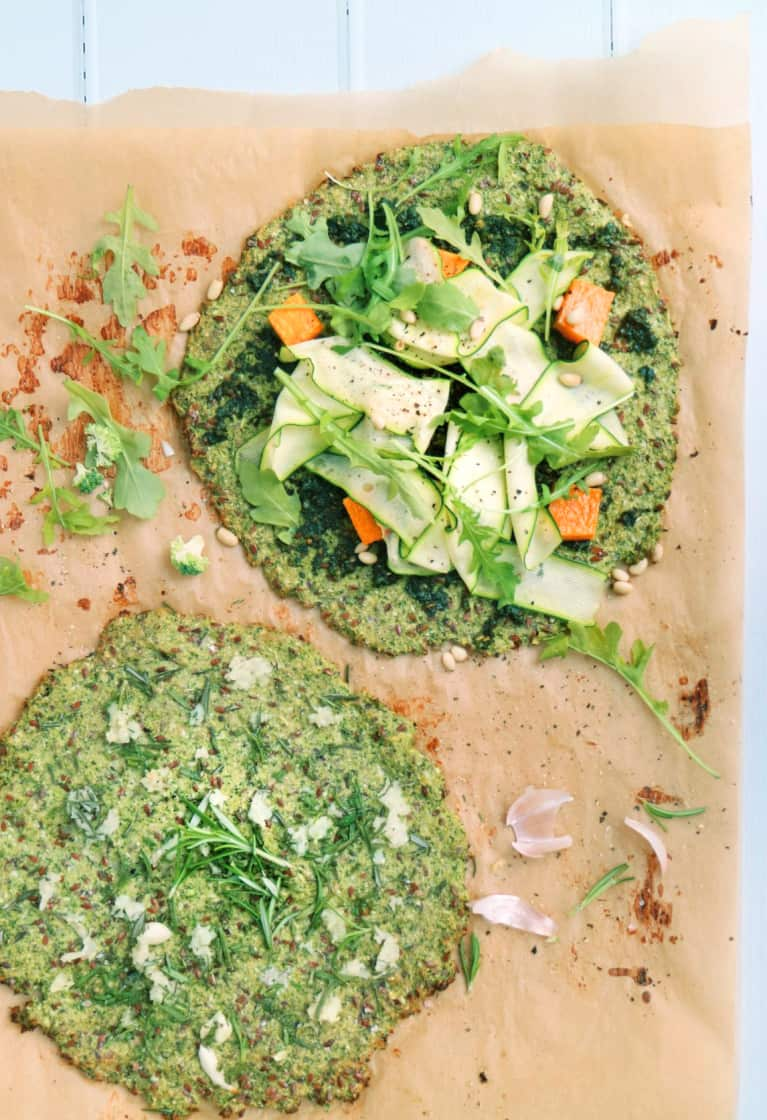 1 large head of broccoli, cut into florets
½ red onion, diced
Salt and pepper
1 egg
1 egg white
2 tablespoons olive oil
¼ cup flaxseeds
1 tablespoon psyllium husk
1 teaspoon dried garlic
3 garlic cloves, crushed
2 tablespoons fresh rosemary, diced
sea salt and pepper
olive oil
3 teaspoons pesto
1 cup diced pumpkin
1 zucchini
1 tablespoon pine nuts
Heat the oven to 375°F and line a baking tray.
Bake the pumpkin in a drizzle of olive oil.
Meanwhile, make the pizza bases by blitzing the broccoli, red onion, and a good grind of salt and pepper in a large food processor until it resembles fine crumbs.
In a bowl, add the remaining ingredients. Add the broccoli mixture and stir well to combine.
Add the broccoli mixture to a lined baking tray, forming it into two mounds. Spread them out into rounds and press down so they are 2 to 3 millimeters thin. I find it helpful to lay another piece of baking paper over the top and press down so that you don't get too many finger marks.
Turn the oven down to 350°F and bake for 15 to 20 minutes or until firm to the touch and slightly golden. Remove from the oven.
Take the pumpkin out of the oven and set aside.
Cover one pizza with pesto, pumpkin, and pine nuts. Using a peeler, peel the zucchini to make ribbons and place on top.
On the other pizza, add crushed garlic rosemary, a generous drizzle of olive oil, and a sprinkle of sea salt.
Return pizzas to the oven for another 10 minutes or until zucchini is slightly cooked.