Radiant Resonances: The Yoga Starts Here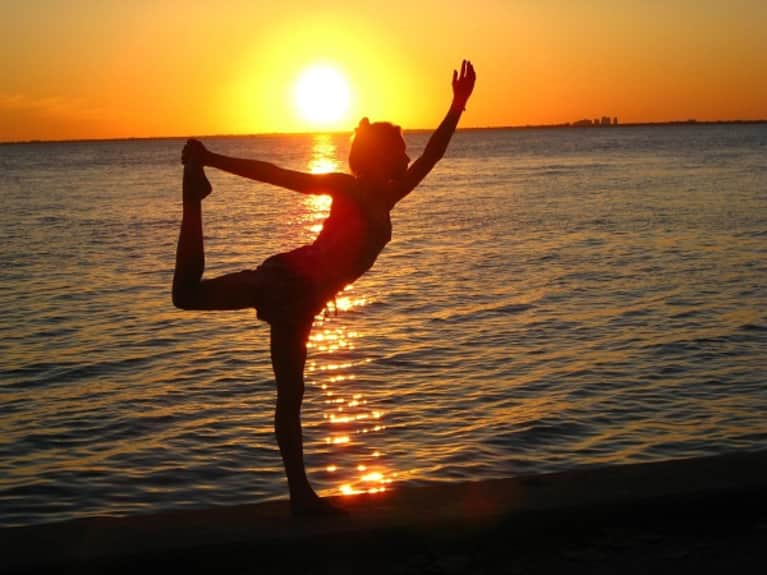 I can't tell you exactly when it occurred. My shift, I mean. My transition from being someone who does yoga to being someone who believes yoga, imbibes yoga, embodies yoga. Someone who yens to share yoga with others. It was the kind of change that unfolds incrementally, naturally—a curious sort of transformation that, as I stood in the thick of, I hardly realized was taking place.
Don't get me wrong—I wasn't entirely oblivious. The correlation was easy enough to discern: the more I practiced yoga, the better I—the whole I (mind, body, heart, spirit)—felt. I craved a deeper integration between my yoga and my life not out of desperation, but out of life-affirming desire, out of love. What's more, I wanted to play a hand in transforming the experience of those around me—in helping others engage in meaningful self-reflection through the practice of yoga. I felt I had been given a great gift; my teachers had extended an invitation, opened a door, welcomed me with outstretched arms into this conversation of poses and pondering and pranayama. Now it was my turn to do the same—to, in the words of so many educators of so many varieties, "give something back" to a practice that had transformed my life.
So, emboldened with love and the impulse to spread it around, I took a chance. On an evening in early January, I paid my first visit to the studio that would eventually become my kula, my sanctuary, my artistic palette. There was a mythic quality to my time there that night, a sacredness about the energy. I listened as the owners of the studio, two sweet, soulful goddesses, described their teacher training program. These women, along with one of their husbands (a yoga master in his own right), got right to the heart of the matter. "We're not going to teach you about yoga," they said. "We're going to teach you about living your life."
Quite a bold proposition. But I was sold.
My teacher training experience was at once magical, challenging, and so, so beautiful. Yoga courted me. It seduced me with its juicy heart openers, fierce warriors, and boundary-testing backbends. It lured me in with its opportunities for playful exploration, its space for quiet reflection, and its promise of elegant physicality. I fell in love not only with the act of practicing yoga, but also with the enduring reverberations of that practice. What I was doing on the mat—deepening my breath, finding the optimal alignment for my body, taking a comfortable seat—became a metaphor for the way I was living (and continue to live) my life.
Wolfgang Mozart, one of the most brilliant, prolific composers of all time, said that music exists "not in the notes," but rather, "in the silence between them." Without the off-beats—the silent, restful moments—we would hear no sound. I think the same holds true for yoga: the sweet melodies we compose in the studio—the notes we artfully arrange through our practice—don't reach their crescendo until we step out into the world. That's what I mean by "Radiant Resonances": the ways in which the poses we take, concepts we contemplate, and awareness we cultivate on the mat course throughout the rest of our lives.
One of my teachers prefaces her post-Savasana, end-of-class Namaste with a question. "Why do I end with a greeting?" she asks, rhetorically. "Because the yoga starts here." Because it's now, as we leave the studio and get on with our day, that our music can be heard. It's now—as we interact with our children, as we smile at a stranger, as we choose to forgive—that our practice radiates and resonates.
What song will you choose to sing for the world?
(...Be sure it's one you can dance to.)