This Ancient Color Trick Is Your Ticket To An Instantly Better Mood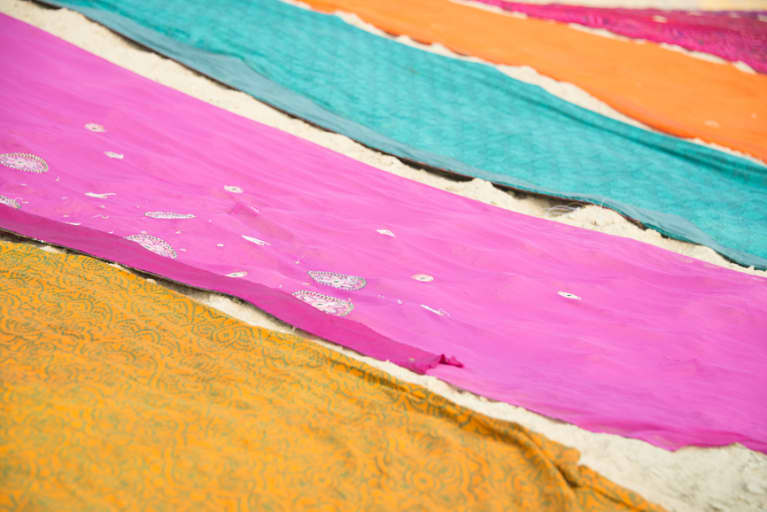 It's that time of year again. Birds are chirping, crocuses are blooming, and winter's dormant energy is finally starting to lift. If you are anything like me, you can't wait to usher in the light, warmth, and balancing energy of spring.
But unfortunately, in the winter months, when we spend most of our time closed off and indoors, the energy in our homes gets bogged down with negativity, boredom, and other gloomy realities. This creates a less optimal energy flow within the home, which can make us feel tired, down, or generally blah. Luckily, there is a way to clear stagnant energy out of our homes and our bodies and jump-start spring. I'm talking about color therapy, of course.
This ancient practice uses color to balance the body's chakras. When our chakras are balanced, we become vessels through which the energy of the universe can flow freely. In color therapy, each specific chakra has a corresponding color: red connects with the root chakra, orange with the sacral chakra, yellow with the solar plexus chakra, green with the heart chakra, blue with the throat chakra, indigo with the third eye, and violet with the crown chakra.
One of the best ways to balance the energy within yourself is to change the energy within your home. By applying the principles of color therapy to home decorating, you can banish any last dregs of stale energy and open your home and your life to the fresh, vibrant currents of spring.
As the color related to the crown chakra, this calming shade heightens our awareness while fostering a sense of calm and enhancing our purpose. A violet candle on your bedside table will help you wind down at the end of a long day. Or consider using a violet-colored floor pillow during meditation to deepen your practice.
This color stimulates to the third eye and helps you open up to your intuition. Add this shade of higher knowledge and divine understanding to your study or office with a wall hanging to stimulate those creative thoughts.
The color of the throat chakra, blue balances our communication center. Use this color in any area of your home where you want to create a more open, flowing dialogue. The bedroom, perhaps?
As the color for the heart chakra, green works to spur balance and harmony in our lives. Decorating with houseplants is a great way to bring in living, breathing touches of tolerance and acceptance into your home.
This invigorating solar plexus color helps us stay confident and in control of our lives. A coat of yellow paint can add vitality to any home gym or workout space. Just be sure to minimize the amount of yellow you use in restful areas of your home, like your bedroom, since the color can be very stimulating.
This warm tone relates to the sacral chakra, which is home to your creative center and sense of adventure. The sacral chakra is also the center of passion and sexuality. Add a burst of orange flowers in your bedroom to balance your sacral chakra and invite more passion and adventure into your sex life.
The root chakra is the foundation chakra. It is responsible for our most basic and primal needs: feelings of safety, security, and identity. When our root chakra is balanced, we feel grounded and secure. Red cookware in your kitchen and a red rug in your living area can create a sense of stability and ease in your home.