Spirit Almanac: Your Guide To Celebrating March's Mystical Holidays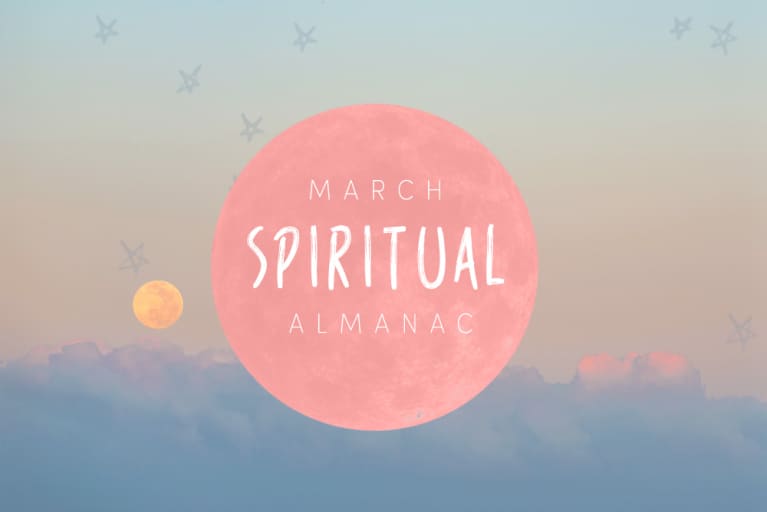 We all know to mark our calendars for Christmas, Hanukkah, New Year's, National Avocado Day, and those other occasions people celebrate in big, bold, beautiful ways. But what about the lesser-acknowledged spiritual, astrological events that roll around every year? Consider our Spirit Almanac series your own personal guide to the divine.
This month, we're unpacking the mystical magic of March with flower essences, candle rituals, and powerful women's gatherings.
March 8, International Women's Day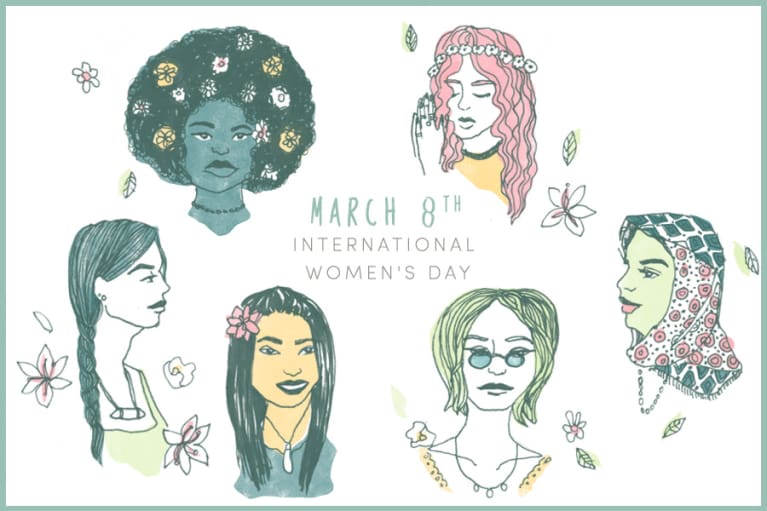 Who runs the world? Today we celebrate International Women's Day, an event observing the political, economic, and cultural achievements of women all over the world. The 2017 theme—marked globally by performances, talks, and marches—is #BeBoldForChange.
It's the perfect day to embrace your Inner Goddess, celebrate all that you have accomplished, and honor the women who have lifted you and continue to sprinkle magic into your life. Tap into The Goddess Lifestyle creator, Lisa Marie Rosati's, magical ritual to deepen your connection to nature and to like-minded women who inspire you. Here's how to do it:
A visualization ritual for togetherness
1. Make some time to sit somewhere quiet. Nature will assist you in connecting to your divine essence.
2. Close your eyes and inhale deeply. Ground and center.
3. Visualize in your mind's eye all the strong women who have inspired you in your life. Imagine that they are all part of the Great Goddess...as are you.
4. Visualize the Great Goddess wrapping her loving arms around you, sharing the power and strength of all those strong women, and activating within you the power of every great, courageous, or empowered thing you've ever done.
5. Then breathe it in deeply, all the way down into your diaphragm. When you feel the activated feminine energy reach its apex within you and around you, repeat the following mantra three times:
"I am a Goddess, I am strong. I awaken my power, hear my song. Spiritual Sisters, we are ONE. As we share our celebration and strength…this spell is spun. And so it is."
To finish, take out a piece of paper or a magical journal like Taryn R. Sefecka's Soar Journal and write down all the names of women who have inspired you throughout your life. Place the list on your altar along with an offering bowl filled with flowers, gemstones, and of course...lots of love.
March 12, Virgo Full Moon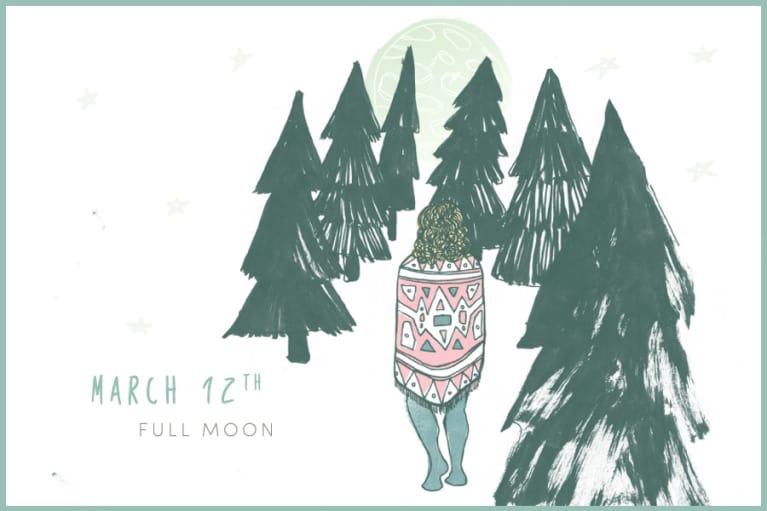 Now that spring lies just beyond our line of sight in the Northern Hemisphere, tonight's full moon in Virgo is the perfect opportunity to reacquaint yourself with nature. Virgo is an extremely grounded sign of the zodiac, and you can get in touch with its earthy, nurturing energy with a forest-bathing ritual. A direct translation of shinrin-yoku—a Japanese term encouraging urban dwellers to immerse themselves in nature—forest bathing is a means of quieting the mind and rebooting the body. After all, spending time outdoors is a great way to de-stress that could even lower heart rate and blood pressure.
The following invigorating, pseudo-animalistic ritual calls on you to head out into the night barefoot (or bundled up if you live in a region where March is still holding onto winter) to just be, appreciating nature under the bright light of the full moon.
A forest-bathing ritual for reflection
1. Do your best to find a secluded outdoor area tonight, preferably one with limited noise. Even if you don't live in a cottage near the forest, is there a park close to your apartment that you can access at night? Bonus if it houses lots of trees. Head out there, leaving your phone and other distractions at home!
2. Once you arrive, spend a minute or two tapping into all of your senses—paying attention to the sights and sounds of the nature surrounding you.
3. Stand still, look up at the moon, and start taking back control of your breath. Breathe in for 4 counts, hold for 2, then breathe out for 4. Repeat for 2 minutes, all the while keeping your eyes open and gazing up at the full moon ahead.
4. Think back to a time when you felt totally at peace in nature, at one with the world around you. Maybe it was a rigorous morning hike or a leisurely stroll down the beach. Replay that scene, reminding yourself of the beauty that surrounds you.
5. After you've got this image in your mind, linger for a bit. Take the long way home.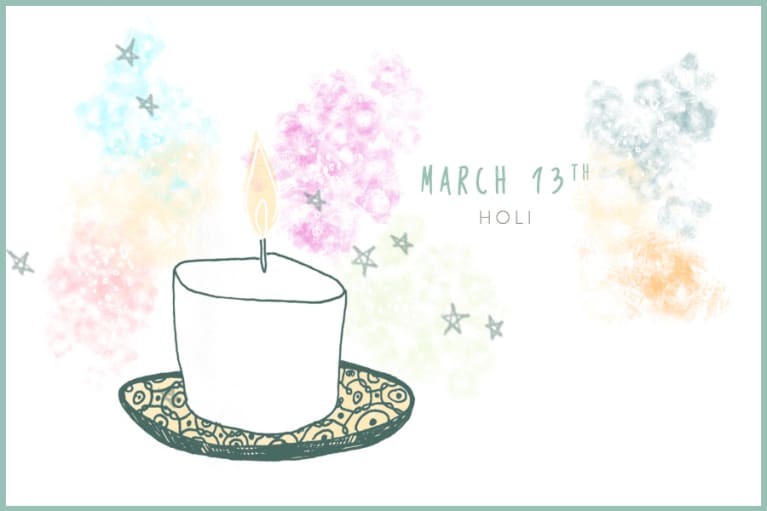 Across vast swathes of north India this morning, most people will be out on the streets, smearing each other with bright paint and spraying colored water. This is how Hindus celebrate Holi, the festival of spring, which reaches its climax today. There is dancing, much shouting of "Holi-ho," and playing of practical jokes. And, appropriately for a religion that makes such extensive use of color, there is even a shade called "Brahmin blue" painted on suitably high-caste households in Rajasthan.
The Hindu festival celebrates the arrival of spring and the victory of good, peace, and love over evil. Also known as the festival of color, Holi festivities take place over two days in India and Nepal—and is becoming more popular globally. On the first day of the festival, Holika Dahan, Hindus light a sculpture on fire to symbolize the death of the demoness Holika, who was burned with the help of Vishnu. Many Hindus see the festival as a day of Krishna, the deity who liked to cause mischief and play with rainbow colors.
A candle-burning ritual for transformation
"Fire allows for rapid transformation, providing the avenue to let go of the old story and drama, to transform, to renew, and to be reborn. Through fire ceremony, you honor your lessons and old belief structures by placing them in the fire and turning them over to Spirit," says Energy Medicine coach Dr. Alberto Villoldo about his transformative ritual. "By releasing these old patterns and beliefs into the fire, you heal deeply at the level of the soul without having to experience them at the literal and physical levels."
1. Before lighting your candle, create an offering out of burnable materials, typically a small stick. This "spirit arrow" can represent an issue or something that needs to be honored in order for you to let go of it. The offering serves to focus one's attention in active meditation. The object can be decorated or left as is.
2. Connect with what you are honoring, the gifts you have received, or what you are envisioning into being. Using your breath, blow this intention or prayer into the offering several times.
3. Take as long as you need, and let your candle burn down.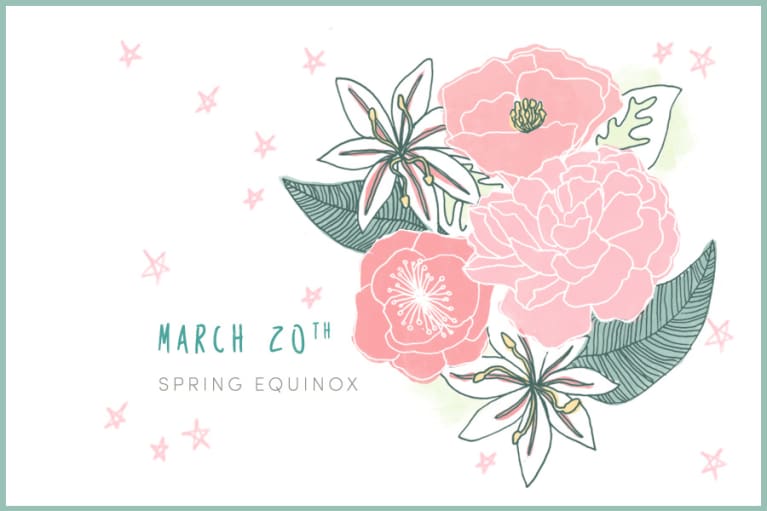 Finally! The spring equinox has arrived, carrying with it the opportunity to bring these last few months of inward reflection to a close and move out into the world rejuvenated, ready to take action. To celebrate the occasion of the sun passing over the equator yet again, we can tap into the wonder and beauty of flowers for some high-vibe manifestation. This ritual from Alisa Gould-Simon, the woman behind plant apothecary and flower essence shop Flora Luna, will get you started.
A flower ritual for springtime abundance
What better moment to do this simple ritual than the Spring Equinox, a time for sowing seeds and planting what we wish to harvest later in the year?
1. Find a spot outside where you can feel the breeze blow and the sun shine directly on your skin. Place a dropper full of your flower essence of choice in a glass of water and place the glass in front of you. (I love using Clarity essence when looking to focus and clear away anything that is muddying my mental waters.)
2. Sit comfortably, close your eyes, and take a few deep breaths to clear your mind.
3. Begin to imagine the first seed you want to plant this year: financial abundance, a new job, better intimacy with your partner, whatever your heart desires.
4. Use your mind's eye to see the seed you want to grow sitting in your belly, just below the belly button. (The sacral chakra is where we birth things into being.)
5. As you focus on that seed, take a sip of water and follow it down until it reaches the seed.
6. Once it does, move on to the next seed and repeat this practice until all of your seeds are watered.
Bonus points: Once you have completed this practice, pour the remainder of your floral essence water onto the earth that sustains us in a gesture of gratitude. After all, it is through giving that we open ourselves to receive.
The piece was co-written by mbg's beauty and style editor, Kayla Jacobs.