Keeping Yoga for Kids Simple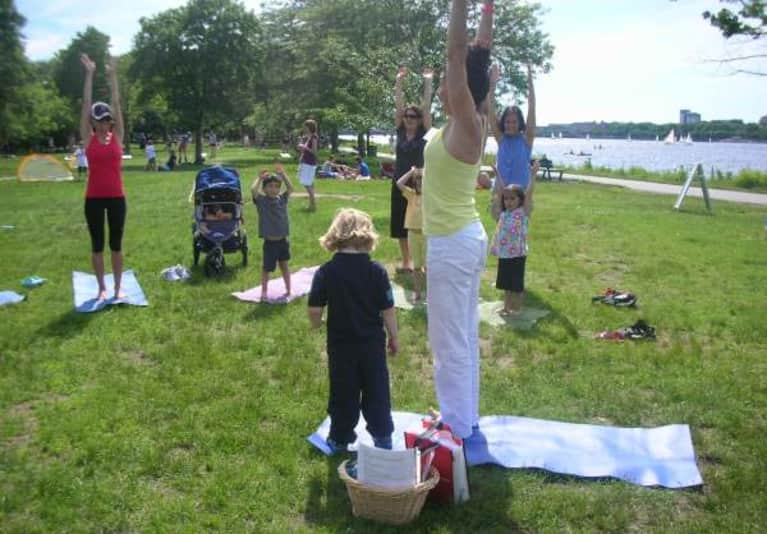 I had a blast teaching a group of 8 year-olds today. Sharing yoga with kids never ceases to amaze me. They dive in, fully, completely, without excuses. They laugh, try anything and have a spirit that is unstoppable. Even when they face challenge and say the first thing that comes to mind, they try anyway. I remember when one of my students said, "I can't do it" and I suggested going forward, he say, " I'm not sure but I'm going to try" and in the next class, when one of his friends yelled out, "I can't do it!" HE suggested to his friend, "Hey, we don't say that here. We say, "I'm going to try!" I almost burst into tears. It was just so sweet.
There is no doubt that yoga for children is a valuable activity. It's a form of exercise; it's a form of creative expression as well. It gives them a positive activity to do with other children; it helps them learn how to focus. It teaches them stress-reduction techniques along with emphasizing tapping into feelings and sensation, which is often an overlooked ability in our increasingly technology-focused world.
Yoga gives us a natural way to help kids learn about their bodies. Just asking kids while in a yoga pose, "What part of the body am I stretching?" and you can teach them about body parts, muscles, bones and the difference between the "back" and the "spine." Partner poses help them learn how to work cooperatively with other kids. Having kids teach a pose after looking at a picture of it teaches them how to articulate what they see, express themselves in a functional way and work with any shyness they might have speaking in public. It also helps some children express themselves without the silliness that often accompanies speaking to others.
Along with teaching children, I also teach family yoga classes. The fun thing about watching families practice together is the encouragement that works both ways. I've seen parents encourage their kids, but I've also seen a lot of children say, "Hey Mom, you do it too!" Some of the parents in my neighborhood swear that it was their children that inspired them to start a yoga practice because they would come home from class and want to do the poses with mom and dad. How wonderful!
A huge opportunity we have when we do yoga with children is a chance to show them how it can translate to other things they do in their life. Aside from the physical benefits like learning to balance, getting stronger and staying flexible, yoga gives us a chance to talk about things they can do to help focus when they're doing their homework. It gives us an opening to suggest different poses to help with things like sleep or stress from home or school situations. Working with student athletes gives us a natural opening to talk about how the focus we bring to yoga is something we can bring to competition and how the deep breathing helps increase our capacity to take in oxygen and use it efficiently for soccer, or cross country or rowing.
Yoga helps us talk to kids about the concept of trying, regardless of the result of our efforts. Kids are surrounded by messaging and academic mandates that focus on scores, grades and evaluations. With yoga, we can talk to kids about the idea of "right effort" and that even if we don't do a pose perfectly, it's more about trying and doing our best.
Here are some simple ways you can introduce yoga to your kids:
Ask kids for ways they can stretch their body. "How can we stretch our arms?" "How can we stretch our legs?" "How tall can we reach?" These questions will each elicit action and many kids will actually do a yoga pose without realizing it.
Play "Yogi Says" based on the game, "Simon Says." This will encourage kids to listen. It's never funnier when I teach families to see how all the kids actually listen more than the adults!
Yoga is filled with poses that have names of animals and things in nature. Go on a "Yoga Journey" through a jungle or forest, integrating poses like cat, dog, gorilla, giraffe, tree and cobra.
Ask kids to follow along as you practice. The older the child, the more they will follow along, but I've taught a small family class once that had a few mothers and babies (in strollers) and two 4 year olds; we ended up doing more of an adult practice and the 4 year olds stuck with us for a full half hour. It was amazing!
The creative expression and inspiration of doing yoga with children will light up your life. As a teacher or as a parent, it's a natural, portable way to work with kids, re-direct them, keep them focused and gives you a way to spend time with them. Let their affinity for expression be your guide and let them run free. You'll be giving them an invaluable tool they can use for their whole life.