This Week Is All About Intuition. Here's Your Angel Card Reading For The Next 7 Days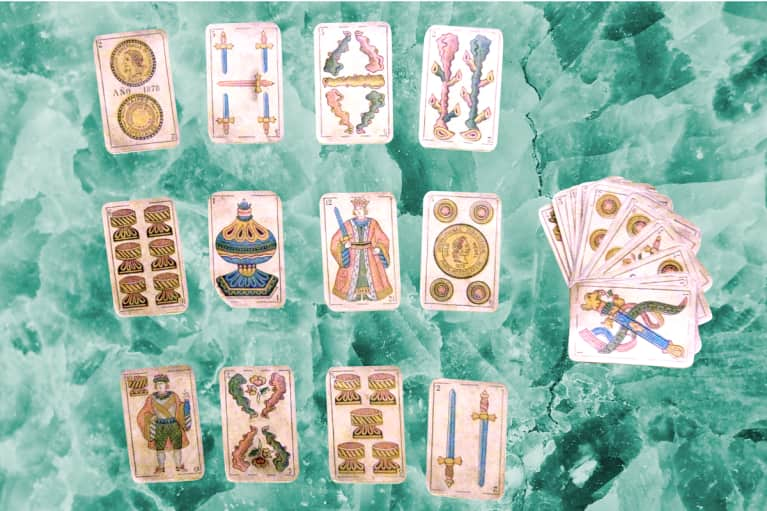 If you, like us, are all about getting a little mystical from time to time, we've got something to add to your high-vibe repertoire: Angel Cards. Slightly different from tarot, these cards depict powerful spiritual leaders of times come and gone and apply their insights to life here on earth. Here, David Piazza, a popular Angel Card reader on the NYC wellness scene, shares what the deck says about the week of February 26 to March 5.
In the midst of this complex, sometimes difficult human experience, angels and spirits of all kinds exist to give us the clarity, purpose, and hope we need to head in the right direction. Angel Cards work as a direct phone line to these guides. Anyone can learn from the valuable insights that they hold in their gorgeous imagery, and their innate wisdom is truly universal. Here we will turn to The Ascended Masters, a deck by Doreen Virtue, to receive helpful insights into the next seven days.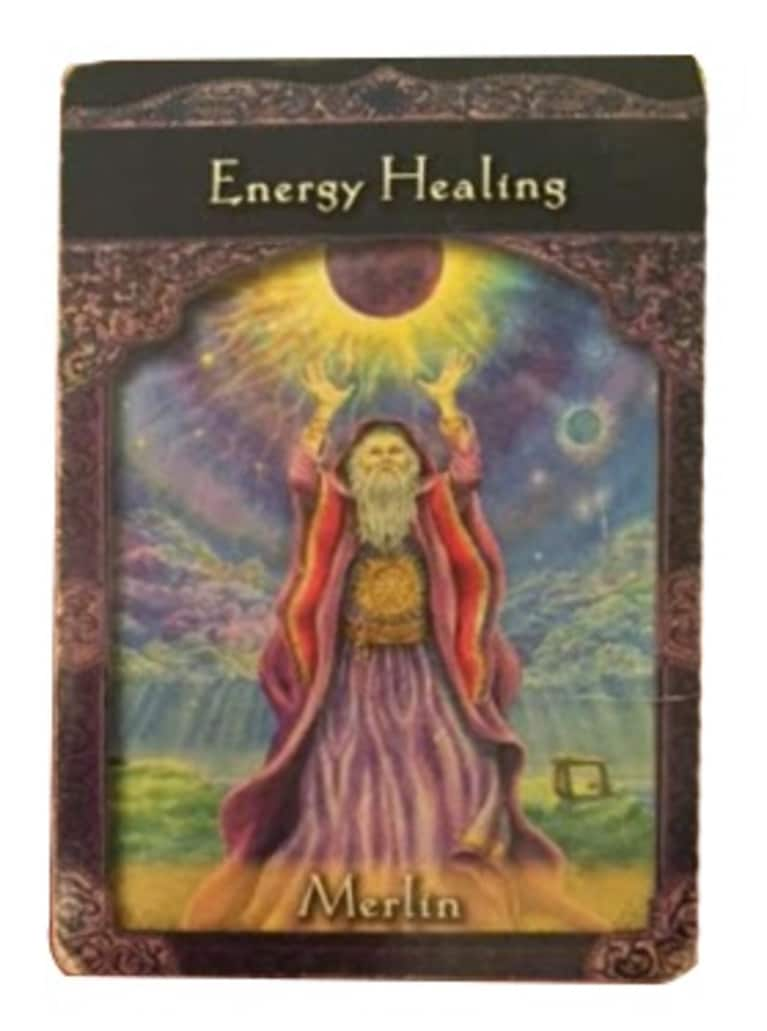 Card 1, which speaks to Monday and Tuesday of this week, depicts Merlin—the Wizard.
This week, as we officially enter both a new moon cycle and a new month, we are visited by Merlin, the great sage wizard. Merlin shows himself when he is called to assist empaths or light workers—those with the ability to pick up on the physical and emotional states of others. His presence encourages us to bravely embrace outside change as we deepen the process of healing and self-care.
As we are called into action at the beginning of this week, it is important that we remain physically and mentally clear, light, and strong. Merlin advises us to conduct our own personal energy healing in the beginning of the week, so pull out those crystals, take a yoga class, or make a piece of art.
Wednesday & Thursday: Oshun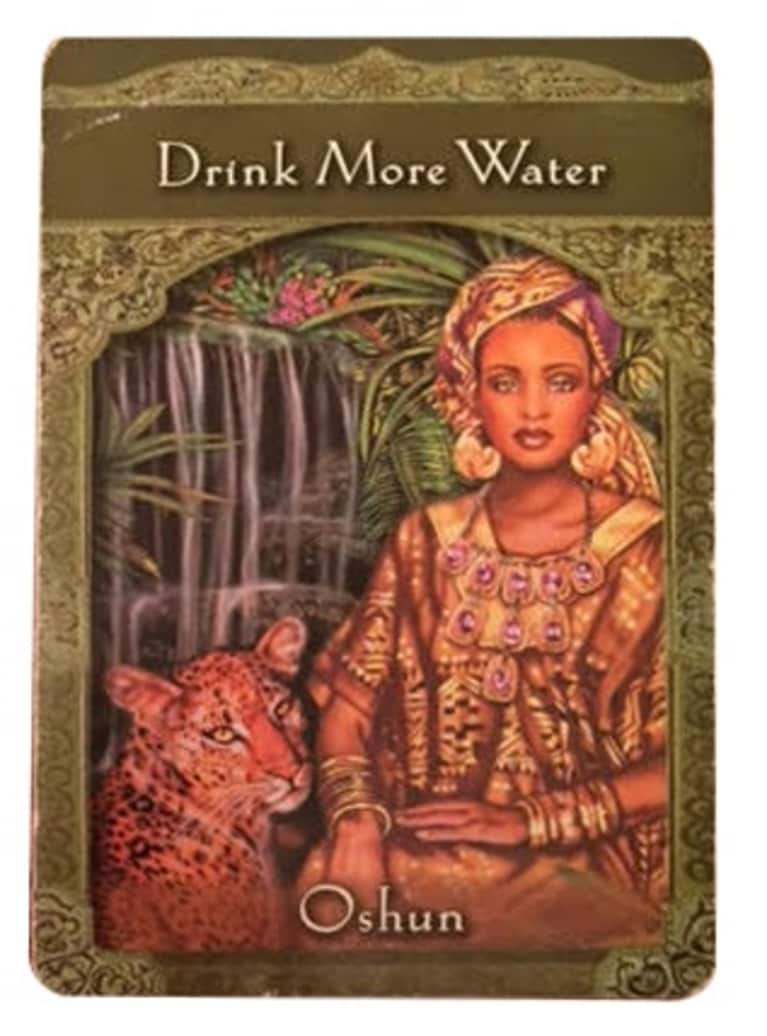 Card 2, which speaks to Wednesday and Thursday of this week, depicts Oshun—the water goddess.
In the middle of the week, the theme of energy healing continues with a visit from the powerful African goddess Oshun. Oshun represents the oceans and waters, which make up the majority of our physical planet and our very own bodies. Her appearances in my readings are always mysteriously powerful and can bring about many different messages, but in this case it seems like she's assisting Merlin in strengthening our gift to heal others and ourselves.
Oshun's presence says, "In order to feel clear and energized, and stand strong in your power, it is crucial that you drink plenty of water, sweat through exercise, eliminate toxins, and spend time by water." How can you deepen your intake and experience with water, or Oshun, this week?

Friday & The Weekend: St. Francis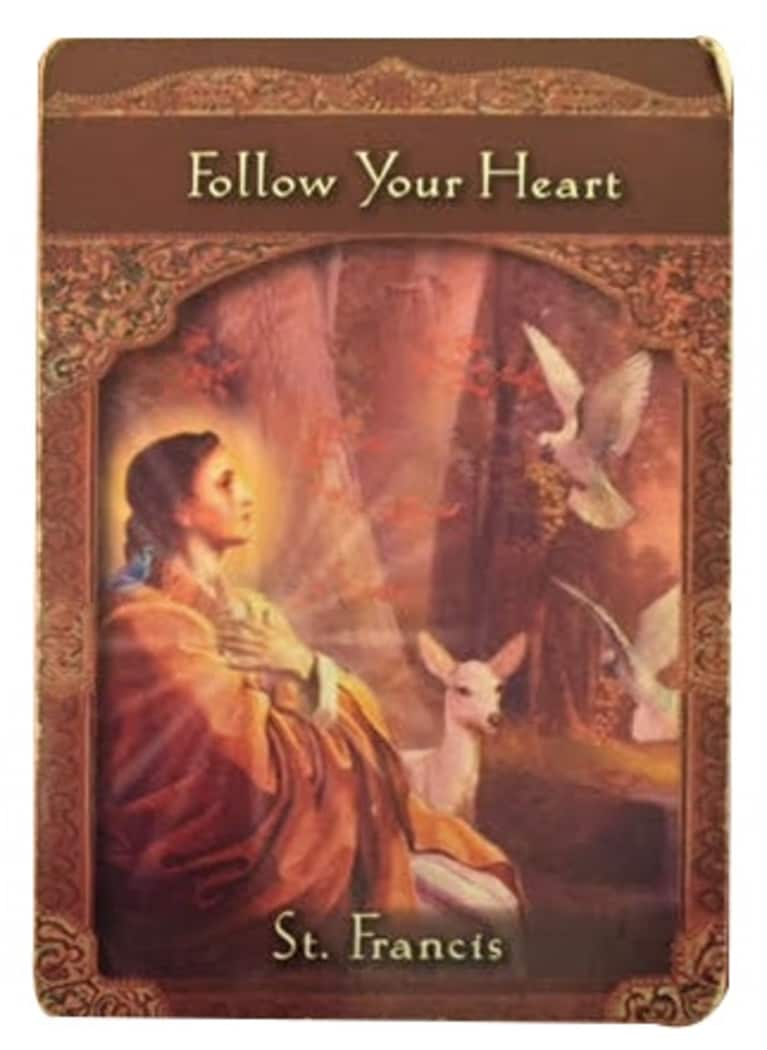 Card 3, which speaks to Friday and this weekend, depicts St. Francis—the great protector.
By the end of the week, with the assistance of Merlin and Oshun, our bodies and minds have become crystal clear. Now, we are called to get in touch with our intuition. The sweet and loving St. Francis encourages us to step through fear and follow our hearts.
Are you feeling guided to take a leap and start something new? Do you feel uncertain or afraid? With the tender love and protection of St. Francis, we are supported in fully trusting the divine guidance we receive through our hearts and stepping into action.