Here's What Michelle Obama's Workout Routine Looks Like Now
mbg Contributor
By Leigh Weingus
mbg Contributor
Leigh Weingus is a New York City based freelance journalist writing about health, wellness, feminism, entertainment, personal finance, and more. She received her bachelor's in English and Communication from the University of California, Davis.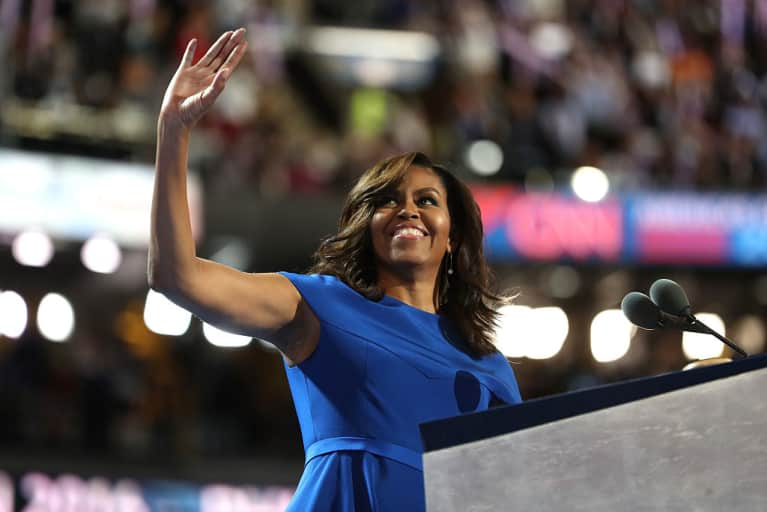 It's been over a month since the Obamas left the White House, and Michelle Obama is more obsessed with fitness than ever. The former first lady, who famously launched the Let's Move! public health campaign in an effort to reduce childhood obesity, has been spotted taking public SoulCycle classes over the past few days in Washington, D.C., where she still lives with her family.
Although her public SoulCycle appearances are a new occurrence, Michelle has long been obsessed with cycling. She took private Soul classes frequently during her time as first lady, and sometimes her daughters would even join her.
Michelle's fitness routine may have changed over the years, but she's always been diligent about her workouts—which is obvious when you take one look at her sculpted arms. Here's how she's stayed fit over the years.
She always puts exercise first.
In an interview with NPR, Obama family trainer Cornell McClellan said that Michelle isn't one to skip the gym. Ever. "One of the things that I noticed from them and from herself initially is that this was something that was important and that she prioritized and found a way to fit it in," he said. "And I remember that when I was working with her all those many years ago, you know, she would be in the gym sometimes at 4:30, 5 o'clock in the morning."
That's dedication.
It's less about specific workout moves and more about lifestyle choices.
According to Cornell, Michelle doesn't see exercise as a box she checks every day. It's woven into her life. "Well, one of the initial things about having Michelle Obama's arms is about being—it being a lifestyle," he explained to NPR. "And so it's about being active on a daily basis."
"Gardening will take every muscle in your body to participate in that," he says, noting that this is what Let's Move! is all about. "So we're asking people to be physically active, to actually—to push some things, to lift some things, to jump, to move, to run, to swim. And we're asking it to be done every day. When you do that on a daily basis, you will definitely see changes in your body. The next phase would be to consider what you're eating. Exercise and nutrition, they go hand-in-hand. They are both essential, and one is as important as the other."
Great arms isn't where it ends.
While having a toned body is nice and great for your health, there's another reason Michelle puts fitness first—both for herself and the people she mentors.
"Girls playing any sport leads to better grades, better health, better jobs and the ability to stand up for themselves," Cornell told the Washington Post.
We can definitely get behind that one.
Want a more concrete workout plan? Check out this video of the former first lady kicking ass at the gym.
Well, that looks exhausting. But it certainly explains a lot.