Miss Cereal? Here Are The 6 Healthiest Ones You Can Buy
Cereal has gotten a bad rap, and for the most part, for good reason. The typical American cereal is sugar-heavy and nutrient-light, a combination that may give you an initial boost of energy but will be followed by a crash, accompanied by an empty stomach.
And I'm not just talking about the obvious sweet cereals like Frosted Flakes and Lucky Charms. Seemingly healthy alternatives can have a high-glycemic index, which can lead to diabetes, heart disease, weight gain, and a host of other health issues.
A good breakfast, and therefore a good breakfast cereal, should contain a good balance of complex carbs from whole grains, protein, fiber, and healthy fat. This combination will give your brain the morning boost it needs, give your body energy to get you going, and keep you full and satisfied without resulting in a midmorning crash. Plus, from personal experience, if I start off the morning with a sweet breakfast, my sugar cravings for the rest of the day go through the roof.
For these reasons, when I'm eating cereal for breakfast, I either go for oatmeal (OK, that's not exactly a cereal but it's close)—and not the pre-flavored kind that are full of sugar—or some type of granola.
You have to be careful with granolas as well because many of them are full of sugar. But there are a few that are good and not too sweet. Below are my favorite granolas and cereals to munch on with some dairy-free milk or coconut yogurt. All of them also happen to be gluten-free and vegan (except No. 4, which contains honey).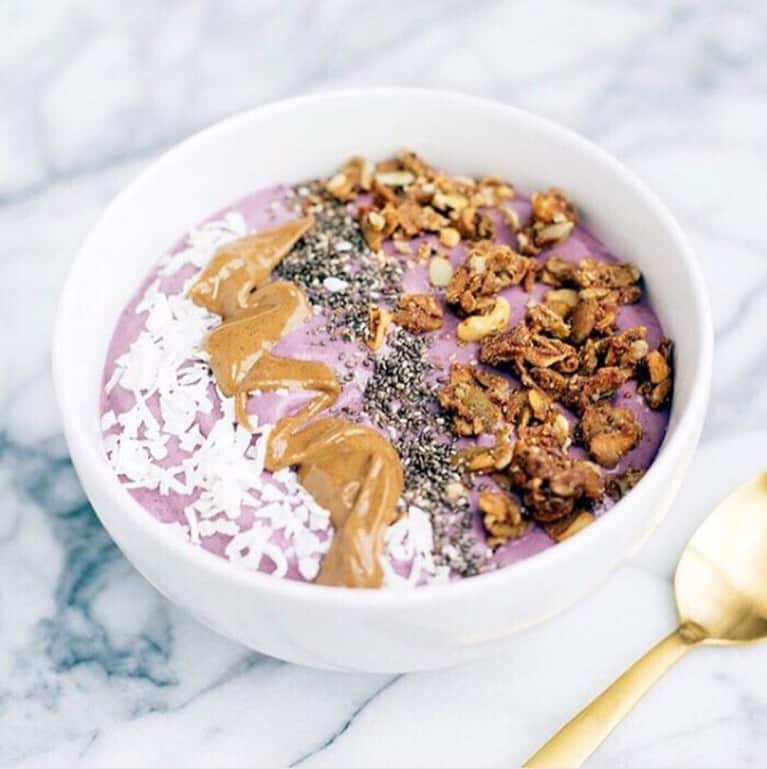 1. Purely Elizabeth Ancient Grain Granola
This one is my favorite. The sugar count is slightly lower than typical granolas, yet there's still a good amount of sweetness, just not too much. The ingredients are pure and simple, including nutritious ancient grains like amaranth, millet, and quinoa. It's also got two types of seeds (sunflower and chia), which are good sources of fiber and healthy fats.
2. Living Intentions Blueberry Blast Activated Superfood Cereal
Although this is called a cereal, I think of it more as a granola; it has clumps of whole foods that haven't been processed into a synthetic flake.
The first ingredient in this cereal is buckwheat sprouts, which are easily digestible and help lower cholesterol and blood pressure and are high in fiber and antioxidants. The flavor is light and crunchy and, again, not too sweet. Plus they've added in probiotics, which have a host of additional health benefits.
Activated Superfood Cereal, Blueberry Blast, by Living Intentions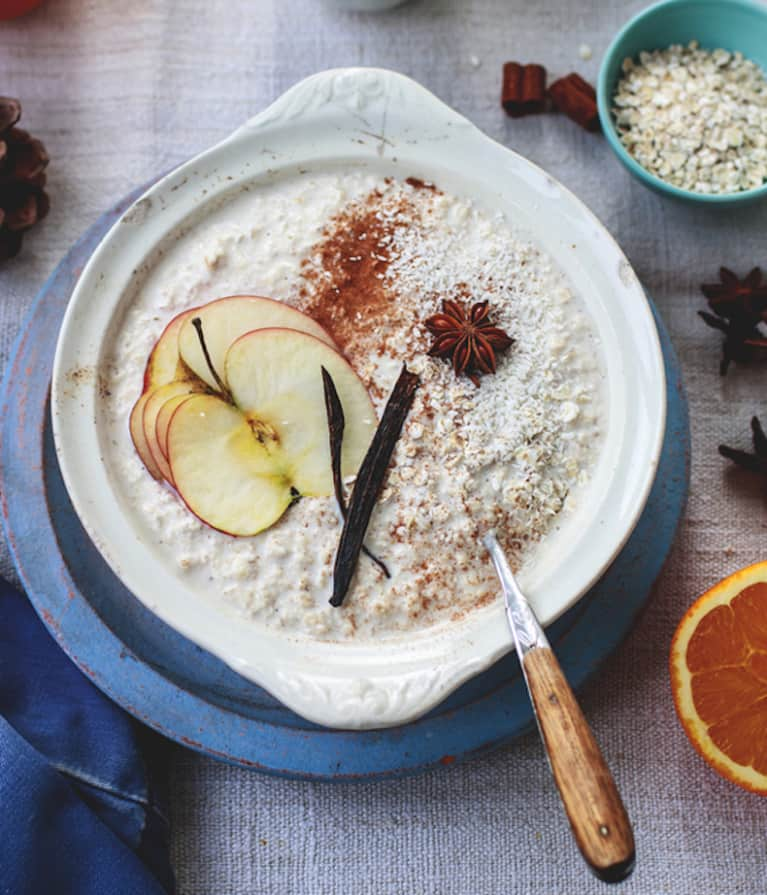 3. Wildway Grain-Free Instant Hot Cereal, Cinnamon Roll
Yup, you read that right. This one's flavored like a cinnamon roll, yet it contains no sugar and is sweetened only by dates. Sometimes you just want something warm in your belly first thing, and this is one breakfast that will give you the warm and fuzzies and still give you the energy and nutrition you need to get you going.
Made with only eight ingredients (three of which are types of nuts), this grain-free cereal is particularly high in healthy fats and protein to keep you satisfied until lunch.
Another grain-free/paleo breakfast, this one replaces grains with nuts and seeds and has the lowest carb count of the list. Of the nine ingredients, three are different types of seeds. The first ingredient is almonds, so this could also make a great midmorning or midafternoon snack!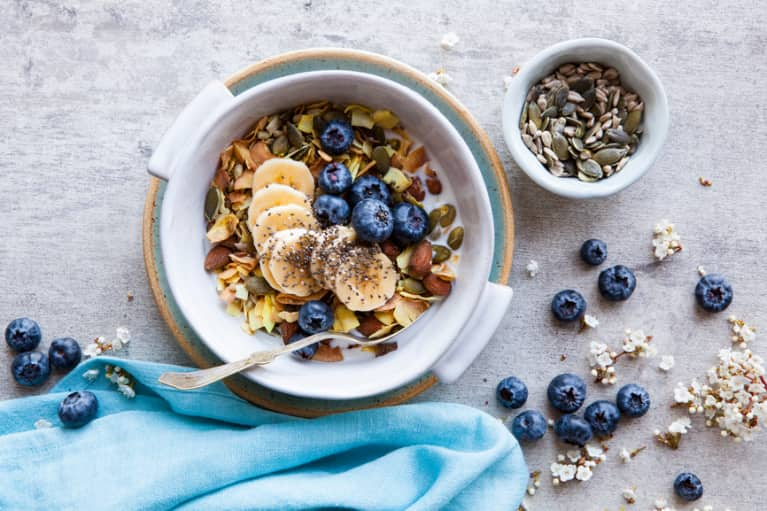 5. Thoughtful Food Seriously Seedy Granola
If you're not into nuts, or have kids who are allergic to nuts, this granola is the one for you. Made with organic oats, corn flakes, seeds, and raisins, this granola actually has a soft and chewy texture, making it another good snack for later as well. This one is a little higher on the carb count, but the simple unprocessed ingredients make it a good choice for kids.
6. Vigilant Eats Espresso Maca Mulberry Superfood Cereal
Unlike the previous granola, this one is not for kids—it's got espresso in it! The most sophisticated of the list, it also has the highest carb count, ringing in at 45g per cup. But it also contains some unique superfoods like maca, mulberries, lucuma, mesquite, hemp protein, and cacao nibs. It comes in its own grab-&-go cup with attached spoon and can be eaten hot or cold; how's that for variety?
Superfood Cereal, Espresso Maca Mulberry by Vigilant Eats
The bottom line is there are good options out there for breakfast cereals; you just have to look beyond the obvious brands and focus on whole foods and whole grains.
Adding your favorite milk and fruit will add protein, calcium, and fiber. If you want to try a savory variety, you can also make your own unflavored oatmeal or quinoa, then add veggies and herbs (think: omelet ingredients).