Clever Ways To Work Wellness Into Your Workday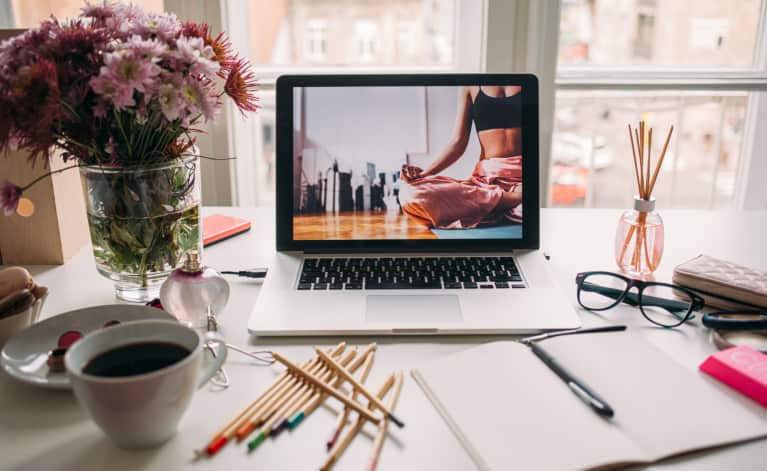 Do you suffer from acute or chronic back pain? Are you bothered by irritated or exhausted eyes? Do you catch yourself operating under a high level of stress and sometimes unable to pinpoint why you feel that way? Most of us have felt one or more of these things—as most of us work (or have worked) a desk job. And while not as exhausting and hard on your body as physical labor, sitting at a desk for eight-plus hours a day can do some real damage. Take a look at some of the following suggestions to incorporate healthy hacks into your workday. You might find these tips so fun, you'll have to share them with your coworkers!
1. Take advantage of your calendar reminders.
Surely whenever a calendar reminder pops up for a client meeting or scheduled webinar you hop right to it and get the job done. Why not leverage that same responsible attitude for your personal health as well? Try setting up some recurring calendar appointments that remind you to stand up, stretch, look away from your screen, get outside, check your posture, and take deep breaths. It's so easy to get lost in computer work that the hours just fly by without you giving any thought to what your body needs. And who cares if coworkers can see those little appointments on your calendar? It might motivate them to do the same!
How could parking in the shade possibly help your health? Well, parking in the shade means your car is temperate and covered—perfect for getting in a quick lunchtime nap. A simple 20- or 30-minute nap provides benefits to your energy level, mood, creativity, memory, and more. What's even better? These short bits of shut-eye won't mess with your nighttime sleep schedule. Hey, Reagan and Einstein did it—and we think you should too!
This might be out of your control, but if at all possible, try to situate your desk or office near a window. This simple seating arrangement provides a ton of benefits. First, you get natural light. We've all read about how bad fluorescent lights are on your eyes, but natural light is just what the doctor ordered. Second, you might get a peek at nature. Humans and nature just go together. There are countless benefits to being in nature, but there are even some for being able to see nature, such as improved attention. Lastly, you may be able to take in some fresh air. Let's face it, your office probably doesn't have the purest air. From the sneezy coworker to the dusty AC vents, there are many impurities you can forget about when you breathe in fresh air. If there isn't a chance of you getting a window seat now, then you'll just have to work your way up in the company until that becomes an option.
Yes, it could be fun to suck on a lemon slice and make funny, sour faces with your coworkers, but that's not what we're talking about here. Instead, slice up that lemon and toss a piece or two into your water. One benefit is that you get to feel a little bit fancy in the office, but another is that it tastes great! One of the popular bad habits among desk workers is not drinking enough water. Not only does citrus water help give you a little kick in your step, but it will likely entice you to hydrate more throughout the day.
5. Back away from the kitchen sponge.
The kitchen sponge is riddled with germs. Think about it, at home you use the kitchen sponge to mop up spills and scrape old food off of dishes. You probably wash it once a week, but it's still a breeding ground for bacteria. Now, think about that sponge sitting in the kitchen at your office. Think about how many different people are using it and how frequently it's being washed. We would recommend bringing in your own clean sponge or zapping the existing one in the microwave for 30 seconds (while wet) before use.
Whether you're avoiding communal kitchen supplies to limit your exposure to germs or setting appointments with yourself to check in with your body and stress levels, there are tons of small things you can do at work to help out your health. So try out the hacks above, or get creative with it and make up your own!