Why This Wellness Trend Is The Perfect Complement To Yoga
mbg Contributor
By Leigh Weingus
mbg Contributor
Leigh Weingus is a New York City based freelance journalist writing about health, wellness, feminism, entertainment, personal finance, and more. She received her bachelor's in English and Communication from the University of California, Davis.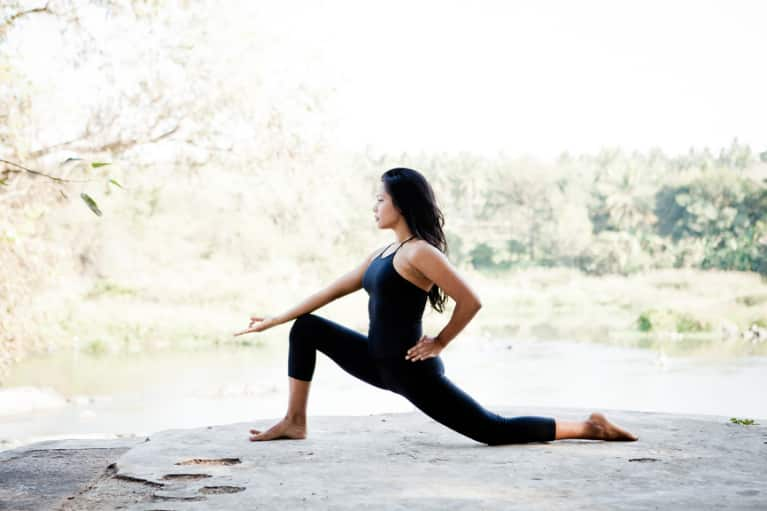 As we predicted in December, infrared saunas have been ubiquitous in the first few months of 2017. Lately it seems like every sun-starved person is increasing their serotonin, dopamine, and oxytocin levels by spending an hour a week in one of these much-loved 120-to 140-degree rooms.
Infrared saunas are particularly prevalent in yoga studios. Hot yoga hubs like Y7 in New York in LA use infrared heat in every class, while studios like Sky Ting have saunas for pre-class and post-class use. So why are yogis in particular going crazy for infrared saunas? Here's what we found out.
Infrared heat takes your body and mind to the next level.
While traditional saunas have been popular for years, they can be tough on the body. "The difference is that traditional saunas heat the air, making it a more aggressive way to heat the body," says Higher DOSE infrared sauna founder Lauren Berlingeri. "Infrared heats objects, so it raises your core body temperature. It's a much gentler, more effective way of heating your body. We compare it to the sun. It's a therapeutic, nourishing feeling."
She adds that infrared saunas lower cortisol and increase serotonin, while the aggressiveness of traditional saunas send the body into fight-or-flight mode, leaving you exhausted and hungry. "Going in to an infrared sauna after a yoga class is just another way to seal your practice, relax, meditate, and come out afterward feeling more chill," she says. "It's a reward to anything I do, so I like to treat myself to it after."
Naturopathic doctor Tiffany Jackson also recommends infrared saunas to her patients. "They increase your core body temperature which results in a deep, detoxifying sweat at the cellular level," she says. "The deep penetrating infrared heat causes your cells to increase their metabolic activity, which triggers the release of stored toxins through sweat, the liver and kidneys. Infrared saunas also help with pain by decreasing inflammation."
Why yogis can't get enough
While the mental benefits are endless, yogis are all also flocking to infrared for the physical ones. "It improves blood circulation and as this circulation is increased there is more oxygen and nutrients being pumped into the body, allowing us to have a more whole practice," says Y7 founder Sarah Levey. "It also increases the body's ability for the muscles to recover more quickly."
While Sarah recommends using the sauna after class and Lauren also views it as a great way to relax, she notes that going in beforehand is great for your practice. "It's beneficial because it warms up the body and prevents injury," she says. "Which is the same reason you do sun salutations in yoga. The infrared does the work for you. So you go in, you're all warmed up, you're dripping sweat, and the endorphins are rushing through your body so you have so much energy."
On that "dripping sweat" note, don't forget your water bottle. "Make sure to hydrate," Sarah says. "Because your body is heated much quicker in this type of heat, you will lose way more water."
Who wants to hit the infrared sauna this weekend?