7 Ways To Steal Moments Of Bliss During Your Busiest Day Ever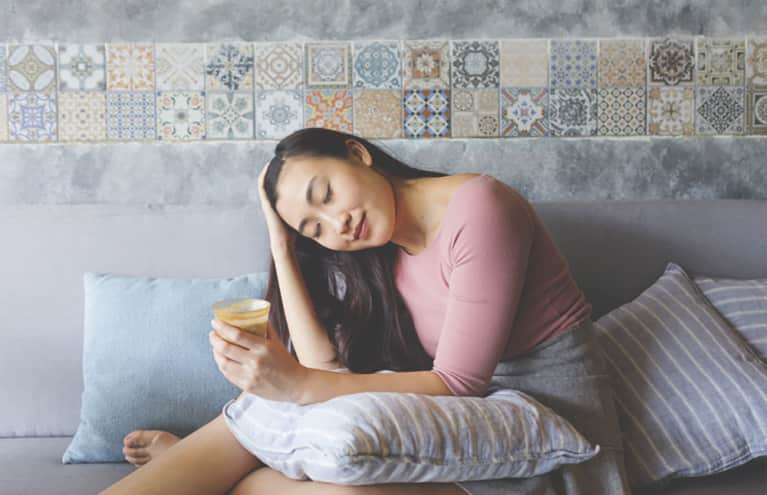 When we think of "Rest and Relaxation," or "R&R," we typically imagine ourselves lounging on a white sand beach and soaking up the sun with a tropical drink in hand. In a culture that values hustle and bustle, relaxation is typically regarded as a special treat that we "indulge" in every now and then: that well-deserved tropical vacation after your busy season at work; a spa day to celebrate your best friend's wedding; an hourlong massage after your first half-marathon.
One of the most valuable lessons I've learned as a therapist is that self-care isn't self-indulgent—it's absolutely crucial.
While these special moments of self-care are undeniably amazing, they are usually few and far between. We are busy people, and waiting for the next spa day to rest and relax isn't going to cut it. Relaxation is something we need on a daily basis, and it shouldn't require a week off from work. With a few tweaks to your schedule (and your mindset!), you can incorporate relaxation into your everyday life and avoid burning out. So, if your busy schedule has you running on empty and you need some rest right now, read on for these seven tips to help you relax:
1. Decide what relaxation means for you.
In order to make relaxation a priority, we must first determine which activities actually help us relax and which don't. We all have notions of what relaxation looks like, perhaps conjuring images of meditation cushions and incense sticks. While this may work for some, this type of relaxation isn't everyone's cup of herbal tea, and it doesn't have to be!
Relaxation should be something that restores your energy and brings you joy. And, your body doesn't necessarily have to be at rest in order to relax. Relaxation is about recharging your batteries, both physically and mentally. Perhaps a long bike ride or a brisk walk helps you de-stress. While some might prefer to relax alone, others might find more bliss going to the movies with a friend. What does relaxation mean for you? Forget about what you think you should be doing to relax, and find out what actually works for you.
One of the most valuable lessons I've learned as a therapist is that self-care isn't self-indulgent—it's absolutely crucial. As a society, we are hardwired to feel like we always need to be doing "something," and we equate relaxation with doing "nothing," which is where the guilt comes in.
If your attempts to unwind are typically thwarted by guilt, start by reframing your thoughts about relaxation. When you take time out from your busy schedule to rest, you're not doing "nothing." You are taking good care of yourself, reducing your stress, and restoring your energy so you can tackle everything on your long to-do list (after you've rested).
A yoga class isn't relaxing if you spend most of the time judging yourself, worrying about work, or preoccupied with the laundry list of things you have to do after savasana. So when you do make time to relax, try your best to be mindfully present. Your thoughts will wander from time to time, and that's OK. Just bring your attention back to the present and focus on what's important to you in that moment. Remember what brought you to class, and make that intention a priority.
Ahh, sleep. If only we could get more of it, right? Well, we probably can. If you're consistently staying up far later than you know you should and always regretting it when the alarm goes off at 5:30 a.m., try making some adjustments to your bedtime routine. Going to bed a bit earlier some nights might be just the thing you need to feel refreshed the next day. On the other hand, when you do have the opportunity to sleep later but are always jetting off to an early spin class, you might be doing yourself more harm than good. Listen to your body. If you feel you need more sleep, make it a priority. This applies to naps as well, which can be quite wonderful on a lazy Sunday afternoon. Yes, adulting is hard, and sometimes you just need a nap.
5. Put the phone down (sometimes).
Have you ever sat down on the couch with the intention of reading a book or watching a movie and instead spent an hour (or more) refreshing your Instagram feed? How annoying is that? Beware of social media time-sucks that consume hours of your free time each week. If you're low on leisure time and looking to make some tweaks to your schedule, this is the place to start.
If you're super busy at work, you can still steal moments of relaxation. Pause to take a few deep breaths at your desk, or try some chair yoga to release the built-up tension from a stressful day. If you have more than just a few free moments, leave the building and enjoy some time outside. Go for a walk around the block, or find a patch of grass and eat your lunch in the sun. It's incredible what a little mindful breathing, movement, and fresh air can do to reset the tone of your day.
7. Remind yourself to relax.
Relaxation might look different depending on the day. Some days you'll have time for a yoga class, and other days you'll take deep breaths in between meetings at work. Just keep reminding yourself that you need some form of relaxation every day, and be intentional about making time to relax. A long commute can be a nightmare if you're focused on traffic or worrying about an upcoming presentation at work. That same commute can also be relaxing if you listen to music or a podcast that you enjoy and set the intention to relax during that time. The choice is yours.