The One Thing Everyone Gets Wrong About CrossFit
mbg Contributor
By Leigh Weingus
mbg Contributor
Leigh Weingus is a New York City based freelance journalist writing about health, wellness, feminism, entertainment, personal finance, and more. She received her bachelor's in English and Communication from the University of California, Davis.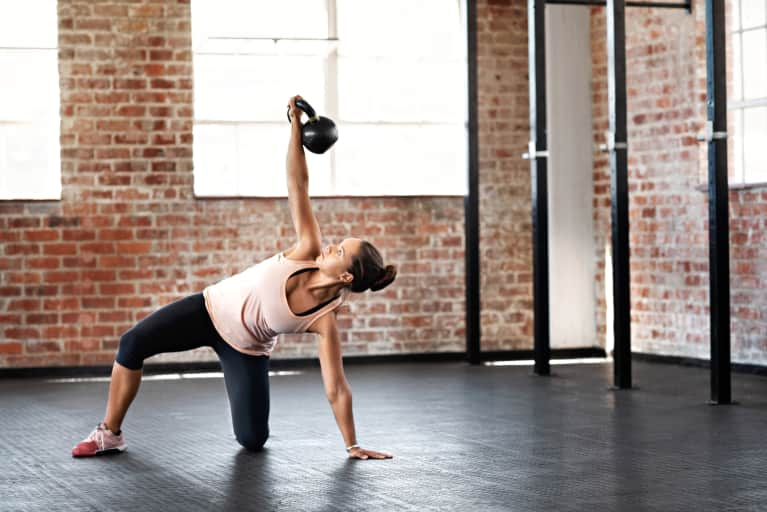 CrossFit has a complicated reputation in the fitness world. Founded by Greg Glassman (dubbed the "King of CrossFit") in 2000, it started to pick up more steam in 2012 as thousands of people traded treadmill runs for box jumps and rope climbs. But not everyone was happy with this new development.
Physical therapists worried about the backs of their patients while yogis assumed CrossFit was just for the hard-core, paleo dieters of the world. So when four-time CrossFit Games athlete Julie Foucher stopped by the mbg office, we decided to get to the bottom of some of the biggest myths we've heard about CrossFit.
Here are four myths Julie wants us to stop believing:
1. You have to be in shape to do CrossFit.
"I always hear people say, 'oh, I need to get in shape first.' Anyone can do CrossFit." You should work with a coach when you're first starting out, and most gyms will have some foundation, on-ramp class, or program before you join regular classes. Then you should work with your coach and figure out what your ability level is and what you can handle. The first thing you learn is how to do the movements the right way."
"Everyone has their own unique body type. If you do CrossFit four, five, six times per week, you're really just toning whatever your body type is. When I was competing in the CrossFit games and I was training five-plus hours per day, when I would see people in person they would say, 'Oh, you're not as big as I thought you were.' I think it helps change the aesthetic of what healthy and beautiful is. It's less about what you look like and more about your confidence."
3. You have to be a paleo dieter.
"CrossFit recommends meat, vegetables, nuts, seeds, some fruits, low starch, and no sugar. That's a general starting place, and we want people to eat in a way that will support their performance. Usually that looks like eating real food and no sugar, but that doesn't mean you're all paleo. You don't just have to be eating meat all the time. It's up to the individual—no one's going to say you can't work out because of how you eat."
4. You're more likely to get injured doing CrossFit than any other sport.
"You're not more likely than you are with any other sport or physical activity. The injury rates are the same as running, lifting weights, doing gymnastics—other types of sports you might do. In my mind I'd rather take the risk of maybe straining a muscle over the course of my life and being so much healthier, not having chronic diseases, and being able to play with my grandkids when I get older than risk straining a muscle once."