How To Maximize Your New Moon Ritual
mbg Contributor
By Alexandra Roxo
mbg Contributor
Alexandra Roxo is the co-founder of Moon Club, a global monthly mentorship program dedicated to women's empowerment and moon rituals and a transformational coach and healer.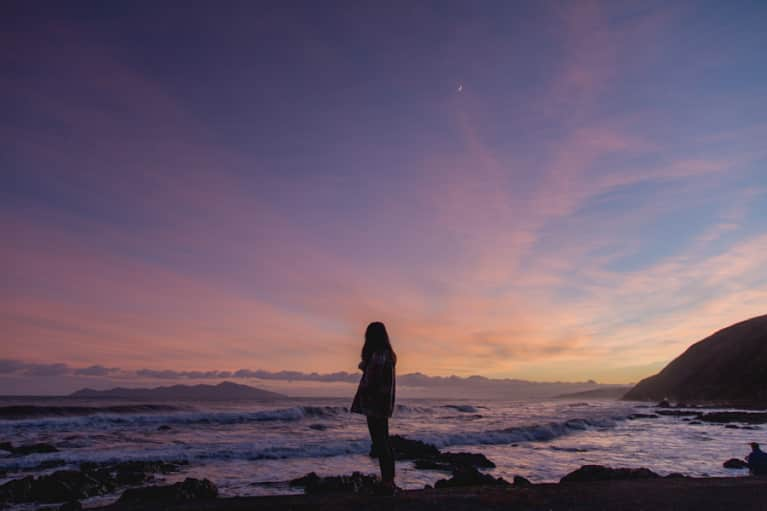 Thanks to the brilliant power of the Internet, "new moon ritual" and "full moon ritual" are now words we often stumble upon during daily scrolls on Instagram and Facebook. But what exactly are these astrological rituals—and how can they help you?
Moon rituals are ancient practices that date back thousands of years. Though we lost touch with some of the spiritual practices celebrating momma Earth over the years, we are finally seeing them pop up again—yippee! I've been doing this work for about 15 years, so I'm happy to finally come out of the closet with it all.
So let's have at it! It's time to dive into the cosmic waters together and reclaim ancient rites that many Americans have coursing through their veins and DNA. (Chances are you have some pagan roots up in there!) Keep in mind that moon rituals can be integrated into any religious or spiritual practice. Islam uses a lunar calendar. Hinduism and yogic practices honor the moon. These are all just ways to honor nature, the cycles of times, and the Divine Feminine.
How To Start Your Own New Moon Routine
The new moon is the start of a new cycle. As the sun and sun signs in astrology corresponds to your outward self, the moon and moon signs relate to your inner self. So as we honor the solar calendar to chart our outer progress—work goals, meetings, doctors appts, vacations, etc.—we can work with the moon calendar to follow our inner growth and self-work journey.
When the moon is new, we get to start fresh and think about what we want to carry into the next cycle. And we can celebrate this magical occasion with a ritual of our own choosing; there's no one-size-fits-all formula! I usually like to cozy up with my journal, light a candle, pick an oracle or tarot card for the next cycle, and do a small burning ceremony, but your ritual might look completely different.
Here are a few ideas to kick-start your next ritual, just in time for Sunday's new moon.
1. Check in with yourself.
Whip out your journal and write down, "What do I need?" then let the ideas flow. You may need a cooking ritual, a bathing ritual, a prayer ritual, a burning ritual, a crying ritual. You may want to spend time solo or be with a bestie or your family...it all depends on your mood. So first assess that!
2. Study up on astrology.
Find out what sign the moon is in and read up on it. So if it's a new moon in Pisces (like this upcoming one), you'll likely wanna do something with water.
3. Talismans, stones, crystals, oh my!
Do you have a lucky something or another you want to hold close as you set intentions for the next cycle? Any given month, I'll be clutching rose petals, my fave crystals, or another trinket from the box on my altar. This is a great place to incorporate something from your cultural background as well.
In addition to setting goals for your personal life, make an intention that impacts the world at large. Perhaps it's: "I want to learn to accept that my anger isn't an obstacle, but fuel for my fire to help the Earth and it's people." Or it can be as simple as: "I want to help my heart be ready for romantic love so I am just so delicious that everyone feels my love whether they're my boo or not!"
Put on something you feel great in, unless you're about to get naked in the tub! Tidy up. Use some sage or essential oils to clear the energy of the space, or light a candle.
I like to start with a prayer or meditation. You can also start with song! It's yours to create.
It doesn't matter if your ritual includes writing and crying, a bath, a walk to the ocean, guided meditation, dancing up a storm, planting something in your garden. Just make sure that whatever you do, you do with intention. That way, when you come back every month, you are creating something of energetic importance so you can magnetize what you want and let go of what you don't. Rituals gain power over time, so stay with it, even if you just do a little somethin' with each new moon.
It's in the returning to the practice that the magic builds.