The Foolproof Insomnia Cure You Haven't Tried
NASM-CPT
By Jesse Barton
NASM-CPT
Jesse Barton is a NASM-certified personal trainer, Wilhelmina fitness model and wellness writer.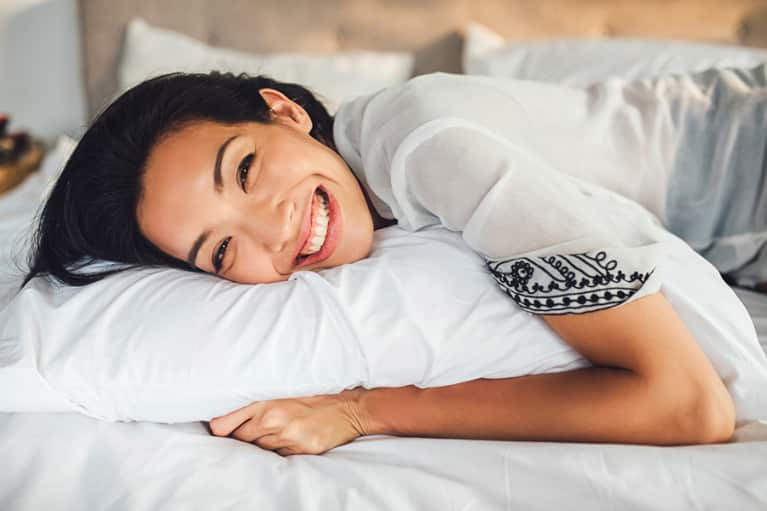 Have you ever noticed that you're more apt to hit the snooze button the morning after a strenuous workout? That might be the one downside of the exercise/sleep relationship. Because for the most part, sleep and exercise are perfect complements for each other.
It turns out there's a reason for this. When we work out hard, our bodies produce extra adenosine, a neurotransmitter that promotes sleep. And it's important to listen to these sleep cues, as intense workouts frequently require more downtime to allow the body to repair tissue. This means the body needs more sleep at night as well as space in between workouts to become a stronger, leaner, better version of itself.
Exercise helps you get more sleep.
The flip side of this is that because working out expends energy and creates more adenosine, exercising may help normal individuals sleep better, causing them to wake up less frequently and fall asleep more readily. According to current Gallup Polls, 40 percent of Americans sleep approximately 6.8 hours per night, less than the recommended seven to nine hours.
Too little sleep can lead to more little illnesses like colds, higher production of ghrelin (the "hunger hormone"), and too little leptin (the hormone that suppresses appetite, making you feel full), meaning you'll make poorer food choices, and you're more likely to take in more calories.
Are you craving a nap yet?
What about people with insomnia?
As for individuals who have pre-existing sleep conditions such as insomnia, exercise has also been shown to be effective after adherence to a routine for four months. In one study, after four months of consistent exercise, insomniacs were shown to have sleep increases of up to one hour, which is a large improvement that can have a big impact on overall wellness.
If the aforementioned is not enough to inspire you to look at both your exercise and sleep patterns, consider this: mental strength, coordination, speed, and intensity all increase with proper sleep. So, give yourself permission to turn in earlier, especially on days when you've had an intense workout, and reap the benefits of a stronger, healthier body and well-rested mind.