7 Things Chrissy Teigen Does That Make Her The Picture Of Perfect Health
mbg Contributor
By Leigh Weingus
mbg Contributor
Leigh Weingus is a New York City based freelance journalist writing about health, wellness, feminism, entertainment, personal finance, and more. She received her bachelor's in English and Communication from the University of California, Davis.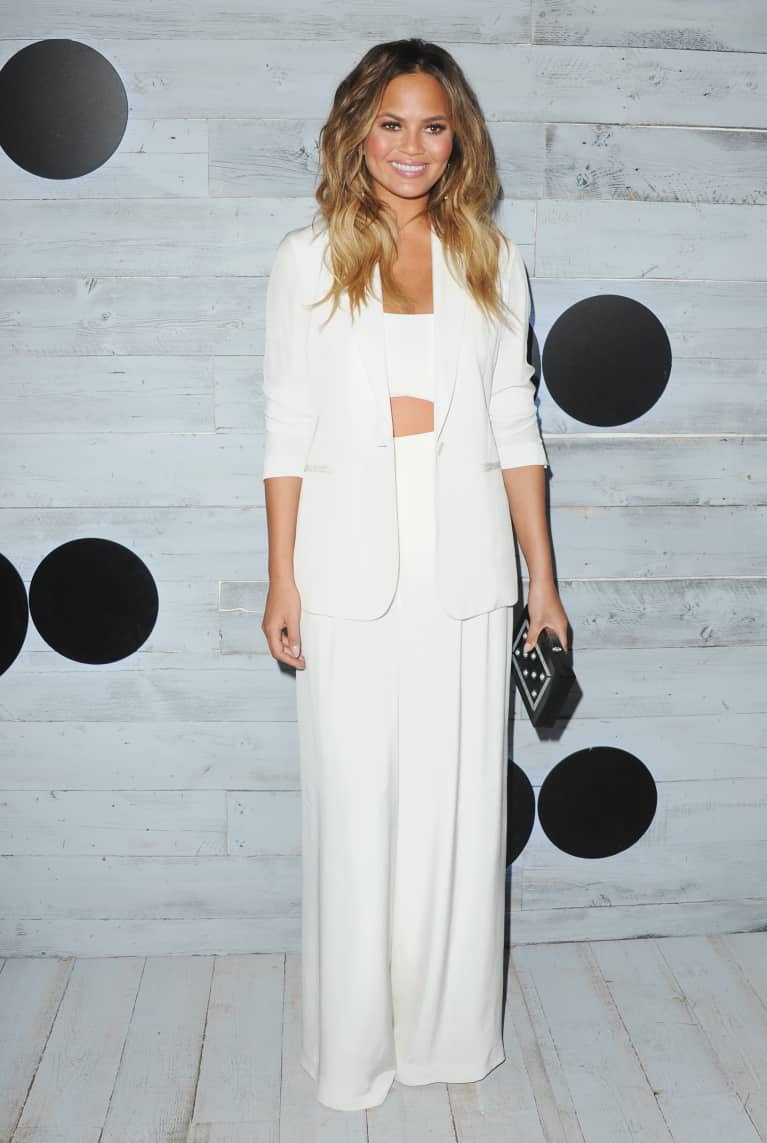 Our editors have independently chosen the products listed on this page. If you purchase something mentioned in this article, we may
earn a small commission
.
Whether she's walking a red carpet or taking a makeup-free selfie with her daughter Luna, Chrissy Teigen's radiance is palpable. And the woman has a lot on her plate—when she's not posing for Sports Illustrated and appearing on the TV series Lip Sync Battle, she's taking care of her daughter and testing out mouthwatering new recipes.
So, how does she do it all? If we had to guess, we'd say it has to do with her grounding wellness practices. Here are six of them.
1. She embraces her body—flaws and all.
In January, Chrissy tweeted out a photo of stretch marks on her legs and wrote "whatevs." That's body acceptance goals if you ask us. If that's not body acceptance, we don't know what is.
2. She eats a healthy, protein-packed breakfast.
You've heard it before: Breakfast is the most important meal of the day. It gives you energy, keeps your blood sugar levels stable, and reduces cravings later in the day. And Chrissy never skips it. "I have to have breakfast and breakfast has to be eggs, whether in omelet form, hard-boiled, or over-easy," she told Shape magazine.
When she was trying to conceive, Chrissy brought on the positive vibes by going to an acupuncturist and wearing a necklace blessed in a temple in Korat, Thailand. "If anything, it just makes you feel better," she told Self magazine.
4. She supports other women.
Nothing brings on a radiant glow quite like a strong dose of girl power. "Men are very tough, very critical of me. I think they expect you to basically just be a picture," she told Cosmopolitan. "They don't want to hear you speak. Women, I love. It's amazing to me, because I am a swimsuit model; I'm half-naked. I just love the fact that women love me, and it makes me love them so much back."
5. She doesn't have food restrictions.
If her cookbook Cravings is any indication, Chrissy is hardly living on carrot sticks—and she confirmed that in her interview with Cosmo. "I always get to eat what I want, because if I don't, I go insane," she said.
6. She exercises every single day.
"I work out every day," Chrissy told Self while she was pregnant. "I still feel fit and energetic. In a way, I'm healthier now that I'm pregnant," she said, noting that she's a huge fan of Body By Simone. "A lot of classes don't feel like they're tough enough on you, but some trainers have you rolling tires and stuff. And I'm like, 'Okay, I need something in between that!'"
7. She snacks on sea veggies.
Instead of hitting the chips, Chrissy digs into nutrient-packed dry seaweed. "Seaweed sheets are my go-to for my salty chip cravings, especially wasabi flavored ones," she told Shape.
Who's ready to cook a delicious recipe out of Chrissy's cookbook? We certainly are.