11 Reasons Why I Love 'Green 11'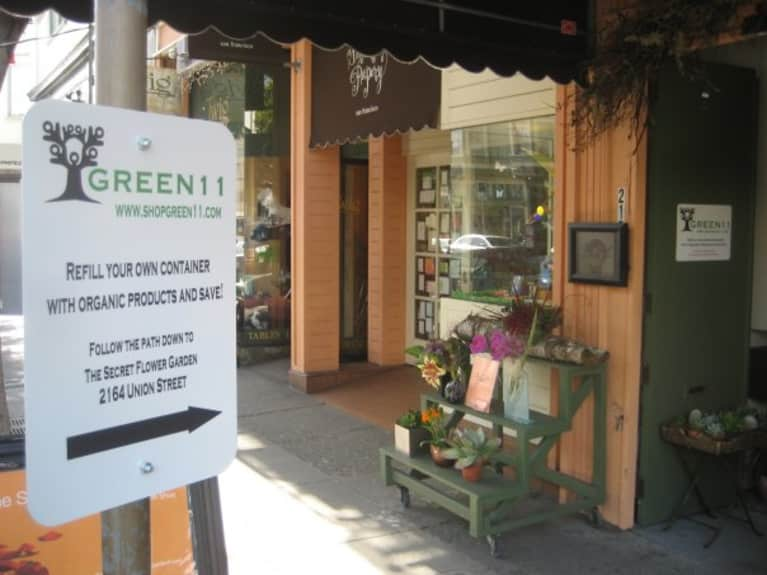 Green11 is a San Francisco local business that helps consumers and businesses reduce their environmental footprint by refilling containers with organic beauty, and non-toxic cleaning products. The innovative green business was founded in 2009 by a husband (Marco Pietschmann) and wife (Bettina Limaco) team. I walk past Green11 most days during strolls down 24th Street in Noe Valley, San Francisco and always pause to peek in the window to see what's going on.  
Here are 11 reasons why you should love Green11: 
1. Green 11 was inspired internationally and enacted locally. The idea for Green11 came to Bettina and Marco while on a 6 month tour of Africa visiting Egypt, Namibia and Ethiopia. They were discouraged to see extensive plastic litter during their travels and they decided to do their part to help others reduce plastic consumption. 
2. They have an ambitious mission but keep the business practical (and even a bit fun). Green11 was named because of the obvious mission to be green and because they started with 11 product lines. Bettina and Marco also liked the symmetry of 'ee' and '11.' 
3. As a business, Green11 takes being green to the extreme! The lowest business garbage and electricity rates for the City of San Francisco are not low enough for Green11. Because they refill all containers (including the industrial sized drums used to dispense product), they don't even come close to filling the required weekly garbage bin. Using sunlight and energy efficient lighting as their primary light sources keeps them well under the lowest electricity rates. And, be sure to ask for your receipt in email format to prevent a useless exchange of paper. 
4. They are already award winners. CaliforniaCool.org recognized Green11 as a 2011 Climate Leader based on the steps they've taken to reduce their environmental impact. As a climate leader, Green11 also take every opportunity to educate consumers about how being green can help the environment. 
5. Being green can save you some green! In general, Green11 products are 20 to 30 percent cheaper than retail options because the soaps are sold in concentrated form and the same volume goes a lot further.
 6. They sell to consumers and businesses. Green11 supplies many other local business with cleaning supplies in refilled containers. Since my favorite restaurant uses more dish washing soap than me, business customers can have an even larger impact.
 7. You'll feel great about doing your part to stop consuming additional thick plastic containers that often can't really be recycled. Recycling is a step towards being green but virgin plastic source reduction is even better. Take a look at some misconceptions about recycling plastic from Berkeley's ecology center. 
8. Their intentionally small storefront is quite memorable. You can usually find Bettina grooving to great tunes while her son plays in his playpen next to her. Additionally, Bettina's sunny attitude and helpful approach makes it feel a bit like you've walked over to a friendly neighbor to ask for some help. 
9. Samples!!! The walls are tastefully packed with test bottles of lotions and soaps to smell and try; you can loose yourself selecting a perfectly scented, eco-friendly product. 
10. Green11 knows that you need to be a confident consumer so they go the distance to help you decide the best product for your needs. They have even been known to give samples (in refilled plastic bottles of course!) so you can do a side-by-side comparison of your usual product with theirs.
11. It's the easiest way imaginable to be green because we all buy soap! 
MindBodyGreen readers, do you know of other businesses similar in concept to Green11? Do you know of other simple ways for people to reduce plastic consumption? Please share your tips with others in the comments.