This Amsterdam Escape Is Your New Dream Home
mbg Sustainability Editor
By Emma Loewe
mbg Sustainability Editor
Emma Loewe is the Sustainability Editor at mindbodygreen and the author of "The Spirit Almanac: A Modern Guide To Ancient Self Care."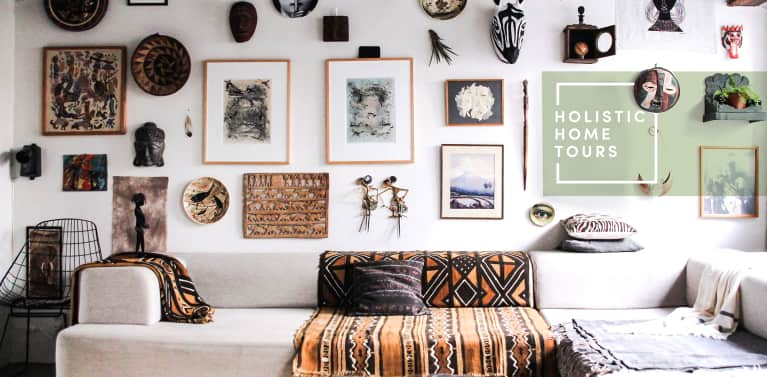 Welcome to Holistic Home Tours—a new series that will bring you inside feel-good sanctuaries. Today, we're traveling to Amsterdam to peek at a jet-setting family's bright, colorful oasis and snag some tips about how to recreate the look.
Nestled beside a canal in Amsterdam, you'll find the home of Manon Hanssen—a writer, energy healer, and mother. The spice-warehouse-turned-loft is dotted with nods to nature, spirituality, and travel, so looking through it feels like a journey through time and space. African influences speak to Hanssen's son Micah's Kenyan roots, and the relics on display whisper of wonderful adventures come and gone.
The home itself is minimalist in style, with its exposed beams and white walls, but the family's design philosophy is far from it. "I love contrasts and contradictions," Hanssen says. "Life is full of them, so am I, and so is our home."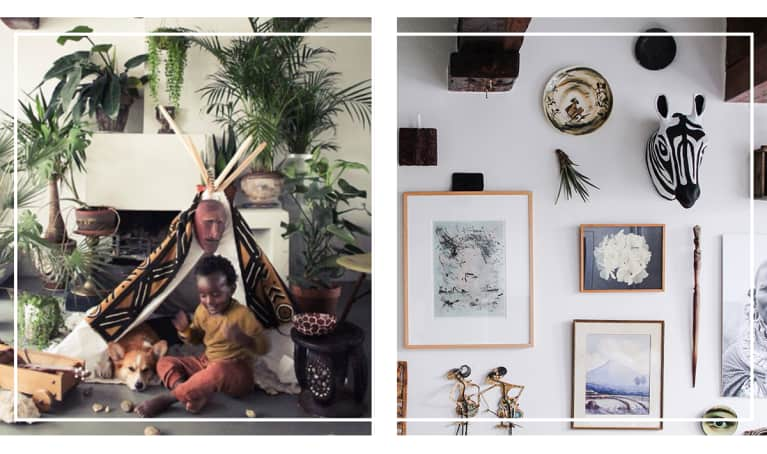 Your home has so many fun cultural details. Can you speak to these a bit?
Most of the art and accessories in our home are from Kenya. I believe you can truly feel the difference between something that's handmade and something that's disposable. It doesn't have to look perfect to be perfect. For example, I have some handwoven items hanging on my wall that were made by a 70-year-old Kenyan man who is almost blind. It's all about the feeling something gives us and the story it tells.
What are three words that describe your design philosophy?
Personal, intuitive, evolving.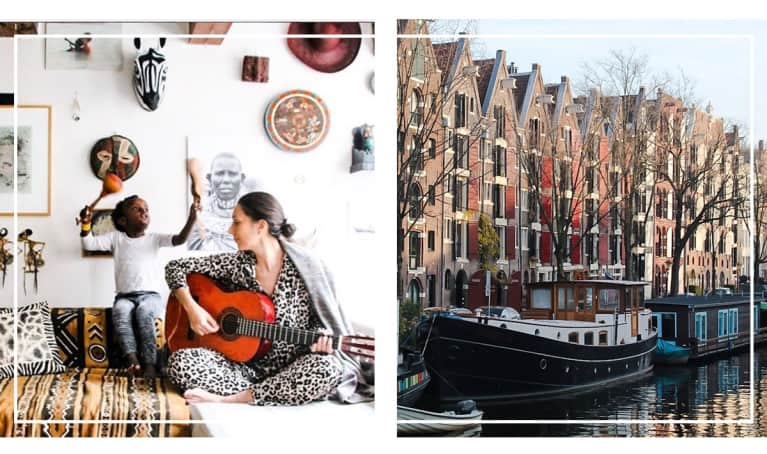 How does your home relax you? How does it motivate you?
Its Zen energy relaxes me. From the moment I enter, I forget about the vibrating outside world and turn inward. Meanwhile, I get positive vibes and inspiration, which makes it a great place to give energetic healing sessions and write—two things I do for a living.
Favorite season in your home?
Spring, when the sun enters and colors our sandy white walls warm golden, and we can leave our doors and windows open.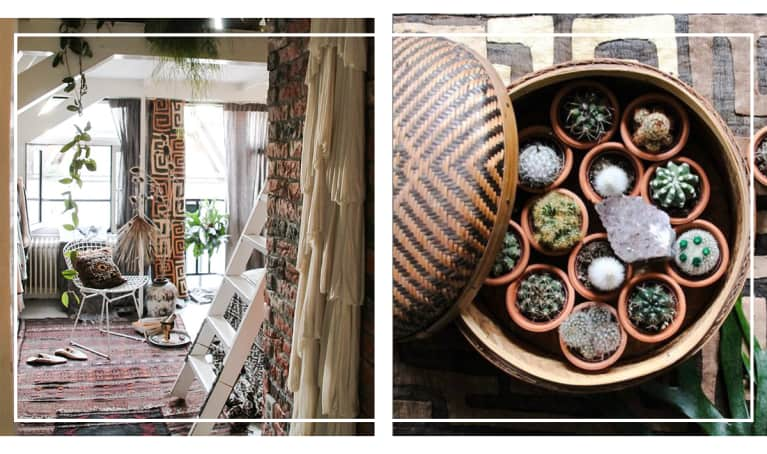 Do you have a go-to spot for furniture? Accessories?
In our neighborhood in Amsterdam, there is a market called Noordermarkt that sells organic food, flowers and plants, and vintage treasures and antiques. Over the years there have been multiple occasions when I've stopped there for veggies and returned with a cabinet, vintage chair, or even a palm tree.
I love African art, too, so exploring the artisan shops in our neighborhood in Kenya (we live there part of the year) is an adventure on its own for both furniture and accessories. Whenever possible, I buy directly from the artists to make sure they get a fair share.
My husband and I also like to have furniture custom-made by designers. Our friend and talented interior architect Rik Alkema designed the almost 10-foot-long industrial dining table and matching bench made of steel and oak. Other addresses for inspiration include Atelier Sukha in Amsterdam, Merci in Paris (their home linen collection is stunning—those colors!), Merchant Modern in Los Angeles, and online shops like The Wishing Trees.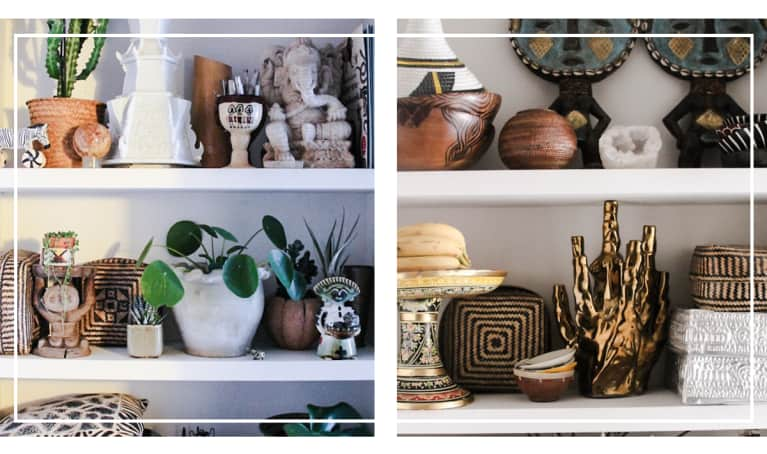 What's the most sentimental thing hanging on your walls? What's the story behind it?
The wayang dolls that my grandparents and mother brought with them when they fled from Indonesia to Europe are very special. I also love the image of Nalutuesha, who is one of the Maasai mothers who makes jewelry for my fair-trade clothing and accessory label, Naramatisho. (The Maasai tribe gave me the name Naramatisho, which translates to "she who cares.")
Coziest spot in your home?
There is this nook in our kitchen area where the rays of sunlight stay the longest. I think of it like a pop-up shop, always filling it with different rugs, plants, and pillows. This is where I sip homemade lemonade with Micah or close my eyes for just a moment in the midst of life.
How often do you entertain? What does a dinner party look like in your home?
We like to have people over spontaneously. Somehow it can be much more relaxing than planning everything; you just work with what you've got.
Every now and then, we do throw a dinner party for our friends. Our table functions as the center of the event, and it's decorated with flowers and fresh, organic food. After dinner, we have our desserts on large pillows in the living space while drinking tea or wine and making some music together.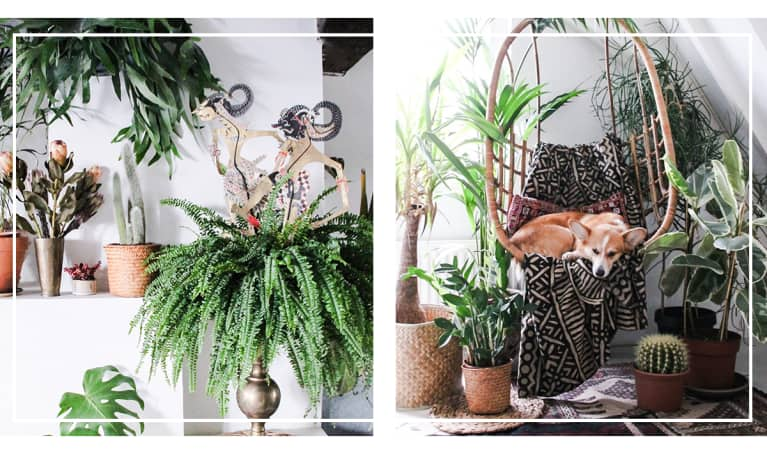 What noises can be heard in your space? What smells?
Chances are you might hear some guitar and djembe sounds for we love singing, dancing, and making music together as a family. And of course it's filled with children's voices of Micah and his friends. It smells like an Indian ashram; I love burning sage and incense to keep the good vibes flowing.
Best compliment you've ever received on your home?
It's not the words but the way people act when they visit. Watching them unwind and curl up on the couch or relax on one of the rugs on the floor—that's what makes me happy.
If you want your home to have these vibes (and let's be honest—who wouldn't?), here are some essential pieces to get you started.