What's The Deal With Divestment + Why Should You Care?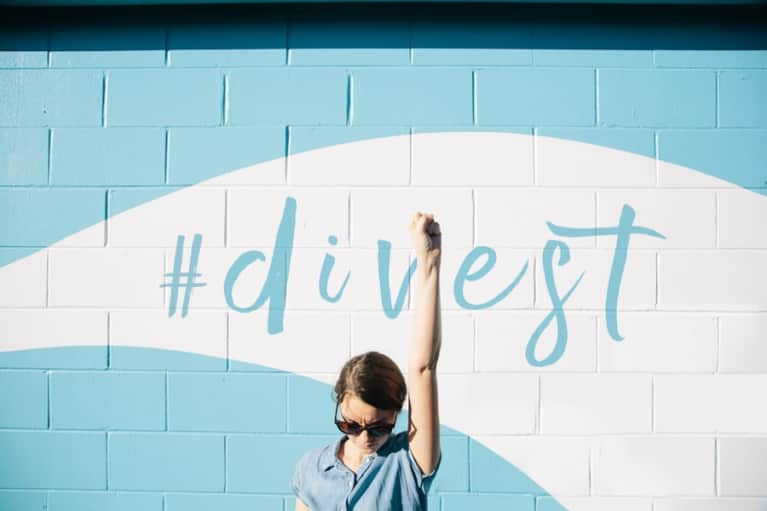 February 23, 2017 — 8:10 AM
Divesting is a hot topic in the eco-space right now. As of December 2016, nearly 60,000 people around the world had pledged to divest from fossil fuels, collectively representing more than $5 trillion in assets. Great, but what does this really mean?
Here's everything you need to know about the most important divestments going on in the world right now, the precedents they set for the future, and how you can get involved on a smaller scale.
Divesting (v.): By divesting from fossil fuels, you're removing any financial ties you have to companies that fund coal, oil, and natural gas projects.
What began as a Swarthmore College student petition urging their administration to stop investing school funds in coal in 2011 has blossomed into a full-blown environmental movement over the past six years. Global Universities, NGOs, and mission-driven organizations—from Trinity College in Dublin to the Church of England—have since pulled investments in fossil fuel companies and the financial institutions that fund them.
In addition to protecting the environment from the dangers of fossil fuels, divesting has an inherent financial value. The 2015 Paris Climate Agreement inspired a global commitment to keep warming below 2 degrees Celsius, so countries now have an incentive to phase out greenhouse-gas-emitting fuels. It's becoming more and more obvious that alternative energy sources are the way of the future, and an increased demand is driving down the price of renewables. In fact, in many parts of the world, solar power is now cheaper than oil.
Lately, you've probably heard the word divestment used in the same sentence as Wells Fargo and Dakota Access pipeline. That's because earlier this month, the city council of Seattle unanimously voted to divest $3 billion of state funds from Wells Fargo, one of 17 banks funding the project that could threaten water supplies and native lands around the pipeline.
Not long after Seattle's vote, Davis and Santa Monica, California, followed suit, and now major cities like New York are openly speaking out against Wells Fargo. "As someone with a leadership role in funds that are long-term investors in shares of your bank, I am profoundly troubled by the risks you are taking by involving your institution in this controversial project," NY mayor De Blasio wrote in a statement to the bank's CEO last Friday.
On a broader scale, European governments are driving large-scale divestments across entire countries. Earlier this month, the Irish Parliament passed the first stage of a bill that will make the $9 billion Ireland Strategic Investment Fund sell all of its coal, oil, and gas investments over the next five years.
When you think about how lucrative the fossil fuel industry is, it's hard to believe that comparatively small divestments actually make a difference. And in terms of dollars and cents, they really don't. Even if divestments became the norm among universities and special interest groups, the money divested would still pale in comparison to the money invested by large-scale fossil fuel financiers.
So why does divestment continue to become more common?
"The goal is not to bankrupt the fossil fuel industry. We can't do that with divestment alone," activist Bill McKibben tells the New York Times. "But we can help politically bankrupt them. We can impair their ability to dominate our political life." The display of grassroots activism tells companies that fossil fuel projects are no longer in people's best interest.
So what does this mean for you? If you do have individual investments, sites like Fossil Free Fund and Clean Capitalist can show you how to move your money away from fossil fuels and into cleaner energy sources. If you want to start smaller, you can see if your utility company will allow you to switch from traditional energy generation to renewable power.
Carry this powerful divestment mentality into the rest of your life by always remembering the power of the dollar. Don't give your money to people or organizations that don't align with your values, and think twice before you spend on anything you don't know the story behind.