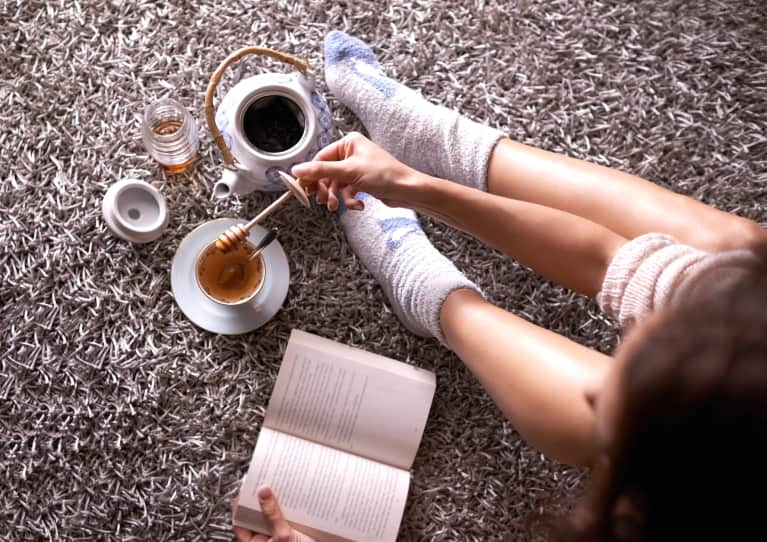 Winter is here and we all know what that means: It's cold season. Even though we prioritize prevention and we do all we can to avoid getting sick, that winter bug gets even the most bona fide and well-intentioned cold crushers, whether your little ones are sick or you're dealing with your own seasonal sniffles.
When we come down with a cold, though, all we want is to feel better—and sometimes doing it naturally is a struggle, particularly if you have kids. (Have you ever tried to feed a child some oregano oil?!) We've tried our fair share of natural remedies, some that work and some that don't. So let us introduce you to one of our favorites: buckwheat honey, a powerful cold-fighting immune-boosting natural ingredient that you should include in your get-better plan right away. The best part? It's the most delicious cold-fighting remedy you can get your hands on.
All honey is not created equal.
We learned the hard way that not all honey is created equal. Honey has been used medicinally since ancient times, mainly for its antimicrobial and wound-healing activity. But why buckwheat honey specifically? Because buckwheat honey is higher in antioxidants than other types of honey produced in the United States, and studies have shown it to be effective for reducing the frequency of coughing and improving the quality of sleep for people with the common cold.
Ready for you and your family to get over that nasty cold? Follow our honey-filled treatment plan below:
1. Sore throat? Make your own gargle.
As soon as you start feeling sick, try adding a teaspoon of honey and splash of apple cider vinegar to a cup of hot water. Allow it to cool to room temperature and then gargle two to three times with the solution. Feel the honey soothing your throat as the ACV works some antimicrobial magic!
2. Can't stop that cough? Try our go-to all-natural cough syrup.
There's nothing worse than a persistent cough, right? Well, taking conventional cough medicine that leaves you foggy-headed and drowsy isn't much better. Luckily, there's Maty's, an amazing whole-food alternative packed with sea salt, apple cider vinegar, lemon balm, cinnamon, cloves, and of course buckwheat honey. Maty's All-Natural Cough Syrup is the perfect combination of safe and effective all-natural ingredients to help with symptoms and heal your and your family's colds naturally.
3. Need some supercharged hydration? Brew a healing honey tonic.
In a medium pot, boil a few cups of water on the stove. Add a mixture of a few ginger and turmeric tea bags and allow them to steep, adding more for a stronger flavor. Squeeze in a whole lemon, add a few spoonfuls of buckwheat honey to the concoction to taste, sprinkle with a touch of cayenne pepper (which is often recommended for aches and pains), and stir thoroughly. You can drink this healing tonic right away or try refrigerating it and drinking it cold.
4. Looking to boost immunity? Add buckwheat honey to a soothing herbal tea mixture.
It can be hard to get a good night's sleep when you feel sniffly and achy. Try making some chamomile tea before bed (which is totally kid-approved!), as research suggests that chamomile can calm anxiety and promote more restful sleep. Want to supercharge your tea or need help prep your sick child for bed? Add Maty's Nighttime Cough Syrup to your mug or give it to your little one as you wind down before bedtime. It has nutmeg and chamomile for a natural and restful night's sleep and contains 10 immune-boosting ingredients. It can even be taken before getting sick to strengthen the immune system and ward off an impending cold.
As tempting as they may be for immediate relief, traditional over-the-counter cold medicines can often come with unwanted side effects and interactions. We love having the option of feeling connected to Mother Nature—even when we're sick—by using Maty's products, which are fast-acting, natural, loaded with antioxidants, and totally drug-free.