Your Ultimate Anti-Inflammatory Shopping List
Integrative Medicine Doctor
By Amy Shah, M.D.
Integrative Medicine Doctor
Dr. Amy Shah is a double board certified MD with training from Cornell, Columbia and Harvard Universities. She was named one of mindbodygreen's Top 100 Women In Wellness to Watch in 2015 and has been a guest on many national and local media shows.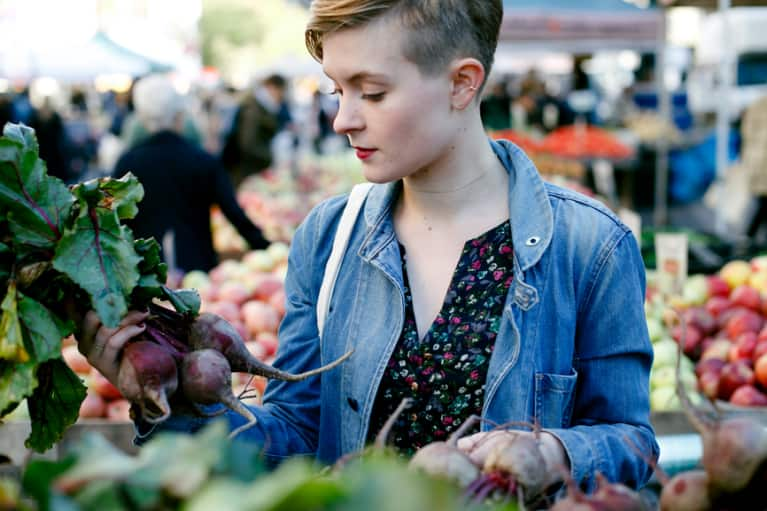 Dr. Amy Shah is a double board certified MD and one of mbg's favorite holistic health experts. With training from Cornell, Columbia and Harvard Universities she helps her patients get to the root cause of illness. This week, we're sharing Dr. Shah's approach to taming inflammation for optimal health and well-being. To learn more, check out her mindbodygreen class The Ultimate Guide To Inflammation.
Chronic inflammation—and its symptoms like bloating, headaches, and joint pain—is a big problem for a lot of my patients. But if you add these foods to your diet each week, they will help calm that burning immune fire that is good in small amounts but bad in larger amounts. Food is very personal and no one size fits all, but this is what I would generally buy in a week to tackle pesky inflammation. These are not in order of importance (and not every single one of them is required) so pick and choose at least three of your favorites!
Berries are rich in antioxidants and polyphenols that fight free radicals, which foster inflammation. But stick to organic as berries can be loaded with pesticides (which are inflammatory). Aim to have a cup a day either as a snack or in a smoothie.
2. Green, leafy vegetables
Besides being the most nutrient dense food by far, leafy greens contain anti-inflammatory phytonutrients, phytochemicals, vitamins and minerals. Four to six cups a day is optimal. If that's too much (especially if you have trouble digesting it), try for one cup of cooked leafy greens each day and go from there.
3. Cruciferous vegetables
This includes veggies like broccoli, Brussels sprouts and cabbage. Part of the reason these veggies are famed for lowering the risk of heart disease and cancer, is because of their high levels of antioxidants. Naturally detoxifying, they aid removal of harmful compounds. Eat daily but be wary they can create bloating and gas in excess, so for those with a sensitive stomach, start with half a cup of cooked cruciferous veggies.
Fruits and vegetables generally have the highest amounts of antioxidants and phytochemicals. Eat these daily and opt for purple or rainbow varieties like sweet potatoes, purple kale, rainbow chard, orange cauliflower, and pomegranates. A variety of colors offer a variety of antioxidants and phytochemicals that heal inflammation in body.
Eating nuts not only reduces inflammatory biomarkers, it maintains a healthy lipid profile and lowers the risk of cardiovascular disease and diabetes. Nuts are satisfying, delicious, and 30 nuts a day has proven anti-inflammatory benefits. Three cups from the grocery store should be enough for snacking on 30 nuts a day. You can also use that many to make a nut butter in your blender.
Real tea—specifically black, green and white teas—from the camellia sinensis plant and is another antioxidant powerhouse. Additionally, polyphenols found in tea stimulate immunity and other compounds like EGCG (found in green tea) block pro-inflammatory cells. Drink two to three cups each tea a day. If you consume pro-inflammatory sodas or other drinks throughout the day, try tea instead.
Garlic, ginger, turmeric and saffron—adding these spices to your sweet and savory cooking at least three times a week aids digestion and reduces bloating and stress on the body. The curcumin in turmeric and the gingerol in ginger are especially potent anti-inflammatories. Use with abandon!
Did you know alcohol that in moderate amounts is anti-inflammatory? Abstaining completely from alcohol consumption cultivates elevated C-reactive protein (a meter for inflammation) and studies have shown that consuming alcohol in small amounts is associated with lower levels of inflammation. However it doesn't take much alcohol to elevate CRP so keep it at 90 to120 milliliters a day or a few times a week to reap the anti-inflammatory benefits.
Not only are these great sources of protein, omega 3s are anti-inflammatory champions for overall health and longevity. The American Journal of Clinical Nutrition summed it up best, concluding that "low levels of omega 3s in elderly subjects resulted in an increased risk of death from all causes." Healthy fats from avocados, coconuts, will also calm inflammation. If you are plant-based or primarily plant-based like me, you'll want to incorporate omega 3's from chia seeds, hemp seeds, walnuts, and seaweed. For those of you who enjoy fish, incorporate fatty fish like salmon, mackerel and sardines into your diet two to three times a week.
Some other great anti-inflammatory options include pickles, other fermented foods, and apple cider vinegar (with the mother).