What It's Like To Watch A Porn Flick On A Date (With 307 Strangers)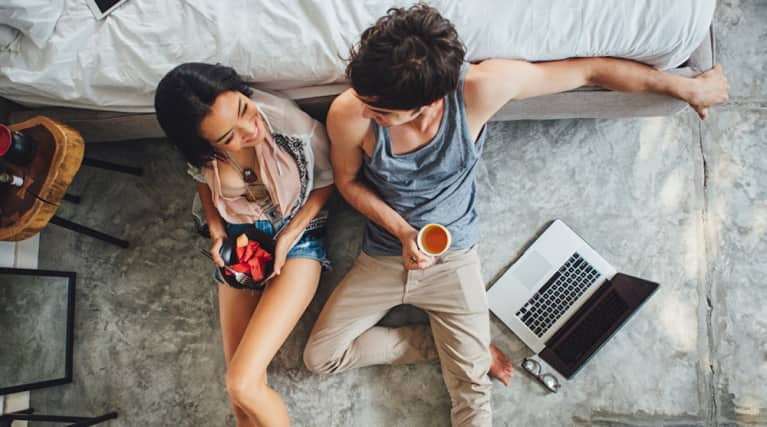 "You don't come to Hump to be turned on," the man sitting to my right tells me as I take a hit from his vape pen. He hands me an empty popcorn box to blow my skunky "smoke" in. "You come to see what is out there."
Hump is the amateur porn festival hosted by Dan Savage, where anyone can be a porn star for one night—and where I'm currently sitting, flanked not only by strangers but by a man I've been a-little-more-than-casually dating for a month and a few friends. With the festival's submissions being screened around the country, there are theaters full of people like us—hundreds of strangers sitting side by side for 90 minutes, watching some of the most imaginative smut out there.
Even before the lights go down (oof, in this situation even that common turn of phrase sounds dirty) I'm nervous. It's not the strangers around me causing anxiety but rather the fear of recognizing someone. What if my boss is somehow here? Or my brother? Or what if they have films in the festival?! Not that they aren't allowed to have kinky, exciting sex lives but…
This train of thought gives way to berating myself for being so bird-minded. Our culture teaches us to feel ashamed of our interest in sex and to be squeamish about the idea that most folks—even our siblings—do it throughout their lives. And one of the reasons I'm at Hump is to stop that way of thinking. Humans have sex. Humans enjoy sex. All of them. And that's more than OK. Heck, it's celebratory!
The lights dim, my date takes my hand, and Dan Savage reviews the rules of watching Hump:
Leave your judgment at the door. (Check.)
Be sex-positive. (Check! Just worked through that in my head!)
Ditch your cellphone. (Strictly enforced.) (Easy.)
React. (I love to laugh! Perfect!)
Prepare to see someone you know. (Oh, Mylanta.)
Since I don't know what I'm in for, all I can do is repeat the list to myself as the first film queues up. My gut feeling is that my wildest dreams can't begin to prepare me for what we're about to see.
I'm right.
The opening film starts with two men tangoing. First clothed. Then one shirtless. Then one not clothed. As the naked man comes—no penetration or hand-pumping seemingly required—I let out an audible, "Awwww." My date squeezes my hand.
Each film is vastly different from the one before. We watch an animated squid make his way into a woman's vagina, a letter carrier becomes a submissive pup, and a Scrabble game takes people to unexpected places. Not everything is comfortable to watch. In fact, I find myself tensing my bottom in sympathy as often as I press my thighs together in titillation. The only recurring feeling is that after each film, no matter how dirty or silly, I can't help but think, "That was so sweet!" Watching people be exactly who they are and express their sexuality articulately and without shame is unexpectedly beautiful.
Watching Hump with a date is a learning experience. He never lets go of my hand, and when something titillates him, he tightens his grip. I try to take mental notes of what was working for him and what I might be willing to delve into later.
As for everyone else in the crowd… We're in this sex-positive bubble together. And as such, they enhance the experience of watching porn. While we may like and dislike different sex-related activities, we're able to do so without casting judgments. It's like finding a place where true acceptance lives. And afterward, we all share one really important thing in common: We'll never be able to look at a stick of butter the same way again.