How To Have The Best Valentine's Date Ever—Without Leaving Your House
Our editors have independently chosen the products listed on this page. If you purchase something mentioned in this article, we may
earn a small commission
.
Valentine's Day is the perfect time to start a Date Night In habit. No need to fight the crowds and wait hours for your table. The dishes? Well, those can wait until morning.
There are a few things to be mindful of when planning a date night in. Date nights at home can be just as special (if not more so) than a date out.
4 Steps for the Perfect Date Night In
Don't think of it as a consolation prize to reservations at a fancy restaurant—think of it as the best table where you will never get kicked out.
If your dining table is anything like mine, take a moment to clear the day's clutter off and light a candle or two.
Music does wonders to set the scene, as does a quick spritz of cologne or a reapplication of lipstick.
Make the food special. This is date night, not just a normal Tuesday. The food should reflect that.
Here's a date night menu that's healthful and yet clearly feels special.
To Start: A Salad of Cara Cara Oranges, Avocado, and Feta
An avocado dressing spiked with lime coats ruffly leaves of Romaine before getting a salty feta cap. Cara cara oranges, whose color leans sometimes closer to pink than orange, sweetens the lot and reminds us that freshness lives in the winter, too.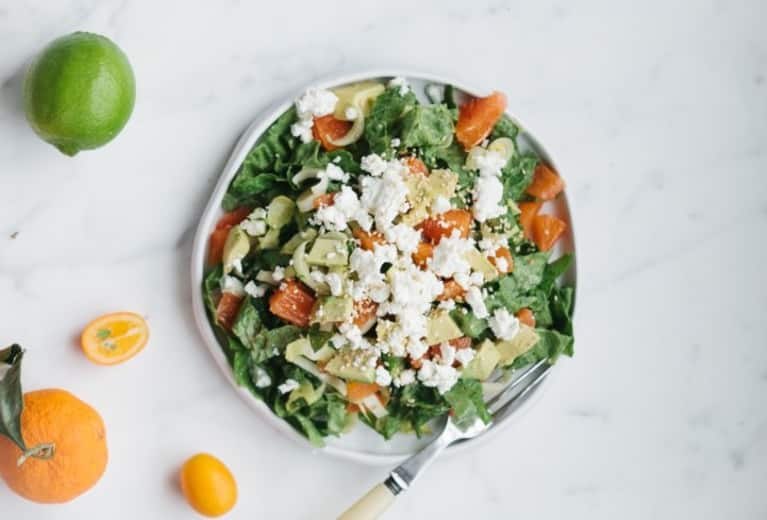 2 cara cara oranges, peeled and segmented
1 head Romaine, washed and cut into thin ribbons
2 heads of endive (optional), cut into thin ribbons
1 ripe avocado
1 cup crumbled Feta
1 cup chopped cilantro
1 tablespoon toasted sesame seeds (optional)
Avocado Dressing
1 large, ripe Haas avocado
zest and juice from 1 lime
¼ cup water
⅓ cup olive oil
pinch chili flakes
salt
Combine the avocado, lime zest, and juice and water in a blender or food processor. Process until completely smooth. Pour in the olive oil and pulse just to combine as you don't want to bruise the olive oil or it will taste bitter.
Add a pinch of salt and chili flakes. Taste and adjust seasoning.
Combine the clean greens in a bowl and toss with enough dressing to coat. You will have leftover dressing. I like to give the greens a pinch of salt, too. Seems strange, but I assure you even lettuce perks up with a bit of seasoning.
Add the orange segments, avocado, cilantro, and feta. Finish with the sesame seeds, if using.
Serve immediately.
Well-covered, extra dressing will keep in the fridge for a few days.
The Main: Roasted Green Pozole With Chicken
Now I know what you're thinking—soup does not make for a romantic date night. But this soup is special. It's bright and softly spicy, and the toppings basically have you building a salad right on top of your bowl.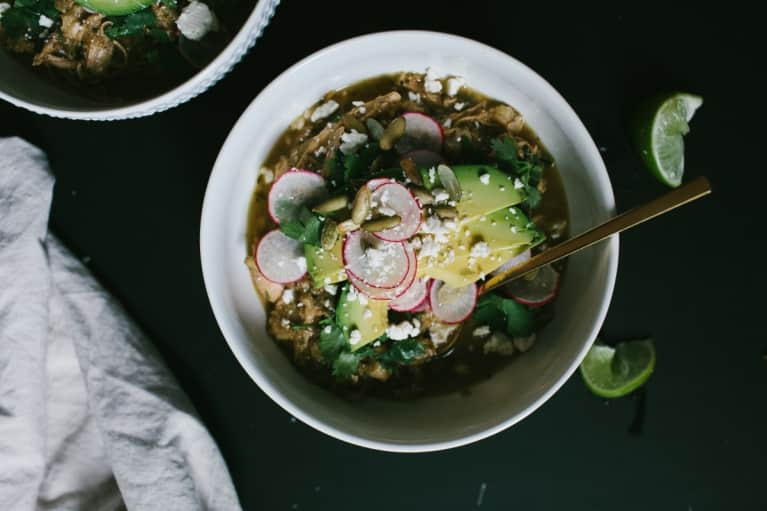 1⁄2 cup / 60 g roasted, salted pepitas, plus more for garnish
1 teaspoon cumin seeds, toasted (technique in the book)
2 tablespoons vegetable oil, divided
10 ounces / 280 g tomatillos (about 4 to 5 medium-size), peeled and quartered
3 garlic cloves
1 large yellow onion, roughly chopped, plus more for serving
1 jalapeño pepper, halved and seeded
1⁄2 cup / 10 g chopped fresh cilantro, divided
1 to 11⁄2 teaspoons kosher salt
1 teaspoon dried oregano
21⁄2 to 3 cups / 590 to 710 mL chicken stock, homemade (recipe in the book) or store-bought
4 boneless, skinless chicken thighs, thinly sliced
1 (15-ounce / 430 g) can hominy, drained and rinsed
To serve: any combination of thinly sliced radishes, sliced avocado, chopped cilantro, pepitas, lime wedges, diced onion, crumbled Cotija, and sour cream or crema.
Grind the pepitas and cumin seeds in a spice grinder or blender until finely ground.
Add 1 tablespoon oil to a large pot or Dutch oven over medium-high heat.
When the oil is hot, add the tomatillos, garlic, onion, and jalapeño to the pot, along with a pinch of salt. Roast in the pan for 10 to 15 minutes, stirring occasionally, until the vegetables are charred, caramelized in parts, and tender.
Carefully transfer the roasted vegetables to a food processor or blender and process along with 1⁄4 cup / 5 g chopped cilantro and 1 teaspoon salt.
Add the remaining 1 tablespoon oil to the pot over medium heat. Return the purée to the pot and cook, stirring frequently until thickened, for 5 to 7 minutes. Scrape up the deeply flavored browned bits on the bottom of the pot. Stir in the ground pepitas and cumin seeds, along with the oregano and 1 cup / 240 mL stock. Bring to a simmer and then add the remaining 11⁄2 cups / 360 mL stock, chicken, and hominy.
Let this simmer, mostly covered, for 20 minutes. Stir in the remaining 1⁄4 cup / 5 g chopped cilantro. Taste and adjust seasonings, adding more salt if you feel it needs it. I prefer the pozole to be thick, like a stew, but if you want it thinner, add more stock. Pozole can be made 1 to 3 days in advance, and, in fact, the flavor improves after a rest in the fridge. Leftovers can be refrigerated for up to 1 week.
For Dessert: Roasted Dates Stuffed With Bittersweet Chocolate
Pardon the cliché, but I do happen to believe that Valentine's Day and chocolate go hand in hand. Slip a generous piece of bittersweet chocolate into a pitted date then roast in an oven or on a skillet until the chocolate just starts to melt and the date softens. A few flecks of flake salt tame the sweetness and offer a satisfying crunch.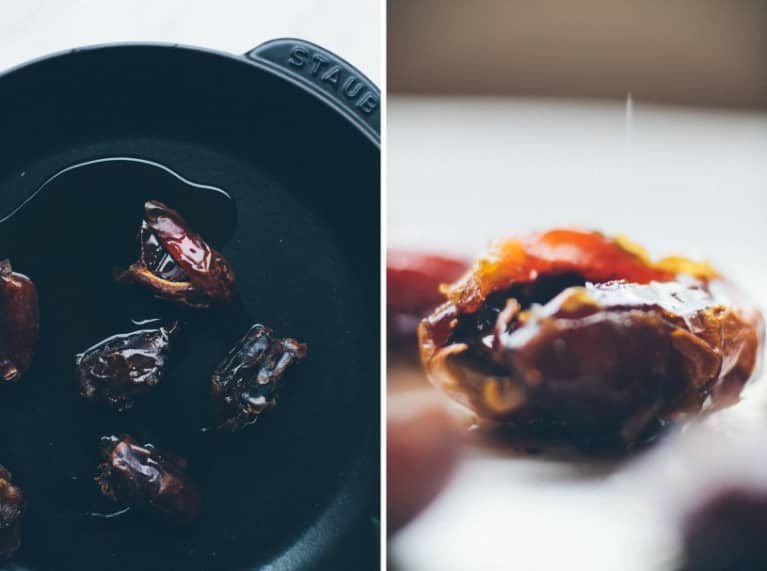 5 to 7 large, soft dates such as medjool
2 ounces bittersweet chocolate (I'm a fan of something in the 70 percent range)
2 tablespoons olive oil, divided
Flake salt
Remove the pit from the dates and replace it with a piece of broken chocolate.
Warm 1 tablespoon of the olive oil in a skillet set over medium heat.
Add the chocolate-stuffed dates and roast until the exterior of the date is caramelized, they are warmed through, and the chocolate has started to melt, about 2 minutes. Do not walk away during this process as it happens quickly. Dates are loaded with sugar, which tends to scorch the moment you look away.
Transfer the dates to a serving platter then finish with the remaining olive oil and flake salt.
Alternately, roast the dates in the oven at 350°F until warm, soft, and the chocolate begins to melt, about 5 to 7 minutes. Finish in the same way.