Turn Your Home Into A Zen Oasis With Tips From This High-Tech Wellness Condo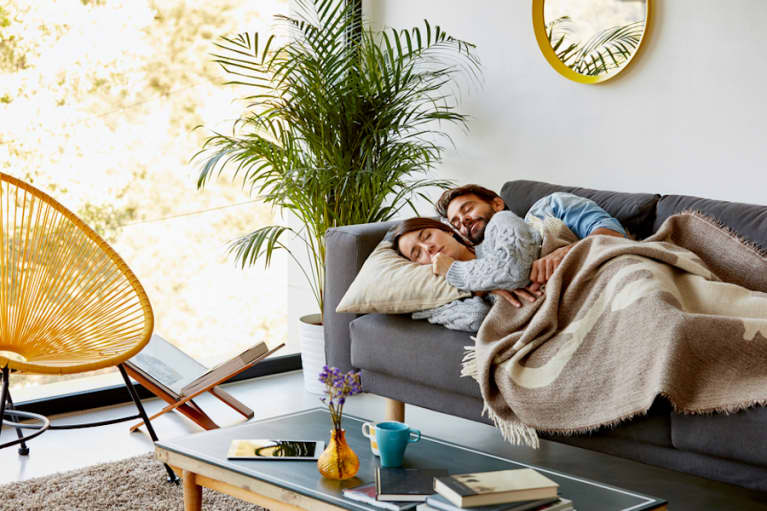 February 21, 2017 — 19:03 PM
Earlier this year, word got out that integrative medicine pioneer and world-renowned wellness guru Deepak Chopra is sharing his healing philosophies with the masses once again. This time around, it's not with a book, lecture, or workshop but a condo in Miami.
Dr. Chopra will be teaming up with real estate wellness company Delos on a property designed to maximize the health of its residents. "Given we spend more than 90 percent of our time indoors, it is becoming increasingly important to harness our homes as spaces that can actively contribute to our health and wellness," Delos founder Paul Scialla explains.
By exhaustively studying the connection between the built environment and human well-being, Delos has found ways to manipulate air quality, lighting, and architecture to promote energy and productivity and decrease stress. The NYC-based company will be working with Dr. Chopra to retrofit a luxury condominium outside Miami Beach with gadgets like advanced air- and water-purification systems and customized circadian lighting.
Dr. Chopra will then come in to choose wall colors, furniture fixtures and finishes that utilize natural colors designed to have a positive impact on occupants' moods. The finished product is set to open in early 2018, housed in a 50-story glass tower called Muse Residences, developed by Property Markets Group and S2 Development.
If this sounds like the building of the future, that's because it very well might be. With wellness-focused hotels like EVEN and 1 Hotels opening doors across the country, it's no wonder that there's also a push to explore treatments that catalyze health at home.
Not moving to Miami anytime soon? Not to worry.
If you want to fine-tune your space to boost your mood, sleep, and overall wellness on a budget, here are some ideas to snag from Muse's three pillars of air, water and light:
Air: Breathe easier by dotting your space with houseplants that can absorb atmospheric toxins and promote at-home happiness and productivity. Here are a few recommendations from The Sill, one of NYC's hottest plant shops.
Assorted Ferns (Boston, Staghorn, Crocodile): Filter formaldehyde, xylene, and toluene
English ivy: Filters benzene, formaldehyde, trichloroethylene, xylene, and toluene
Spider Plants: Filter formaldehyde, xylene, and toluene
Chinese Evergreen (Aglaonema): Filters benzene and formaldehyde
Snake Plant: Filters benzene, formaldehyde, trichloroethylene, xylene, and toluene
Pothos/Philodendron: Filters formaldehyde
Dracaena ("Tarzan"): Filters benzene, formaldehyde, trichloroethylene, xylene, and toluene
Rubber Plant: Filters formaldehyde
Water: A recent study by the Environmental Working Group estimates that 218 million Americans are consuming water containing chromium-6—a potential carcinogen. Instead of taking this as your cue to freak out, see it as a sign that it's time to invest in a quality filter. Dr. Rhea Mehta, a molecular toxicologist, recommends looking for a reverse-osmosis filter that can remove chemicals like chromium-6 as well as arsenic, barium, copper, lead, and fluoride. This EWG guide can help you find the right one for you and your price range.
Light: One of the most popular aspects of Delos' design ethos, circadian lighting systems adjust throughout the day to bring a boost of energizing light in the morning and a softer glow come bedtime. Craft your own budget version at home by trying out a daylight alarm clock that simulates the sunrise and replace any harsh nighttime lighting with LED bulbs that won't suppress your melatonin production.