The 4 Things That Helped Me Lose 40 Pounds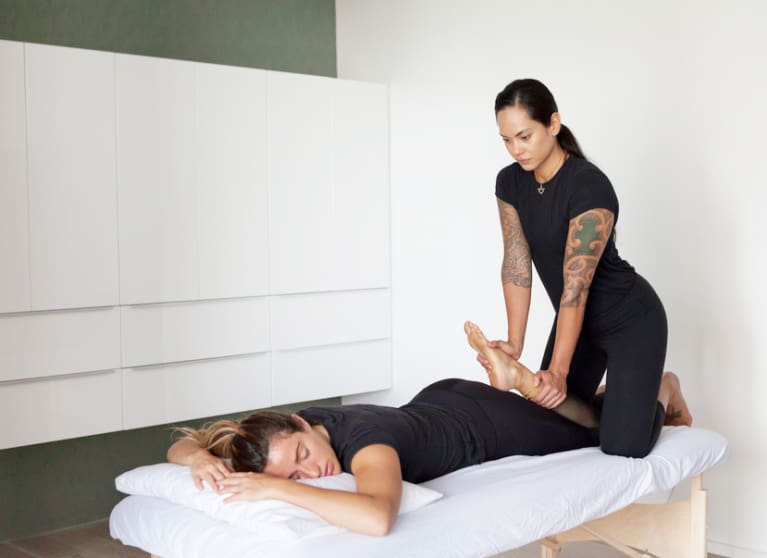 I lost 40 pounds last year, but first I had to relearn some key lessons about health and wellness.
Recovering from having my baby in late 2015, I had expected that as a health coach I would have so many strong, powerful tools at my fingertips that I would be able to bounce back from, and quickly regain my energy while losing the weight I had gained while pregnant.
I was generous and loving with myself in those first few months, taking frequent naps, resting my body, and indulging in plenty of cuddles. But then I began to feel the pressure to get back to "normal" where I had the energy to go running in the mornings, cook healthy meals, and work gangbusters on my business.
Yet I was still only sleeping a few hours at a time. I was incredibly irritable, and I was craving sugar and unhealthy foods that I didn't typically eat. I thought somehow I would be the exception to postpartum recovery and bounce back through the sleeplessness and mood swings.
I was forgetting that our hormones begin changing the moment we get pregnant and continue to change for nine months and beyond. Of course, I couldn't expect to be back to "normal" just a few months after having my baby. I was like an athlete who tries to exercise through a painful injury. I had to relearn the fundamental practice that is at the core of my business. To be gentle on ourselves and to acknowledge all that we already are doing!
As soon as I changed my mindset and gave myself this relief, everything got easier.
Here are the changes I made that helped me cultivate that mindset and lose 40 pounds last year. Many of these practices I had used in the past to support my own health, but I needed to be reminded of their importance and relearn their power.
1. I listened to my intuition.
Instead of staring foggy-brained at my computer, I quickly recognized when I was too tired to be productive and laid myself down for a nap. Instead of spending two hours staring at my computer and accomplishing very little, I could nap and then easily accomplish much more in the same amount of time.
2. I set smart goals around exercise.
I was cleared at six weeks for exercise by my doctor, but I didn't jump up from the coach and plan to run a half marathon. It's tempting to do, but it's an immediate form of self-sabotage. I listened to my intuition, and I realized that running was too much for me at that moment. But I knew I could benefit from building core strength and strengthening my arms and legs to lift my "little kettlebell" up and down the stairs. I have always enjoyed group fitness, so I started attending Tabata classes at a local gym. I made those classes nonnegotiable on my schedule and honored that commitment. I set my goal at two times per week, something that was easy to be actionable but that I could also see results from. I didn't overwhelm myself with setting too big of a goal.
3. I got monthly massages.
I almost canceled my first one, telling myself I didn't have time. Big mistake (huge!). I didn't realize how disconnected I had become from my body after having my baby. I just didn't see it. But getting an hourlong massage and feeling how all my muscles and ligaments were there and connected completely re-cemented my mind-body connection.
Plus, having an hour to just decompress and download my brain was great. When we are constantly around our kids and partners we can forget that we need time to just think without being constantly interrupted. I would tell myself that I was going to take some time to myself but it was really hard to honor that on my schedule. Getting the massage made me commit to having my own quiet time.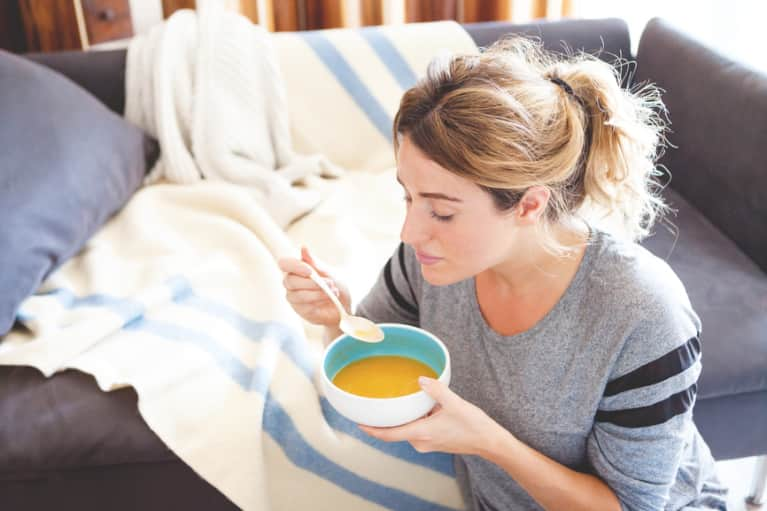 4. I planned simpler meals.
The core of my business is helping moms figure out meal planning so that they have time to do more of what they love and have time for themselves. Meal planning saves so much time and money, plus, we don't suffer from "decision fatigue" and start making unhealthy choices because we are overwhelmed by decisions all day (this might be the most important one).
What I realized is that I was spending too much time cooking because it was what I knew how to do. But because I wanted to fit in more exercise, napping, and massages, I knew I could be more strategic with choosing my meals.
Because I was watching what I ate to support my weight loss goal, I would eat the same breakfast and lunches (smoothies and oatmeal for breakfast depending on the season, and a salad with some quality protein for lunch). Dinnertime I focused on one-pan or one-pot meals and then served cut-up veggies like red pepper and cucumber.
It wasn't easy, but when I took some time to remind myself why I do the work I do and allowed my intuition to flow, more joy and ease followed, and the weight began to fall off effortlessly.