9 Things I Did To Pay Off All My Debt: A Holistic Money Coach Explains
mbg Contributor
By Leanne Jacobs, MBA
mbg Contributor
Leanne Jacobs, MBA, is a clinical nutritionist, pilates and yoga instructor, holistic wealth expert, and author of Beautiful Money.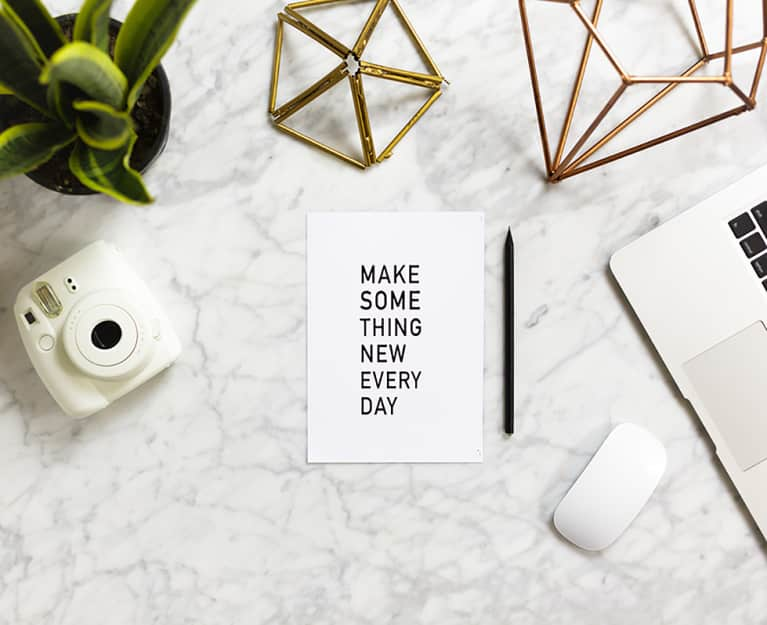 I know the emotional cost of debt. Until I experienced debt, I had no idea the power it had to suck the life out of a person. When I experienced significant debt, it was as if the life force completely drained from my body. I had trouble sleeping, doing and being. I gave all my power away to my debt and let it drain my soul. With a shortage of life force within my body, fear and anxiety executed a hostile takeover. My debt left me drained, depressed and deeply disconnected. To make matters worse, it powerfully moved me to a place of feeling totally victimized and powerless. For the first time in my life, I spoke, thought and acted like a complete victim.
Research shows that money is at the top of the list of stressors. Stress, Money and Health go hand in hand. Instead of letting debt rule your world, make a sacred vow to begin a spiritual money practice. Set a new standard for decreasing your debt- become more mindful, radiant and light along the way!
Your vision and your being must be bigger than your debt. I decided to create a new philosophy and make my debt clearing journey a spiritual experience. It was a journey of surrender, patience and peace. Here's exactly what I did to free my mind and my body of debt and heavy vibe it creates:
1. Respect every dollar you earn.
Underneath my debt, was a universal message that I chose to ignore for years. I was disrespecting my money in a profound way. I was good at making money but neglected to respect the dollars I earned. My a-ha moment came when I closed off a shopping spree with a deep sense of grief. It was as if my body was fully aware that unconscious spending was no longer true for me. I had evolved past and through emotional spending. I now practice breathing through fear and anxiousness rather than witness a spend hemorrhage. I now make it a practice to divinely respect and smile at every dollar I earn and every cheque I receive. I am consumed by grace and humility when money flows my way. I will admit that this took time. If you're in debt, your ego would prefer to affirm 'Give me more' versus 'Thank you universe'.
This commitment rocked my world. It was challenging at first because I had to face all of the emotional clutter that arose. I used to spend when I felt anxious or stressed (this was often!). I committed to a daily yoga practice and a daily walk. I loaded up my ipod with Pema Chodron, Caroline Myss and Wayne Dyer. Within a week, my urge to shop had vanished. I became so peaceful on the inside that it made me feel unwell to bring shopping bags into the house. What a transformation! Music also became my healer. As a classically trained pianist, I reconnected with my passion for classical music. To this day, my car is an orchestral concert. I energetically set the tone at my book launch party with Quanta Qualia!
3. Stop giving your power to your debt.
When I was in debt, I stopped living. I let it steal my soul and my happiness. Forget about a sleep disorder (although I had that too), I had an awake disorder. My transformation started when I became angry at the pattern in my life that I was settling for. I could physically no longer settle for a cash flow crisis. I could no longer accept anything in my life that wasn't great. I became nauseas and frustrated whenever I would commit to anything that wasn't aligned with truth and harmony.
I believe this is a clear sign that evolution and consciousness has occurred- when your former habits and patterns make you want to vomit.
Bit by bit, I reclaimed the life force I was leaking to my debt, and to other areas in my life. I set new personal boundaries, stopped worrying so much about what others thought of me and chose happiness over likeability. As I reclaimed my life force and my power, I almost instantly flowed into graceful action. On a daily basis, my debt got lower and lower. I finally realized that I had the power to clear my debt and the heavy bricks in my belly. I authentically committed to living light. I also revved up my juicing, took a few mini sabbaticals and gave myself permission to unplug for a while.
4. Have a wallet worthy of royalty.
As I healed myself and my money, I became even more sensitive to energy. If it didn't feel right, I didn't commit to it. In my physical world, my wallet carried a heavy and misaligned energy. I swapped my debt-ridden wallet for a clean, light and pink one! My new wallet had an energy of brilliance, femininity and grace. With every cell in my body, I knew this wallet was calling abundance in all forms. I committed to keeping this wallet organized, pristine and worthy of wealth. You don't necessarily need to spend a fortune or even a cent, just feel the energy of your current wallet and ensure it is aligned with who you are and where you're going.
5. Raise the bar for your wealth-worth.
Stop settling for less than you deserve. This doesn't mean that it's time to unleash your ego and go on a greed rampage, but it does mean to humbly respect your divinity. You are worthy of a lifetime of absolute greatness. I used to lower my vibe to a fault, in fear of coming across egotistical or entitled. This philosophy kept me living small and beneath my genius for years. I held my power within and hid my gifts from the world—how selfish is that? Know that you are so worthy of wealth and so worthy of reaping for all that you share with the world. Talk to your money. Know that a divine flow of abundance is just waiting for you to feel worthy of it.
I actually felt guilty asking for money. My tribal belief was that it wasn't polite nor feminine to ask for it. I would accept money that came my way but I certainly wouldn't ask for more. I literally had a conversation with the universe (and my spiritual council) sharing my heart felt desire for a greater flow of abundance. I was, however, extremely clear as to the intention behind the money and how I planned to serve the world around me. I had a significant grieving period during this time as I let go of the guilt associated with my behavior during my time of heavy debt. During this time, I became an energy vampire and shut down my flow of grace. My money ask was followed by a sacred contract to lovingly serve at a global level. Passionately and gracefully ask for the money you desire.
7. Take baby steps every day. My former self was an extremist.
I was an 'all-or-nothing' girl. I worked well under pressure, was allured by extremism, and was extremely hard on myself. I had an energetic funeral for that girl. To this day, my eyes tear up when I look back on how hard I was on myself. What's curious is that I was extremely kind and patient with others during this phase of my life, but didn't feel I was worthy of the two. As I healed myself, I healed my money. I practiced kindness and patience with myself and my finances. I approached my debt as a perfect opportunity to observe healing in action. As I began to let go and to soften, my debt became easier and easier to pay off. Each day, I committed to doing less but with more meaning and connection. This became my most cherished practice for living divinely debt-free.
I once had the pleasure of being in a room of dozens of top wellness and yoga instructors. At the end of our workshop, over 80 percent of them confessed that they were barely getting by financially. I was heart-broken. Here were some of the most passionate and heart-centered women I knew and there was a common money block. What I later came to realize was that they had fully embraced wellbeing and spirituality but they were neglecting and ignoring their financial landscape. They were afraid of money and were avoiding it at all costs. They didn't feel comfortable with money and didn't honestly feel worthy of it. We are indeed spiritual beings but we are having a physical experience. We are worthy of evolving and thriving in all areas of life. The perfect starting place is to get organized financially. You must know your numbers but must not judge your numbers. Make a list of all of your current assets and your current liabilities. Love yourself regardless of what the numbers reveal. If your current liabilities are far greater than your current assets- it's ok! By committing to this exercise, you are affirming to the universe that you are ready for positive and profitable momentum! Honestly, this was the most profound exercise I have done to date. The day I calculated my net worth was the day that turned my life around (spiritually and financially). Today, I consider my net worth as my spiritual leadership report card. When I'm in harmony and alignment with my truth, my net worth goes up. When I let my ego lead, my net worth gets an almost instant kick in the pants.
9. Save more than you earn.
Last but not least, the most popular piece of advice in finance is still the most profound. It is does the mind, body and soul good, when you have physical evidence of abundance in your bank account. I started by opening a no-fee online savings account (I call this my wealth account) and automatically directing $100 per week into that account. With time, I increased this amount to over $1000 per week. As I earn more, I update the automated savings amount. Once my wealth account hits a significant amount, I meet up with my financial advisor and move the money into more appropriate investments (or real estate). This is my formula- clean and simple! Having this automated savings system set up will make you feel confident, courageous and empowered. It will help you sleep wealthy and live powerfully.
Because I have experienced debt, I speak from a place of knowing. I know what it's like to let debt rule your entire world. I understand the true cost of debt to be far greater than the money. What I also know is that you have a choice to make. You can let debt consume your being, and your precious time, or you can make a powerful and courageous decision to start your divinely debt-free program today- know that I am with in spirit, energy and in heart!