Fight Inflammation Naturally With These 2 Healing Recipes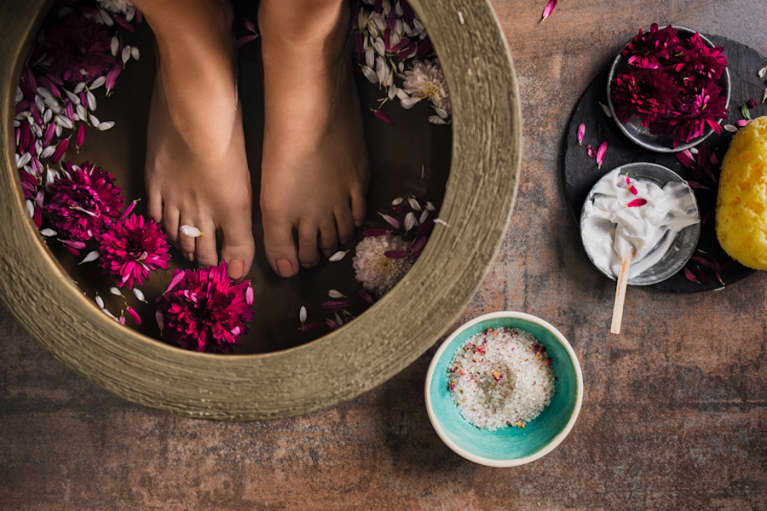 Cayenne and Ginger Anti-Inflammatory Salve
Makes about 8 ounces
Ingredients
½ ounce St. John's wort (note that St. John's wort can render birth control ineffective)
½ ounce dried ginger root
¼ ounce cayenne pepper
8 ounces olive oil
1 ounce beeswax
Essential oil of your choice (We love juniper and rosemary, but any anti-inflammatory oil works well. Just be sure to dilute them according to the directions on the bottle!)
Preparation
1. Place the wort, ginger, and cayenne in a large mason jar and shake well to mix. Cover the herbs with the olive oil, and stir well. Place the lid on the jar, and place the jar in a water bath in a crockpot set on low for 12 hours to allow the herbs to infuse into the oil.
2. Strain the oil through cheesecloth into the top of a double-boiler or a heatproof pan on top of boiling water, squeezing out as much oil as possible. Note: Wear disposable medical gloves and perhaps eye protection during this part, as any amount of cayenne-infused oil in your eyes would be very painful and possibly damaging.
3. Add the beeswax to the oil, and heat until the beeswax is melted. Add any essential oils you choose.
4. Pour into jars or tins, and label them after the salve has cooled and hardened. Apply to the skin the next time you feel inflamed or stiff for swift relief.
This recipe is shared by herbalist Sarah Josey at Golden Poppy Herbal Apothecary in Fort Collins, Colorado.
DIY Castor Pack for Inflammation
Castor oil (use a good-quality, hexane-free oil)
3 drops of your favorite flower essence (calendula and chamomile are particularly effective at combating inflammation)
Non-PVC plastic wrap
Preparation
1. Soak a 6- to 8-inch-square piece of muslin/wool cloth in castor oil until it is totally saturated.
2. Add a few drops of your favorite essence. While it is soaking, prepare a hot water bottle.
3. Place oil-soaked cloth over your sore joint or muscle. Then place an old washcloth or hand towel over the castor-oil cloth to stop the oil from getting everywhere. (Castor oil stains!)
4. Finish by wrapping the whole area in cling wrap to hold everything in place; this also helps keep the heat in. Place your hot water bottle over the tender spot for even more heat. Keep this on for 45 to 60 minutes while you relax.
5. Clean the castor oil off your skin with a little baking soda and water. You can reuse the same piece of muslin at least 30 times; just put it in the refrigerator in a plastic container and top it up each time with a little more castor oil.
This piece was co-written by Jessica Booth and Jessica Smithson.