The 7 Wellness Practices That Keep Serena Williams Grounded
mbg Contributor
By Leigh Weingus
mbg Contributor
Leigh Weingus is a New York City based freelance journalist writing about health, wellness, feminism, entertainment, personal finance, and more. She received her bachelor's in English and Communication from the University of California, Davis.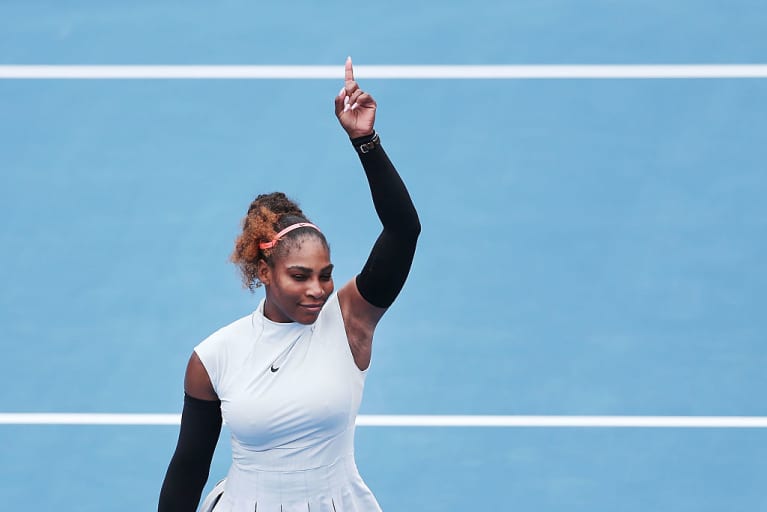 Serena Williams just crushed the Australian Open. And at age 35, that's hardly where her accomplishments end—the tennis superstar has ranked No. 1 in singles seven times.
Serena's tennis career has certainly come with setbacks, including shoulder and knee problems, a pulmonary embolism, and a slew of angry body shamers. "Yeah, you know, it was 'she's too strong' and then 'she's too strong' again," she said in an interview with FADER. "So I'm like, well, can you choose one?"
Through it all, Serena has stayed stable and grounded thanks to her wellness practices. Here's what she does:
1. She knows how to manifest success.
A few years ago, Serena was determined to make her way back to the top after recovering from her pulmonary embolism. So she wrote it down. "I wrote in my journal that my goal was to be seeded at the U.S. Open by August. It's virtually impossible to do that in three weeks. But I worked really, really, really hard with my trainer," she told Fitness. "He put me in the pool to get the strength back in my lungs. I remember feeling as if I were going to drown. But it worked. I kept winning, and I was ranked 29th for the U.S. Open."
2. She's all about body positivity.
Yes, she deals with haters—but Serena stays strong by focusing on what her body has allowed her to do. "There was a time where I didn't feel incredibly comfortable about my body, because I felt like I was too strong," she said in an interview for ESPN. "And then I had to take a second and think, who says I'm too strong? This body has enabled me to be the greatest player I can be and I'm not going to scrutinize it. This is great. I mean, this is amazing.
3. She lives in the present.
Studies show that people who live in the present are happier, and Serena certainly has that one down. "I don't have regrets. I don't live in the past," she tells Fitness. "I live in the present and learn not to make the same mistakes in the future."
5. She has a strong sense of who she is.
Serena knows she's a role model for other women, so she makes sure her confidence isn't easily shaken. "I love my body, and I would never change anything about it," she says. "I'm not asking you to like my body. I'm just asking you to let me be me. Because I'm going to influence a girl who does look like me, and I want her to feel good about herself."
Is it surprising that one of the most successful athletes in the world has a regular yoga practice? Not at all. "I do a lot of yoga. I love Bikram yoga because you burn more than 600 calories in just one class," she said. "You need a lot of patience for yoga, but I love Bikram yoga because it's in a super warm room so from the moment you walk in you're just pouring sweat. I recommend everyone try this."
Sure, Serena could just play tennis and call it a day—but she keeps her mind and body engaged by trying different workouts. "For me it's so important to mix it up. I ran, and then I biked," she told Fitness. "Then I did elliptical. That didn't work out so well, because it was boring, so I tried yoga. I started dancing because I couldn't train when I was sick. We started making up moves, and it was fun. Now I run for 10 minutes, and then I dance."