When Do You Tell People You're Pregnant?
Social entrepreneur, Writer, and Speaker
By Andrew Horn
Social entrepreneur, Writer, and Speaker
Andrew Horn is a social entrepreneur, writer, and speaker from Brooklyn. He is the founder and CEO of Tribute.co, which The New Yorker calls "Hallmark 2.0," and of WeJunto.com, a not-so-secret club for the exploration of modern masculinity and personal transformation.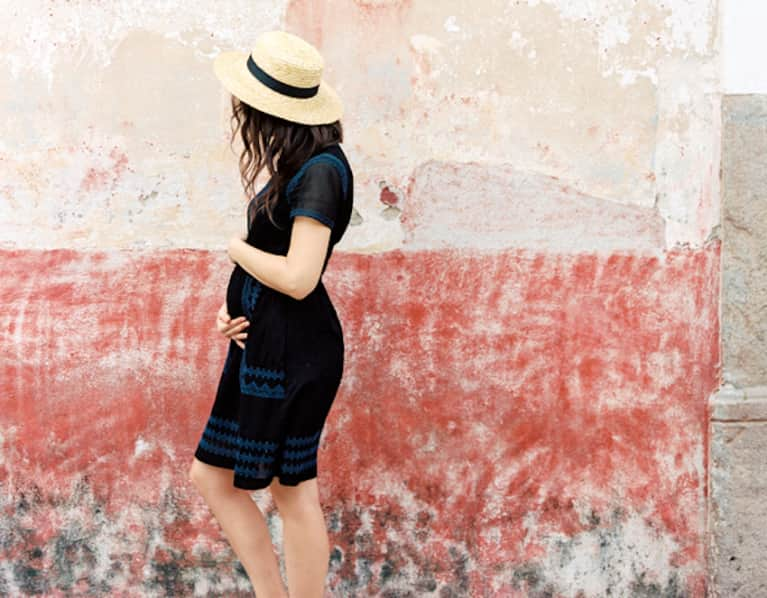 On Wednesday night I was sitting in my living room, watching the epic Game 7 between the Cubs and Indians. It was a normal night that was about to take a very special turn. A few hours earlier (and really for a few days), my fiancée Miki kept telling me that her nipples hurt. I laughed, jokingly telling her that she was pregnant. She smiled back, "Nooo, I'm always a few days late."
Miki and I have been together for a little over five years now, we got engaged in August and two months back, we made a conscious decision to start trying to have a child. We got on a vitamin regimen, stopped drinking, and ramped up the mediation. We were settling in for what seemed like it was going to be a long journey.
We jaunted over to the pharmacy down the street for the seventh inning stretch to pick up a test. After Rajai Davis hit a bomb in the eighth and tied it up, I was glued to the game and not noticing much else. Then, out of nowhere, Miki walked over to me and put the tests on my chest. WHATTTT!? She's preggers! We danced around the house, cried a little, and quite frankly were both in shock that it happened so quickly. Cheers all around.
Gut reaction: Let's tell everybody! Second reaction: But wait...
After settling in, we both had the same reaction, let's call everyone! We wanted to share this epic moment with the people we love, and then we slowed down. "Hold on…are we supposed to wait?"
At this point, Miki was about four weeks pregnant and we did some Googling on the "right time to tell people." The top articles focused on waiting to share news of a pregnancy until the end of the first trimester, which is about 10 to 12 weeks in. After that time frame, the rate of miscarriage drops dramatically.
Sharing "fun" experiences with our community is important, but it is during times of struggle, challenge, and grieving that we have the greatest opportunity to support and connect deeper with the people we care about. If we didn't tell our friends about this miracle because of the chance for loss, we would be denying them the opportunity to fully be there for us.
Contrary to the top results in Google, I thought it would be selfish of us NOT to tell those closest to us.
So, how do you intentionally spread the news?
It's always important to establish a level of comfort between you and your partner before sharing the news. Before Miki and I told anyone, we went through three important issues:
We asked each other who we'd like to tell.
We also asked each other when they're comfortable sharing the news.
We had an honest conversation about the possibility of miscarriage. Oftentimes, people hold these fears in rather than talking about them with their partner, and it leads to very real stress. The reality is that it is up to nature, so think positively, share your fears, and alleviate some of the natural worrying that will occur.
1. Telling our parents (and their video responses).
Once we decided that we were going to tell our friends and family, we thought about how we could make it as special as possible. We decided to call our parents first. Knowing this was going to be a moment we wanted to remember forever, we decided to video record both calls. We are so happy we did. You may want to turn your volume down for Mrs. Agrawal's hilarious scream, and my mom's hoots and hollers :)
2. Friends. Cue the group text.
Miki was so excited and decided to start telling most of our friends right away. I was happy to let her do the honors. We took a picture of the pregnancy tests, and she started sending that image to our crew and let them decipher the rest...we saved some of our favorite responses.
Typically, you wait until the baby shower to gather a group of people together, but since we were telling everyone early, we said "two parties are greater than one party." Miki and I bought some simple food and invited a group of our closest friends over to our house to celebrate. There was so much love in the room, and it was amazing to feel all of that flowing toward our unborn child. #conceptionparty for the win.
3. The "public." But how do you break pregnancy news on social media?
This one is slightly more complex. The reality is that if you announce your pregnancy early on Facebook and end up having a miscarriage, you could end up reliving a somber moment with more people than would be comfortable. So before you share for the loves and likes that will surely come your way, keep this in mind.
For us, we weighed that possibility and decided to share the news publicly anyway. Ultimately, we decided to do it because we wanted to bring some attention to these issues and hoped that sharing our own story could push the narrative around baby announcements forward, however slightly that might be.
4. Work. Do you tell your colleagues?
Your employer is legally obligated to let you keep working for as long as you are physically able, so you should feel comfortable announcing your pregnancy at work. Here is some important info on the Pregnancy Discrimination Act that protects women.
You may be able to take advantage of health benefits that your employer offers, which is one reason to tell them as early as possible.
Miscarriage: pregnancy taboo we don't talk about.
The day after we found out, I was chatting with one of my friends, Jeffrey, who is a few months away from having a child. He pointed out something else that I hadn't thought about. Our culture doesn't allow for an open dialogue around miscarriage, and it leads to isolation and unfair shame being placed on women.
Statistically speaking, one in five recognized pregnancies will end in miscarriage. There should not be a stigma around something that so many humans experience. Miscarriage is not a failure on the mother's part; it is not her body malfunctioning; it is simply nature doing its thing, and the more we talk about it as such, the more capable we'll be of supporting women and their partners.
On top of that, many women still feel the need to hide their pregnancy news at work. We live in a society where tens of thousands of women will be fired because they become pregnant. Even more are made redundant when they return. These are the types of inequalities that we need to talk about and question rather than avoid.
In the end, we abide by "the golden rule."
This is a dynamic issue and not a single answer will fit all situations. I was simply compelled to shed light on a moving experience that most humans will share with me at some point. For those who might be in the midst of pregnancy or on the way there…I think the golden rule is always a great barometer for an important decision like this.
If one of your friends or family members was dealing with a miscarriage, would you want to be left in the dark, or would you want to know about it so you could provide them with the love and emotional support that could help them work through it?
For me, the answer is obvious. "Happy Horn-Agrawal"—ETA: July 2017!