The One Thing To Do If You're Trying To Get Pregnant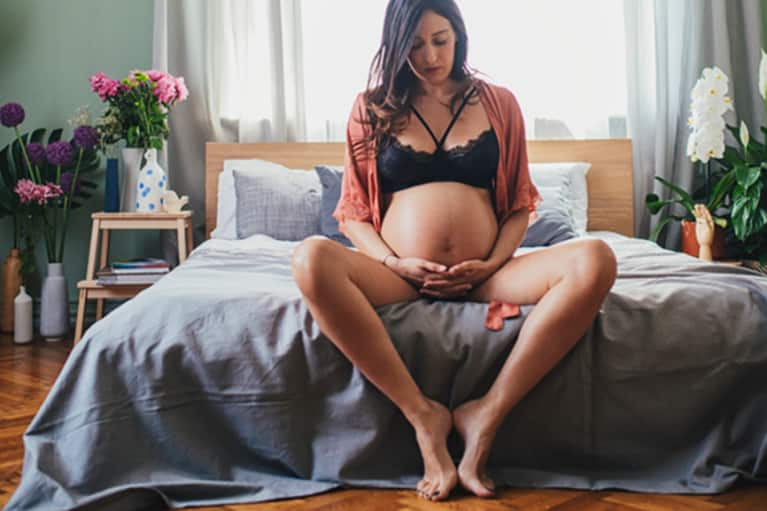 The day I found out I was pregnant felt like the first day at a new job. There was a ton of excitement at first, but that was quickly replaced with a tremendous amount of anxiety and fear that I had no clue what I was doing.
Originally I thought these feelings would fade as I got the hang of being pregnant, but instead they grew stronger. Decisions around testing, the health of my baby, the future of my career, and the uncertainty of my life as a mother left me feeling stressed, insecure, and overwhelmed.
A friend who knew what I was going through recommended that I give meditation a try. Desperate for some relief, I decided it was worth a shot.
Although I had tried to develop a practice in the past, it never really stuck. But I had a feeling that my emotional state couldn't be healthy for my baby so I set a goal of daily meditation for 30 days to see if it allowed me to relax.
How meditation changed my life in just a few days.
Within just a few days, I saw a huge change in my thoughts and feelings. The pressure, stress, and anxiety I had felt were replaced with feelings of joy, confidence, and connection. I had never felt the sense of peace so strongly. I became overwhelmed with gratitude for this amazing time in my life, for my kind husband, supportive family, and close friends. Meditation allowed me to Iook at life and this part of it as a time of tremendous growth that wasn't scary but exciting. Suddenly the decisions I made during that time didn't hold so much weight, and I felt closer than ever to myself, my baby, and my husband.
After noticing how much meditation transformed my pregnancy, I couldn't help but wonder why my OB/GYN hadn't recommended any tools for my emotional well-being while I was expecting. The truth is, my doctor never really touched on my emotional health. Instead, he used my nutrition and physical activity as the determining factors for a healthy pregnancy.
Knowing that my struggles lay in the mind instead of the body, I decided to look into the science behind meditation and pregnancy, and I was blown away. Below are four scientific facts about why meditation is a powerful tool during pregnancy.
During my pregnancy I longed to feel connected to my baby and my partner but instead felt less grounded, misunderstood, and at times, isolated. Meditation increases your ability to recognize emotions in others and to practice compassion. When I started meditating during my pregnancy, I immediately felt closer to my baby. Each session became time for me to simply be with her in that present moment. It also helped me to connect with my husband because it gave me the courage to step out of my thoughts and fears and step into this special moment in our lives.
2. Healthier pregnancy and happier baby
Meditation not only enhanced my emotional state, but it also led to me having a healthy pregnancy, delivery, and baby. My daughter Annabell was born just two days shy of her due date and was 7 pounds, 3 ounces. A study that explored preterm birth found that women that participated in a mindfulness training program were 50 percent less likely to give birth early than women with no mindfulness education. Having a full-term pregnancy allows your baby's lungs and liver to fully develop so they can breathe easily and properly filter toxins from their bodies.
Living in New York City around a lot of people and germs, I was constantly scared of getting sick during my pregnancy. Fortunately, I stayed healthy throughout the entire nine months. This made complete sense when I learned that meditation enhances the body's immune function. Meditation helps to protect you and your baby from illness before and after delivery.
Mindfulness training during pregnancy has been associated with fewer infant self-regulation problems and less infant negative affectivity. Meditating during my pregnancy not only helped me to better understand my emotions, but it also allowed my baby to understand hers. Now, as a mother of a 1-year-old, I can see that she is a kind, compassionate, and outgoing little girl.
Deciding to start meditating was one of the best decisions I ever made. My practice has been my best companion throughout pregnancy, birth, and now as a mother and has guided me through some of the toughest moments of my life. If you're expecting or a new mom, look into meditation techniques that you can do to nourish your mind during these times of transition. It might just change your life.