9 Weird Things No One Tells You About Breastfeeding
mbg Contributor
By Phyllis Timoll
mbg Contributor
Phyllis Timoll is a health coach and functional nutritionist whose mission is to improve the lives of mothers through holistic health coaching techniques. Based in the San Francisco Bay area, she has her bachelor's in commerce-marketing and management from the University of Virginia.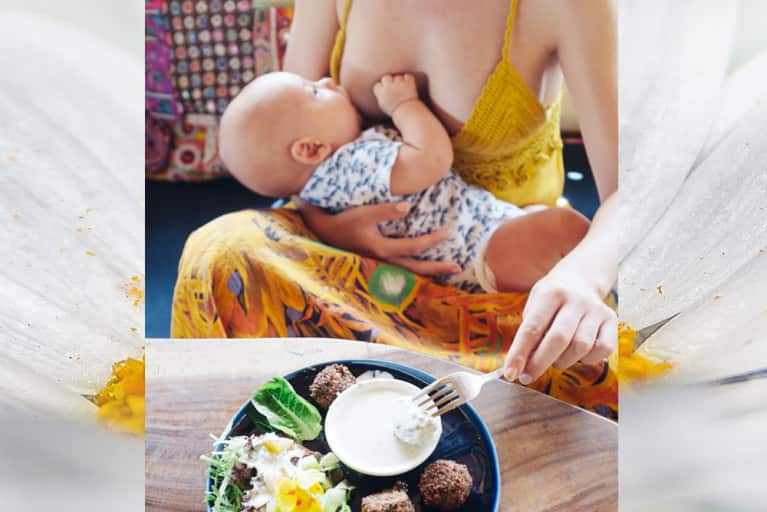 Just say the word breastfeeding and the floodgates open with stories, opinions, tips, tricks, and more. Women are born with the ability to nourish our newborn children with breastmilk. Breastmilk is the greatest superfood of all! I'm a health coach and nutrition nut, so trust me, it's got all the goodies. Mature milk contains water, fat, carbohydrates, protein, vitamins and minerals, amino acids, enzymes, and white cells. Even more so, as a mom is breastfeeding her breastmilk changes from foremilk, which is high in water and lactose, to hindmilk, which is high in fat and calories—all according to her baby's needs, age, and health. It's truly amazing!
Of course it's also totally natural to breastfeed. Ha! Or so you would think. There was nothing natural about my breastfeeding experience with my first child. It was a complete trial-and-error exercise filled with surprises like a tongue tie, clogged ducts, supply loss, pumping, supplementing, leaks, stains, pains, and more.
Don't get me wrong, I know all about the importance of breastfeeding and the benefits it provides both a mother and child. I've learned from lactation consultants that things like immunity support, gut health, and retina and cognitive development for the baby and faster recovery, increased emotional health, and even lower risks of ovarian or breast cancer for the mom. Although I never questioned if I was going to breastfeed, here are nine things people didn't tell me about breastfeeding I wish I had known:
1. Engorgement is a thing.
My breasts went from a DD to an H for HUGE with my first! It's true—they get large, tender, and painful! Their size can alter your workout ability, sex life, and even sleeping, but it's nothing a bag of frozen peas or warm shower and a little hand expressing can't fix.
2. Let down feels so weird.
This is your breasts' signal that it's time to empty out. There is nothing like the feeling. It's a crescendo of stimulating tingling sensations that's part relief and part uncomfortable.
3. You may get PMS-style cramps.
Especially if it's not your first baby, nursing triggers your body to produce oxytocin, a hormone that causes uterine cramps. Good news is it actually helps shrink your uterus and lessen what's left of your baby bump.
4. You may get the "nursing high."
Oxytocin also promotes feelings of relaxation for both you and baby, creating a sense of euphoria during and right after nursing.
Even with nursing pads tucked into your bra, that wet spot will still appear on top of your nipple through your favorite blouse. So be sure to have plenty of extra pads in hand and plan your outfit accordingly.
6. Nursing bras have no support.
They come in bland colors and have one function only: easy access to your boob. I suggest wearing a nursing tank, which provides more support paired with an oversize cardigan for simple accessibility.
7. Breastmilk cures everything.
From cracked nipples, rashes, even small scratches or cuts, to ear and eye infections, tradition says that putting a drop or two of breastmilk can quickly heal both you and your baby. It's literally Mother Nature's greatest superfood.
8. Can I eat and drink that?
Be mindful of what you eat and drink because those things pass to your baby from your milk just as it did in utero from the umbilical cord. Some babies have food sensitivities and allergies that can cause rashes, reflux, and digestive issues.
9. Breathing deeply really helps.
There is so much pressure about breastfeeding that you can completely stress yourself out. Try your best to just breathe deep, go someplace quiet to feed your baby, and relax. The best way to produce quality milk for your baby is to calm down and let your body do what it's supposed to do.
Breastfeeding is so special.
Although breastfeeding really is the best thing you can do for yourself and the baby, it is not something every mother can do successfully. I definitely had my struggles with breastfeeding—especially with my first—but I did it as best I could and I breastfed my second baby as well. I hired lactation consultants, I used Motherlove nipple cream, kept bags of frozen peas on hand, and wore bamboobies. I learned that I had to properly nourish my body, free myself from distractions, and embrace the time. Although it's about determination, hard work, and lots of love, when it works, breastfeeding is one of the most special experiences and bonds shared between two people! The period of breastfeeding your baby goes by fast—as the saying goes, "The days are long but the years are short!"
Happy nursing!